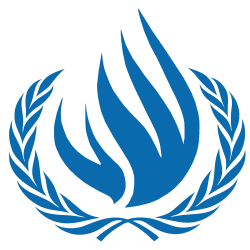 On April 22, the United Nations Human Rights Council's Universal Periodic Review (UPR) Working Group commenced its sixteenth session in Geneva. During this two-week session, the Council will review and confirm reports on the human rights situation in Turkmenistan, Burkina Faso, Cape Verde, Colombia, Uzbekistan, Tuvalu, Germany, Djibouti, Canada, Bangladesh, the Russian Federation, Azerbaijan, Cameroon, and Cuba. [UN HRC]
The fourteen countries reviewed during this session were previously evaluated by the UPR Working Group in February 2009. This is the fourth session of the UPR Working Group to be held in its "second cycle," meaning that the countries are being reviewed for a second time. An integral part of the second cycle concerns "what steps [the States] have taken to implement accepted recommendations posed to them during their first review." [UN] Human Rights Council Resolution 16/21 and Decision 17/119, both adopted at the conclusion of the first cycle in 2011, emphasize that the second and subsequent cycles of the review "should focus on focus on, inter alia, the implementation of the accepted recommendations and the developments of the human rights situation in the State under review."
The  UPR is a peer review mechanism established in 2006 to assess and advance human rights conditions in all UN Member States. The fundamental aim of the UPR is to "improve the human rights situation in all countries and address human rights violations wherever they occur." [UN]  When conducting the UPR, the Council reviews reports from: the State under review, civil society, and UN human rights mechanisms, all of which are made available online.
Reviews are formally conducted by the UPR Working Group of the Human Rights Council, which comprises all forty-seven Council Member States. The UPR Working Group reviews UPR country reports three times per year, and up to fourteen countries are reviewed during each session. Representatives of these fourteen countries are scheduled to come before the Working Group to present efforts they have made in fulfilling their human rights obligations and commitments, assessing both positive developments and identifying challenges. [UN] Each UN Member State is evaluated once every four years.
The interactive dialogue portion of each State's review lasts three and one-half hours, with an additional half hour devoted to the adoption of the Working Group's report for each country. [UN] The review for each State is facilitated by groups of three Council members from different regional groups, or troikas, who act as rapporteurs. The forty-two troikas for the sixteenth session were randomly selected through a drawing earlier this year.  The list of troikas for the sixteenth session may be downloaded here.
Adoption of the reports reviewed by the UPR Working Group during Monday, April 22 through Wednesday, April 24— Turkmenistan, Burkina Faso, Cape Verde, Colombia, Uzbekistan and Tuvalu— are scheduled for the afternoon of Friday, April 26. The reports reviewed from Thursday, April 23 through Friday, April 26— Germany, Djibouti and Canada—are scheduled for adoption on the morning of Tuesday, April 30. Adoption of the reports on Bangladesh, Russian Federation and Azerbaijan, distributed on Monday, April 29 and Tuesday, April 30, is scheduled for the afternoon of Thursday, May 2. Lastly, adoption of the May 1 reviews of Cameroon and Cuba is scheduled to occur during the afternoon of Friday, May 3. The complete timetable for the sixteenth session may be accessed here.
The sixteenth session of the Council's UPR Working Group concludes May 3.  The final outcome of the session will be adopted by the plenary of the Council at its twenty-fourth regular session taking place this September. [UN]  The seventeenth UPR Working Group session is scheduled from October 21 to November 1, 2013, and will include assessments of Saudi Arabia, China, Mexico, Jordan, the Central African Republic, Senegal, Nigeria, Mauritius, Malaysia, Monaco, Congo, Belize, Chad, and Malta.
For more information about the Universal Periodic Review, visit IJRC's UPR page and see our Primer for Advocacy Opportunities with the UN Human Rights Council.