ECtHR Launches New Print and Online Collections of Leading Case Law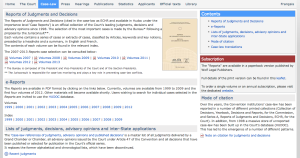 The European Court of Human Rights (ECtHR) has launched both print and online collections of its leading judgments, decisions, and advisory opinions since 1998. Although the Court processes a high volume of applications and issued judgments in respect of 1,678 applications in 2012, the collections only focus on the Court's most significant decisions interpreting the standards of the European Convention of Human Rights. [ECtHR] The collections will therefore help advocates tailor their research to include the most relevant jurisprudence for specific human rights issues.
The print edition of the Court's Reports of Judgments and Decisions includes decisions selected by the Court's senior judges for their great jurisprudential interest. The list of selected cases, by year, can be found on the Court's Case-Law webpage. Approximately 30 cases per year are chosen to appear in 5 to 6 volumes, and each case is preceded by a summary that includes keywords, key notions, and a brief description of the case. [ECtHR] The contents of each volume are found in the relevant index. Currently, the first two volumes of 2012 are available for purchase online at Wolf Publishers.
All previously printed editions of the Court's Reports of Judgments and Decisions will also be available online. Currently, the Court has posted the electronic versions of the Reports from 1999 to 2008 and part of 2012. The new e-Reports collection will be continuously updated throughout the year.
This newly available material complements the Court's existing Case-Law database and Factsheets, where visitors can search for individual decisions and find summary analysis and information organized by human rights categories or by State. Together, these resources provide a useful point of entry into the jurisprudence of the Court and will likely help heighten awareness of the European Convention's protections.