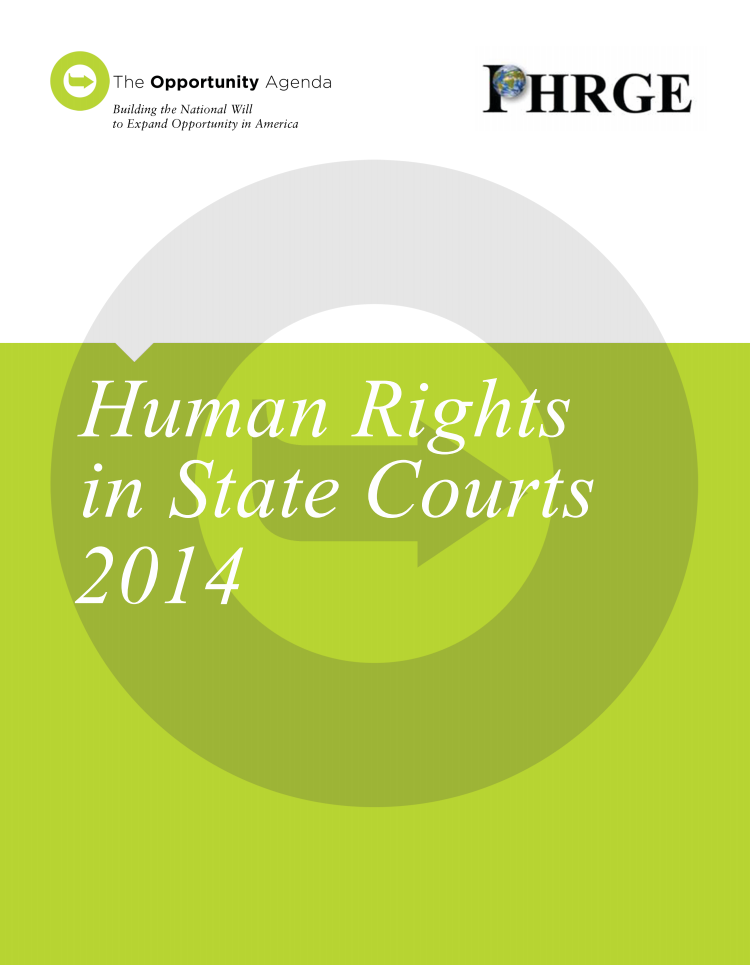 This month, The Opportunity Agenda and the Program on Human Rights and the Global Economy (PHRGE) of Northeastern University School of Law issued a comprehensive survey of significant determinations by state courts and attorneys general in the United States that address international human rights law. The report, entitled Human Rights in State Courts 2014, follows up on a 2011 edition and argues that litigants are citing international human rights law in an increasing range of topics, including environmental claims, tort cases and guardianship matters. See Opportunity Agenda & PHRGE, Human Rights in State Courts 2014, at 4.  The 2014 report supplements the previous edition with cases decided after 2011, in addition to relevant attorney general opinions. Id.
The Human Rights in State Courts 2014 report focuses on state courts because they often consider "the economic, social, and cultural rights that are an integral part of the international human rights system," which federal protections tend not to address. Id. at 8. When state courts interpret state law containing these protections, they "have the independence to recognize a broader range of rights" than federal courts, by inter alia applying international treaties. Id.
The report explains that individual judges regularly cite international human rights norms in concurring or dissenting opinions. Id. at 4. For example, in King v. State , 818 N.W.2d 1 (Iowa 2012), the Iowa Supreme Court addressed the right to education under the Iowa constitution and ultimately rejected the plaintiff's argument that the state had failed to establish and maintain an adequate education system. See Human Rights in State Courts 2014, at 5. The dissent cited to the Universal Declaration on Human Rights to interpret the Iowa constitution, stating that education is a human right that is "essential to the development of an autonomous individual." See id.; King v. State, 818 N.W.2d 1, 60 (Iowa 2012).
The report authors determined that state courts were most likely to consider international human rights law when interpreting rights enumerated in state constitutions or statutes, but that there were "virtually no cases in which state courts have relied solely on international human rights law to reach a decision." See Human Rights in State Courts 2014, at 17. The Report found that international human rights law has been most frequently invoked in death penalty cases, when defendants argue that the International Covenant on Civil and Political Rights (ICCPR) and international customary law prohibit capital punishment, but these arguments have been "largely unsuccessful." See id. at 111. For example, in 2004 the California Supreme Court upheld the California death penalty statute despite the argument that it violated the ICCPR. See id. at 29; People v. Brown, 93 P.3d 244, 258 (Cal. 2004).
While many state courts have dismissed arguments involving international human rights law, some state courts have referred to international treaties as persuasive authority. See Human Rights in State Courts 2014, at 4. For example, in Diatchenko v. District Attorney for the Suffolk District, 466 Mass. 655 (2013), the Massachusetts Supreme Judicial Court cited to the United Nations Convention on the Rights of the Child in holding that a U.S. Supreme Court decision, Miller v. Alabama, 132 S. Ct. 2455 (2012), could be retroactively applied. See id. Miller v. Alabama held that sentencing juveniles to life without the possibility of parole constituted cruel and unusual punishment and was therefore unconstitutional. See id; Miller v. Alabama, 132 S. Ct. at 2460.
State courts have also cited regional instruments in their decisions. For example, the New York Appellate Court looked to the Inter-American Convention on Letters Rogatory in Romero v. Ramirez, 100 A.D.3d 909 (N.Y. App. Div. 2012), when reviewing a family court order that denied a mother's request for a motion to dismiss, in light of her argument that service had been improper.  See id. at 83.
The Human Rights in State Courts 2014 Report encourages advocates to raise issues of international human rights law early in cases, because some courts are unwilling to address international human rights law on appeal if the argument was not raised in a lower court. See id. at 7. The Report concludes that "as human international human rights principles become more integrated into state law, courts will define rights more broadly and will hold governments accountable for enforcing those rights, expanding opportunity for all Americans." Id. at 112.