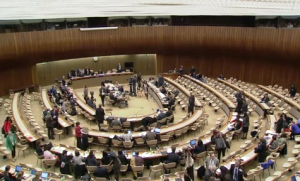 The UN Human Rights Committee held its 110th session from March 10 to 28 to consider the State reports of Chad, Kyrgyzstan, Latvia, Nepal, Sierra Leone, and the United States of America. Following the session, the Committee released its concluding observations, detailing key concerns and recommendations for these States' improved implementation of the International Covenant on Civil and Political Rights.
110th Session
Navi Pillay, the UN High Commissioner for Human Rights, opened the session, highlighting the importance of the right to privacy, commending the inter-governmental process on treaty body strengthening, and commemorating the 25th anniversary of the Second Optional Protocol to the ICCPR, which calls for abolishing the death penalty. [OHCHR]
The Committee's agenda included several areas of work. In addition to concluding the six State reviews described below, the Committee also adopted lists of issues concerning Argentina, Ecuador, Haiti, Malta, Montenegro, New Zealand, Romania, Sri Lanka and Sweden, and considered individual complaints lodged against States Parties to the first Optional Protocol. [OHCHR] The Special Rapporteur on Follow-up to Concluding Observations and Special Rapporteur on Follow-up to Views briefed the other Committee members on States' implementation of previous reviews and decisions in individual complaints. [OHCHR] The Committee also further developed its Draft General Comment No. 35 on the right to liberty and security of person. [OHCHR]
Chad
With regard to Chad, the Human Rights Committee focused on reports of violence against women, arbitrary detention, forced eviction, corporal punishment, polygamy, extrajudicial execution, and female genital mutilation (FGM) in its list of issues. [OHCHR] During the constructive dialogue, the Chad delegation explained that there was currently a de facto moratorium on the death penalty, and expressed awareness that the death penalty needed to be abolished eventually. [OHCHR]
The Committee's concluding observations (French only) urged Chad to, inter alia: ensure the independence of the national human rights commission, advance gender equality by defining and sanctioning discrimination in its national legislation, intensify efforts to eliminate the practice of female genital mutilation, enforce its legislation concerning domestic violence, consider abolishing the death penalty in its revision of the Penal Code, take all necessary measures to investigate and punish those responsible for extrajudicial executions and forced disappearances, and ensure the safety of journalists and human rights defenders.
Kyrgyzstan
During Kyrgyzstan's review, the Human Rights Committee requested additional information from the State regarding trafficking, discrimination on the basis of gender identity, efforts to combat terrorism, violent inter-ethnic clashes within Kyrgyzstan, reports that torture remains widespread, excessive use of pretrial detention, and the persecution of journalists and human rights defenders for criticizing State institutions. See Human Rights Committee, List of Issues in Relation to the Second Periodic Report of Kyrgyzstan, UN Doc. CCPR/C/KGZ/Q/2, 22 August 2013.
Its concluding observations welcomed Kyrgyzstan's abolition of the death penalty, ratification of several international instruments, and steps to formalize implementation of international human rights bodies' findings, while proposing concrete steps to address the Committee's concerns regarding, inter alia, the lack of anti-discrimination legislation, insufficient investigation and prosecution of violence against LGBT persons and domestic violence, inadequate safeguards against torture and ill-treatment, lack of independence or proper training in the judiciary, and the low level of representation of members of minority groups in political and public institutions.
Latvia
Addressing Latvia, the Human Rights Committee's questions focused on violence against women, deaths in law enforcement institutions and psychiatric institutions, the length of pretrial detention, prison conditions, measures taken to include the Roma community in society, and racially motivated crimes. See Human Rights Committee, List of Issues in Relation to the Third Periodic Report of Latvia, UN Doc. CCPR/C/LVA/Q/3, 26 November 2013. Committee Members also asked the Latvian delegation for further details regarding language requirements for granting citizenship and whether decisions to grant refugee status were issued in asylum seekers' native languages. [OHCHR]
In its concluding observations, the Committee lauded a number of changes to the domestic law concerning torture, psychiatric care, asylum, and human trafficking, as well as Latvia's ratification of several international human rights instruments. The Human Rights Committee recommended, inter alia, that Latvia adopt legislation to ensure women's equal pay for work of equal value, reconsider restrictions on the rights of non-Latvian speakers and ensure their access to public institutions, expand its efforts to identify and investigate human trafficking, criminalize and appropriately punish domestic violence, investigate al deaths in custody, criminalize torture and amend the relevant statute of limitations, reduce the length and frequency of pre-trial detention, ensure strict compliance with the principle of non-refoulement of asylum seekers, strengthen efforts to combat hate crimes, and support inclusive instruction for Roma and other minority children.
Nepal
Regarding Nepal, the Human Rights Committee requested information about efforts undertaken to address caste-based discrimination, reparations for victims of serious human rights violations, harmful traditional practices, physical attacks and harassment of journalists and human rights defenders, trafficking, combating domestic violence and sexual abuse, arbitrary and unlawful detention, improving prison conditions, and punishing extrajudicial killings, torture, and enforced disappearances. See Human Rights Committee, List of Issues in Relation to the Second Periodic Report of Nepal, UN Doc. CCPR/C/NPL/Q/2, 21 August 2013. The Committee expressed concern over the "impunity gap" in Nepal, identifying torture as a serious problem that needed to be investigated. [OHCHR] Its Concluding Observations welcomed Nepal's signing of the Comprehensive Peace Accord in 2006 and adoption of an interim Constitution, as well as the introduction of a third gender in official documents and ratification of several international human rights instruments.
The Committee recommended, inter alia, that Nepal take specific steps to address the prevailing impunity for gross human rights violations and serious violations of international humanitarian law committed during the internal armed conflict, ensure the independence of its National Human Rights Commission, address patriarchal attitudes and harmful traditional practices that impede gender equality, eliminate caste-based discrimination against the Dalit community, prevent and punish excessive use of force and torture by State officials, urgently establish an independent system to monitor conditions in places of detention, criminalize violence against women, adopt national refugee legislation and permit entry to all Tibetans who may have valid refugee claims, prohibit the use in criminal trials of evidence obtained through coercion, and ensure the registration of all children born on Nepalese territory.
Sierra Leone
The Human Rights Committee requested information from Sierra Leone regarding discrimination against women and gender-based violence, early marriages, child victims of sexual abuse, the death penalty, efforts to bring human rights violators to justice and provide remedies to victims, maternal mortality rates, trafficking, lengthy pretrial detention, reintegration of child soldiers, and restrictions on the freedom of expression. See Human Rights Committee, Lists of Issues in Relation to the Initial Report of Sierra Leone, UN Doc. CCPR/C/SLE/Q/1, 23 August 2013. Experts expressed concern that FGM was not prohibited, and the Sierra Leone delegation explained that the State prioritized combating FGM for girls under the age of 18, but those over age 18 have the right to choose to undergo the practice. [OHCHR]
The Committee's concluding observations welcomed Sierra Leone's "long overdue" initial report, and regretted the absence of a delegation from the capital to take part in the constructive dialogue. It recommended, inter alia, that the State guarantee full and adequate reparation to victims of human rights violations during the civil war – including child soldiers and victims of sexual violence, expedite the revision of the Constitution and ensure civil society participation and the new provisions' compliance with the ICCPR, eliminate patriarchal and gender stereotypes that exclude women, prohibit discrimination on the grounds of sexual orientation and gender identity, decriminalize same-sex sexual relationships, criminalize female genital mutilation, enforce the ban on early marriages, and ensure access to reproductive health services for all women and adolescents.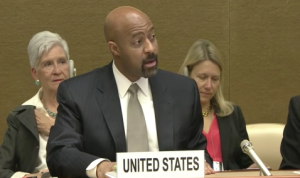 United States
Regarding the United States of America, the Human Rights Committee's questions focused on racial disparities in the criminal justice system, racial profiling, treatment of the homeless population, the death penalty, gun violence, detention of immigrants, drone attacks, "enhanced interrogation techniques" including water boarding, National Security Agency (NSA) surveillance, detainees held in Guantanamo, and restrictions on voter registration. See Human Rights Committee, List of Issues in Relation to the Fourth Periodic Report of the United States of America, UN Doc. CCPR/C/USA/Q/4, 29 April 2013. The U.S. delegation was met with criticism for its interpretation that the ICCPR applies to individuals within its territory and jurisdiction, but does not impose human rights obligations abroad (extraterritorially). [NY Times] The Human Rights Committee encouraged the U.S. to disclose a Senate investigative report on a Central Intelligence Agency interrogation program that reportedly involved torture [Al Jazeera; Reuters]. The U.S. delegation's insistence that the NSA's mass collection of data was lawful and subject to substantial oversight was disputed by non-governmental groups that attended the session. [Guardian]
In its concluding observations, the Human Rights Committee welcomed, inter alia, the elimination of the juvenile death penalty, the Supreme Court's recognition of the extraterritorial application of constitutional habeas corpus to Guantanamo detainees, and Executive Orders regarding interrogation techniques and the status of Guantanamo detainees. It recommended that the U.S., inter alia, ensure domestic implementation of the ICCPR – including at the state and local level, investigate and punish all those responsible for unlawful killings and torture in the "war on terror," retroactively apply the Fair Sentencing Act and reform mandatory minimum sentencing laws, eliminate racial profiling – including faith-based surveillance of Muslims, ensure that the death penalty is not carried out in a racially based or erroneous manner and that lethal injection drugs come from legitimate sources, disclose the criteria for drone strikes and ensure independent oversight and accountability mechanisms, review Stand Your Ground Laws, comply with the principle of non-refoulement by refraining from relying on diplomatic assurances where continued monitoring will not be possible, abolish all juvenile life without parole sentences, abolish the criminalization of homelessness, expedite the transfer of Guantanamo detainees or carry out their trials in the ordinary criminal justice system, and ensure the prior and informed consent of indigenous communities impacted by development projects.
With regard to the NSA surveillance program, the Committee recommended that the U.S. government ensure that: any infringement with the right to privacy is legal, proportional and necessary, regardless of the location of nationality of the individuals under surveillance; the laws authorizing surveillance are clear and publicly accessible; surveillance activities are subject to effective and independent oversight; third parties are not required to retain data; and that affected individuals have recourse to an effective remedy in cases of abuse. In remarks to the press, Committee member Walter Kaelin said:
What we are calling for is that if surveillance is undertaken, it has to be done in line with principles of legality, that there is the need for very clear detailed regulation containing safeguards for those under direct surveillance. We're calling also for a proportionate use of surveillance, not of everyone, but really limited to cases where such surveillance is necessary and justified.
[Reuters] Civil society organizations in the United States lauded the Committee's "scathing report" and characterized the review as an opportunity for the Obama Administration to meaningfully improve its human rights legacy. [ACLU; USHRN] The Electronic Frontier Foundation (EFF), among other groups, welcomed the Committee's explicit recognition of the extraterritorial nature of the State's obligations and its specific recommendations regarding surveillance, and urged immediate implementation by the United States. [EFF]
See IJRC's Online Resource Hub webpage on the Human Rights Committee for additional information on the treaty body's mandate and functions. To view the archived webcasts of the 110th session, visit the UN Treaty Body Webcast page.