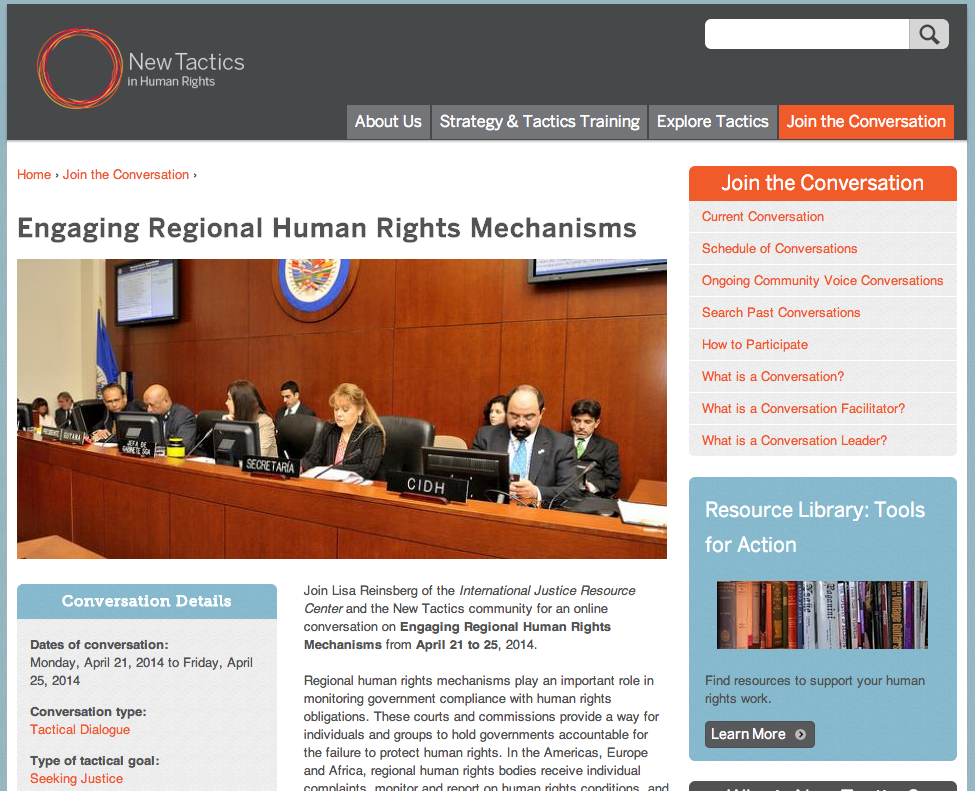 Join the International Justice Resource Center and the New Tactics community for an online conversation on Engaging Regional Human Rights Mechanisms from April 21 to 25, 2014. IJRC's executive director, Lisa Reinsberg, will join experts and practitioners from around the world in discussing the practical details of seeking justice, accountability, and reform through the regional human rights systems.
New Tactics Conversation
Regional human rights mechanisms play an important role in monitoring government compliance with human rights obligations. These courts and commissions provide a way for individuals and groups to hold governments accountable for the failure to protect human rights. In the Americas, Europe and Africa, regional human rights bodies receive individual complaints, monitor and report on human rights conditions, and issue emergency protective measures. These are powerful mechanisms for holding governments accountable for their human rights records if you know how and when to engage them.
This online conversation is an opportunity for practitioners with experience engaging regional mechanisms to share their knowledge with an online community of defenders. It is also an opportunity to ask questions about engaging in advocacy before these institutions, which can often be cumbersome and confusing. We will explore the challenges and opportunities practitioners are currently facing in this work. Join the conversation here.
Conversation Topics
Over the course of the week, the conversation will be divided into three main topics:
Introduction to the regional human rights mechanisms and when, why, and for what ends they are most useful in advocacy.

Examples of how advocates have engaged with regional human rights mechanisms, including the challenges, successes and impact of their advocacy. 

Lessons learned, advice and useful resources.
How Can You Participate?
This online conversation is open to anyone interested in sharing their experiences and ideas on this topic. All you need to do is join the New Tactics online community and add your comments to the dialogue.
For more information about the New Tactics online conversations, visit these FAQs:
If you have trouble, contact Kristin Antin, the New Tactics Online Community Builder, at kantin@cvt.org. We look forward to sharing in this unique exchange of information and advice with you next week.