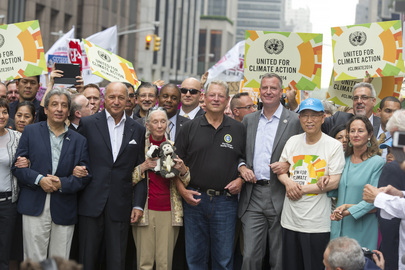 The much anticipated one-day Climate Summit 2014 took place this Tuesday, September 23 at the United Nations (UN) headquarters in New York, marking the international community's latest effort to address climate change. Hosted by UN Secretary-General Ban Ki-moon, Climate Summit 2014 aimed to engage world leaders and encourage international action to slow climate change. Governments at the Summit were expected to produce "concrete initiatives" and discuss ways to lower industrial emissions of carbon dioxide, methane, and other gases that contribute to the heating of the planet. [Washington Post: CO2 Levels Rise; UN News Centre: No 'Plan B']
The primary purpose of Climate Summit 2014 is to generate momentum for a global agreement on climate change in 2015. [UN News Centre: No 'Plan B'] After an unsuccessful 2009 Climate Change Conference in Copenhagen, during which world leaders failed to negotiate a binding treaty on climate change, there was a perceived need to "recapture the momentum lost." [Al Jazeera; ABC] Parties to the UN Framework Convention on Climate Change again met in Warsaw last December and made some progress toward an international agreement, but many participants and observers were dissatisfied with the tepid commitments made. [IJRC] This week's Summit was an attempt to revitalize the campaign for a binding climate change treaty, with the expressed aim of "catalyz[ing] ambitious action on the ground to reduce missions and strengthen climate resilience and mobilize political will for an ambitious global agreement by 2015." [UN News Centre: Climate Summit]
On Tuesday, local and national government leaders, UN agencies, and the private sector announced a number of commitments to address particular causes or consequences of climate change. These included pledges to hasten the adoption of more efficient appliances and equipment, eliminate deforestation by 2030, cut carbon emissions, finance climate change efforts in developing countries, adopt sustainable transportation practices, and reduce methane emissions in oil and gas production. [UN News Centre]
Participants in Climate Summit 2014 included more than 120 world leaders, including U.S. President Barack Obama, French President Francois Hollande, and U.K. Prime Minister David Cameron. In addition to UN Member States, the Summit was open to "finance, business, civil society and local leaders from public and private sectors." [UN News Centre: Climate Summit] New York City Mayor Bill de Blasio and a number of U.S. Senators and Representatives also attended.
World leaders noticeably absent from the Climate Summit included Chinese President Xi Jinping and Indian Prime Minister Narenda Modi. In addition to being the first and second most populous countries on Earth, they also rank first and third among producers of carbon dioxide emissions, respectively. (The U.S. ranks second.) While both China and India sent representatives, their leaders' absence was nevertheless interpreted as "a snub." Also absent were Russian President Vladimir Putin, Canadian Prime Minister Stephen Harper, and Australian Prime Minister Tony Abbott, although each sent representatives. [Washington Post: UN Climate Summit]
Towards a Binding Climate Change Agreement for 2020
Climate Summit 2014 was organized in response to the reality of climate change, and in recognition of the fact that States will have to take action if climate change or its effects are to be meaningfully addressed globally.
The World Meteorological Organization's (WMO) monitoring network reports that increases in carbon dioxide levels are "rising exponentially." [Washington Post: CO2 Levels Rise] If greenhouse gas emissions are not reduced, the average global temperature could more than 7.2°F (4°C) by 2050. [UN] Furthermore, a landmark report issued last year by a UN-appointed panel of climate scientists warned that, "if current trends continue, the world could soon see major disruptions to both natural ecosystems and human civilization." [Washington Post: CO2 Levels Rise]
The Kyoto Protocol, a treaty that binds developed countries to establish emission reduction targets, is currently in its second commitment period, which ends in 2020. With the end of the commitment period looming, the UN Framework Convention on Climate Change (UNFCCC) Conference of the Parties (COP) established the ad hoc Working Group on the Durban Platform for Enhanced Action to develop a legal instrument to serve as a "comprehensive plan that would come closer over time to delivering the ultimate objectives of the Climate Change Convention." [UNFCCC: Durban] The agreement in development will focus on "what happens beyond 2020." [UNFCCC: Background] The parties to UNFCCC will meet in Lima at the end of 2014 and in Paris in 2015 to continue discussions.
While Climate Summit 2014 is not a part of the formal treaty negotiation process, it is nevertheless expected to spark intense interest and action regarding climate change in the years leading up to 2020, and to lay the groundwork for productive talks in Lima and a final agreement in Paris. [CBC; Fox News Latino]
Public Mobilization
There is some skepticism that Climate Summit 2014 will be successful. Without a doubt, though, the convening has succeeded in bringing attention to the issue of climate change. Last Sunday, September 21, the streets of New York filled with people participating in the People's Climate March, part of a worldwide campaign to persuade global leaders to take action against climate change. [UN News Centre: No 'Plan B'] Over 300,000 marchers were estimated to have joined the People's Climate March, while more than 2,800 solidarity marches took place simultaneously around the world. Among the marchers were UN Secretary General Ban Ki-moon and former U.S. Vice President Al Gore. [NPR] It is now being considered the largest climate march in history. [People's Climate March]
Moreover, on Monday, September 21, hundreds of protesters participated in an unsanctioned sit-in and blockade in New York City's financial district to "highlight the role of capitalism in fueling the climate crisis." The Flood Wall Street organizers attempted to expose the link between economic policies and the environment. [Reuters]
Previous International Initiatives to Address Climate Change
The international community has made numerous attempts over the last four decades to address climate change and the environment. The first World Climate Conference (WCC) took place in 1979; its attendees sought to "assess the state of knowledge of climate and to consider the effects of climate variability and change on human society." [WMO: World Climate Conferences] Then in 1988, the Intergovernmental Panel on Climate Change (IPCC) was established to "provide the world with a clear scientific view on the current state of knowledge in climate change and its potential environmental and socio-economic impacts." [IPCC] In 1990, the IPCC and the second WCC together called for a global treaty to address climate change. Two years later, the UN Framework Convention on Climate Change opened for signature at the 1992 Earth Summit in Rio de Janeiro, Brazil. It entered into force on March 21, 1994 and currently has 195 States Parties. [UNFCCC: Background] The "ultimate objective" of the Convention, as stated in Article 2, is "to achieve…stabilization of greenhouse gas concentrations in the atmosphere at a level that would prevent dangerous anthropogenic interference with the climate system." However, the Convention does not impose specific standards or other limitations on States parties, beyond requiring them to monitor emissions, develop programs to mitigate climate change, and – in the case of developed countries – to regulate emissions.
Wishing to strengthen the global response to climate change, in 1997 States Parties to the UNFCCC negotiated the Kyoto Protocol, a treaty that legally binds developed countries to establish specific emission reduction targets. The Kyoto Protocol entered into force on February 16, 2005 and now has 192 States Parties. Its first commitment period started in 2008 and ended in 2012. Its second commitment period started in January 2013 and will end in 2020. [UN: Climate Change]
As mentioned above, in 2011 the UNFCCC Conference of the Parties established the ad hoc Working Group on the Durban Platform for Enhanced Action. With the expiration of the Kyoto Protocol's second commitment period imminent, a central purpose of the Working Group was to develop a "comprehensive plan" for reaching the objectives of the UNFCCC. [UNFCCC: Durban] The plan is to be finalized by 2015 in order to "come into effect and be implemented from 2020." UN Framework Convention on Climate Change Conference of the Parties, Establishment of an Ad Hoc Working Group on the Durban Platform for Enhanced Action (Decision 1/CP.17), FCCC/CP/2011/9/Add.1, 11 December 2011, para. 4.
A recent development occurred in 2012, when the Conference of the Parties serving as the meeting of the Parties (CMP) adopted the Doha Amendment to the Kyoto Protocol. [UNFCCC: Background] The Doha Amendment requires States Parties to further reduce their aggregate emissions and increase the level of their "mitigation ambition." [Legal Response Initiative] The Amendment will enter into force once 144 States Parties to the Kyoto Protocol have submitted instruments of acceptance; currently only 13 States have done so. [UNFCCC: Doha Amendment]