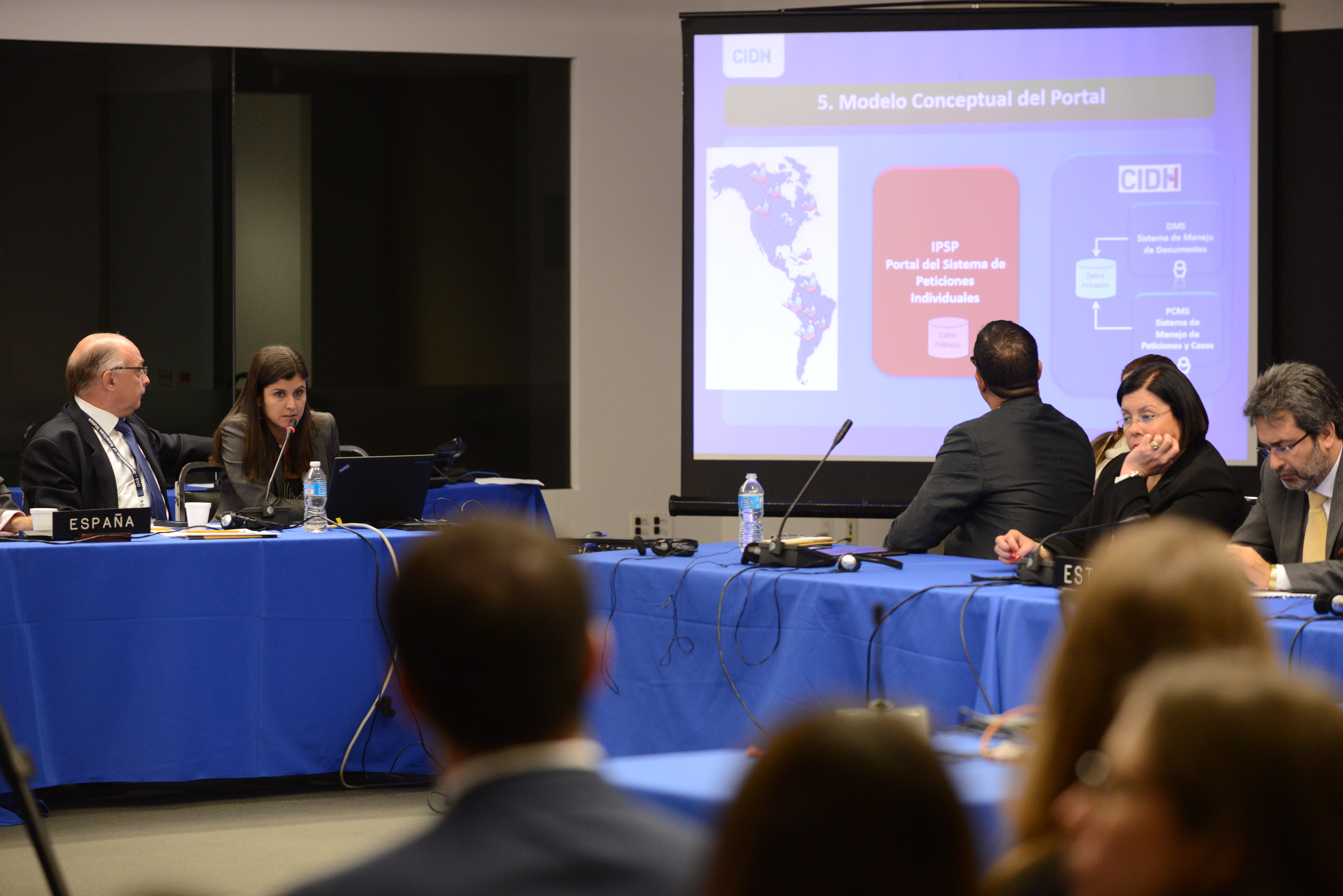 On July 22, 2015, the Inter-American Commission on Human Rights (IACHR) launched its Individual Petition System Portal (IPSP), which gives parties digital remote access to their petitions and cases. The IACHR is the first regional human rights body to provide parties with electronic access to this type of information. The creation of the portal is also part of a larger effort to increase access to information for people seeking remedies from the Inter-American human rights system. IACHR Chair and Commissioner, Rose Marie Belle Antoine stated that the portal's launch is "a really historic moment that will radically change the processing of petitions, cases, and precautionary measures" and is a "major step forward in the use of new technologies to enable all users of the Inter-American human rights system to exercise the right of access to information." [OAS Press Release]
Background
The Commission presented the prototype for the portal during its 153rd Period of Sessions on October 28, 2014. The implementation of the portal was determined to be a priority for the Commission, as one way to strengthen the Inter-Americana human rights system. The presentation addressed the type of technology needed to create and use the portal, as well the need to provide States, petitioners, and victims electronic access to their cases and petitions. [OAS Announcement]
How the Portal Functions
The portal is a document transmission tool that provides States and petitioners with free online access to documents related to their pending petitions and cases. Parties can use the portal to send communications and annexes, consult documents issued by the Commission, and access information about precautionary measures. In order to ensure security, users must register with the portal using an e-mail address that is registered with the Commission. By entering an e-mail address and password, users can access information on matters registered under that e-mail. [OAS Press Release]
The Commission's website provides details about the portal including its terms and conditions of use (available in Spanish only), a user manual for petitioners, and a user manual for States.
Purpose of the Portal
Access
The portal is free of charge for users. It provides increased access to information on the status of petitions, cases, and precautionary measures. While previously, parties with matters pending before the Commission had to make long-distance phone calls to inquire about the status of their case or verify that the Commission had received submitted documents, they will now be able to do so through the portal. [OAS Press Release]
Efficiency
In discussing the launch of the portal, Emilio Álvarez Icaza, the Commission's Executive Secretary, encouraged parties to use the portal, which will streamline communication, thereby allowing the Commission to process matters more efficiently and respond to petitions more quickly, particularly given that the Commission has been receiving an increased number of petitions (435 petitions in 1997; 1,050 in 2003; 1,431 in 2009; and 2,061 in 2013) in recent years. [OAS Press Release] For more statistics, please visit the Commission's statistics database.
Transparency
The portal will also increase the transparency of the Commission's work and its procedures, particularly via a more streamlined exchange of communications and documents. [OAS Press Release]
Additional Information
The Inter-American Commission on Human Rights is responsible for monitoring, promoting, and protecting human rights in the 35 Member States of the Organization of the Americas (OAS). To learn more about the IACHR, the Inter-American Court of Human Rights (IACtHR), and the Inter-American System, visit IJRC's Online Resource Hub.