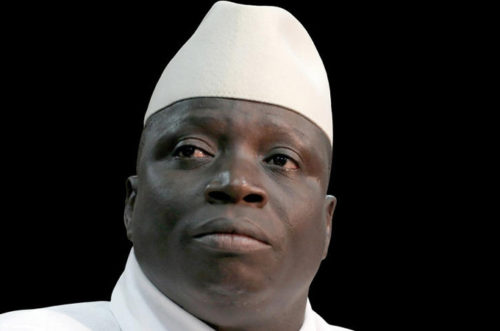 Human rights monitors have criticized Gambian authorities' detention and alleged torture of political protesters, including the reported death in custody of a political opposition leader, as the international community pays closer attention to a government known to carry out extrajudicial killings, enforced disappearances, and arbitrary arrests. [okayafrica; HRW] The Gambian government has charged protestors associated with the opposition party with rioting, illegal protest, and incitement to violence following demonstrations for electoral reforms and subsequent protests of the death in custody of United Democratic Party (UDP) official Solo Sandeng, who was reportedly tortured to death in State custody earlier this month. [News24]
The African Commission on Human and Peoples' Rights (ACHPR), United Nations Office of the High Commissioner for Human Rights (OHCHR), and several non-governmental organizations, including Human Rights Watch, Amnesty International, and ARTICLE 19 have condemned the alleged actions, which potentially implicate the rights to life, free expression, free assembly, and the prohibition of torture and other cruel, inhuman, or degrading treatment, and urged Gambia to investigate Sandeng's death and release the detained protestors. [ACHPR Press Release; OHCHR Press Release; HRW] These recent repressive movements are part of a larger pattern of silencing opposition voices in Gambia that has characterized President Jammeh's rule for more than a decade. See Human Rights Watch, State of Fear (2015).
Recent Developments
Security forces arrested several opposition leaders and party members during the protests on April 14 and 16. Solo Sandeng and other protestors, including other members of the opposition party, were arrested during protests in Banjul on April 14, 2016 while they held peaceful demonstrations for election reform ahead of the upcoming December elections. [HRW] After members of the UDP alleged that Sandeng was tortured and died in custody, additional protests broke out on April 16, 2016, leading to additional arrests and detention of UDP members and other civil society activists. [ACHPR Press Release] The security forces used tear gas on the protestors before making arrests. [HRW] There are also reports that a detained UDP member is suffering from severe injuries. [HRW]
The ACHPR reached out to the Attorney General and Minister of Justice of Gambia, Justice Mama Fatima Singhateh, regarding the situation. [ACHPR Press Release] Singhateh told the ACHPR that the protests over the weekend were unlawful assemblies and the security forces were merely trying to manage the situation, resulting in several arrests. The events, he told the ACHPR, are being investigated internally. [ACHPR Press Release]
Implications under Human Rights Bodies and Treaties
The ACHPR and OHCHR both weighed in on the recent events in Gambia, reminding the State of its human rights obligations. The ACHPR's recent statement on Gambia stressed that, if true, the reported treatment of protesters in Gambia constitutes violations of the rights to life, due process, free expression, and peaceful assembly under the African Charter on Human and Peoples' Rights (African Charter). [ACHPR Press Release]  The African Commission recommended that Gambia investigate Sandeng's death in custody and allegations of protesters being beaten; ensure that if the allegations are true, those responsible are promptly arrested and prosecuted; ensure the release of detained protesters if the alleged conditions of their arrest and detention are true; and adhere to its international and regional obligations. [ACHPR Press Release]
The UN High Commissioner in a recent press release on Gambia highlighted the importance of the rights to free expression and peaceful assembly, especially during the election period. [OHCHR Press Release] The OHCHR also warned that Gambia's security forces must comply with all international human rights standards and that any use of excessive force must be independently investigated. [OHCHR Press Release] In doing so, the OHCHR made an explicit reference to the Code of Conduct for Law Enforcement Officials, adopted by the UN General Assembly, which mandates that security forces must protect all people from illegal acts and limit use of force when it is "strictly necessary" for the performance of their duties. UN General Assembly, Resolution 34/169, The Code of Conduct for Law Enforcement Officials, UN Doc. A/RES/34/169, 17 December 1979. It specifically states that law enforcement officials have an obligation to protect the health of those in their custody, abstain from torture in all circumstances, and not take part in acts of corruption where citizens are treated differently than government officials would be. Id.
African regional bodies, including the ACHPR and the Economic Community of West African States (ECOWAS), have previously responded to reports of State-sanctioned human rights violations in Gambia, reminding the State of its obligations to uphold the rights to due process, liberty, freedom from torture and degrading treatment, and life. The ACHPR issued a resolution in February 2015 on the human rights situation in the country after a failed coup in December 2014, condemning the unconstitutional change of government and urging Gambian authorities to ensure due process for those detained in relation to the coup. See ACommHPR, Resolution on the Human Rights Situation in the Republic of The Gambia, Doc. ACHPR/Res.299 (EXT.OS/XVII), 28 February 2015. In 2009, it issued a resolution condemning President Yahya Jammeh for threatening to kill anyone, especially human rights defenders, who he viewed as destabilizing the government. See ACommHPR, Resolution on the Deteriorating Human Rights Situation in the Republic of The Gambia, Doc. ACHPR/Res.145 (EXT.OS/VII), 11 October 2009.
A 2008 ECOWAS Community Court of Justice decision found Gambia in violation of the African Charter's provisions on non-discrimination, due process and fair trial, and the right to liberty for detaining journalist Chief Ebrimah Manneh and holding him incommunicado. See ECOWAS Community Court of Justice, Manneh v. The Gambia, Judgment No. ECW/CCJ/JUD/03/08, 5 June 2008.
Background to Political Unrest in the Gambia
President Jammeh, who took power in a 1994 coup, has headed a repressive regime for 12 years, targeting opposition and minority groups in that time. He was first elected in 1996 and has subsequently been re-elected three times. [Yahoo News] His party, the Alliance for Patriotic Reorientation and Construction (APRC) won the most recent 2012 elections, which six opposition parties boycotted on the basis of abuse of power. [Yahoo News] Jammeh's 22-year reign has been marked by repressive treatment of opposition parties, journalists, and sexual minorities. See Human Rights Watch, State of Fear. For example, a 2014 law criminalizes homosexuality, imposing life sentences for "aggravated homosexuality." Id. A failed coup in 2014 sparked a spate of arbitrary arrests, detention, and enforced disappearances of opposition party members involved in the coup and their relatives, journalists, and human rights defenders. See Amnesty International, Amnesty International Report 2015/2016: The State of the World's Human Rights (2016), 161-62. While some of the journalists detained were eventually released without being charged, Alhagie Ceesay, the director of a radio station, was charged with sedition. Id. The UN Special Rapporteur on torture reported that torture was "prevalent and routine" in situations of detention in Gambia. Id.
In addition to advocating for investigations into the deaths of detainees and the release of those arrested in connection with the April 14 and 16 protests, Amnesty International, Human Rights Watch, and ARTICLE 19 called for the release of Alhagie Ceesay, who has been arbitrarily detained since July 2015 and is currently gravely ill. [HRW]
Additional Information
For more information on the right to life, the right to humane treatment, the African Commission on Human and Peoples' Rights, the United Nations human rights bodies, or the ECOWAS Court of Justice, visit IJRC's Online Resource Hub.