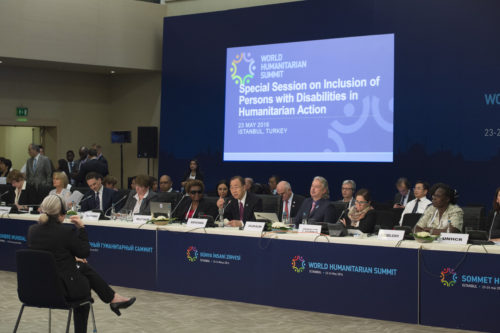 A new charter on the inclusion of persons with disabilities in responses to humanitarian crises was endorsed at the first World Humanitarian Summit in Istanbul on May 24, 2016. [UN News Centre] The Charter on Inclusion of Persons with Disabilities in Humanitarian Action encourages States and civil society organizations to consider the specific needs of people with disabilities in all stages – design, planning, coordination, and implementation – of humanitarian responses. [UN News Centre] The agreement, launched by Handicap International, responds to a pattern of increased challenges that people with disabilities face in emergency situations, armed conflict, and natural disasters. [UN News Centre] Although the pact is non-binding, it garnered substantial and diverse support from States, non-governmental organizations, and United Nations agencies, including being endorsed by Secretary General Ban Ki-moon. [UN News Centre; Thomson Reuters]
Commitments under the Charter
The Charter encourages signatories to strive toward ensuring access to humanitarian aid for persons with disabilities. See Charter on Inclusion of Persons with Disabilities in Humanitarian Action, 24 May 2016, para. 1.2. The Charter is based on five principles: non-discrimination and recognition of diversity; consultation and participation; equal availability; inclusive policies; and cooperation and coordination among humanitarian actors. [Handicap International]
It specifically requires that discriminatory policies and practices be eliminated and also identifies the need for responses to intersectional identities and factors, particularly for women and girls who have disabilities. Id. at para. 2.1. The Charter encourages participation of persons with disabilities, either through individuals or representative groups, in planning humanitarian responses. Id. at para. 2.2. The signatories of the Charter commit to the development and implementation of policies that include persons with disabilities in humanitarian responses and that collect data on persons with disabilities for subsequent assessment. Id. at para. 2.3. They also agree to implement humanitarian responses, including specialized services, that are accessible and affordable. Id. at 2.4. Lastly, the Charter encourages State, civil society actors, and UN agencies to coordinate to facilitate the implementation of these goals and to properly train and sensitize those involved in humanitarian responses on the specific needs of persons with disabilities. Id. at 2.5.
Support for the Charter
The Charter received support from a wide array of humanitarian actors, receiving 96 signatories during the World Humanitarian Summit. [Thomson Reuters] They included NGOs, including groups focused on persons with disabilities; representatives from key humanitarian organizations, such as the International Federation of the Red Cross and Red Crescent; UN agencies; and 12 States from Asia, Europe, and North America. See Humanitarian Disability Charter, About. The Charter and accompanying summit session build on the obligations contained in the Convention on the Rights of Persons with Disabilities, a binding universal treaty with 164 States parties. [OHCHR Press Release]
Several representatives hailed the Charter as a crucial step in removing obstacles that arise during crises for persons with disabilities. They included the first UN Special Rapporteur on the rights of persons with disabilities, Catalina Devandas Aguilar, who commented that currently humanitarian responses lack plans to address the needs of persons with disabilities in armed conflict and during and after natural disasters. [UN News Centre] UN Secretary General Ban Ki-moon highlighted the importance of implementing the ideals in practice despite the Charter's non-binding nature. [Thomson Reuters]
The World Humanitarian Summit
 UN Secretary General Ban Ki-moon convened the World Humanitarian Summit as a global "call to action" to reiterate engagement with humanitarian law and principles, develop standards for responding to humanitarian crises, and share best practices. See World Humanitarian Summit, Learn. Over 5,000 participants, including government representatives, NGOs, businesses, civil society members, and affected individuals attended the two-day event. Id. In addition to the session on humanitarian aid for persons with disabilities, the summit addressed the issues of forced displacement, gender equality, and prolonged or recurring crises. Id. The goals of the conference included building on the 2030 Agenda for Sustainable Development and ensuring the right to dignity for everyone, including during humanitarian responses. Id.
Challenges Faced by People with Disabilities in Humanitarian Crises
The Charter and forthcoming plan of action aim to safeguard the rights and needs of the 20 million people with disabilities currently impacted by emergency situations, in response to findings that as many as 75 percent of such individuals are left without access to water, housing, food, medical attention, or assistive devices following a crisis. [Handicap International] Disabled individuals in crisis situations are often abandoned or neglected and do not have the same access to fundamental aid as others. [Human Rights Watch] Location, lack of accommodations, cost, and communication barriers stand as obstacles to accessing the necessary assistance. [Human Rights Watch]
Human Rights Watch reported several instances where persons with disabilities were left behind by fleeing relatives who felt unable to escape safely and provide assistance their family member. [Human Rights Watch] Those who make it to refugee camps often find the camps lack accessible facilities, leading to increased risk of health concerns. [Human Rights Watch]
The World Health Organization estimates that 15 percent of the world population has some disability, and the UN High Commissioner for Refugees reports that several million people with disabilities are currently displaced from their homes. UNHCR, People with Disabilities. This number is likely on the rise, particularly with ongoing humanitarian situations, such as the Syrian conflict in which bombings have led to the loss of limbs and other injuries. [Daily Mail]
Although the Charter is currently aspirational and not binding, it demonstrates a commitment on the part of many key actors involved in planning, organizing, and providing humanitarian aid to changing this situation.