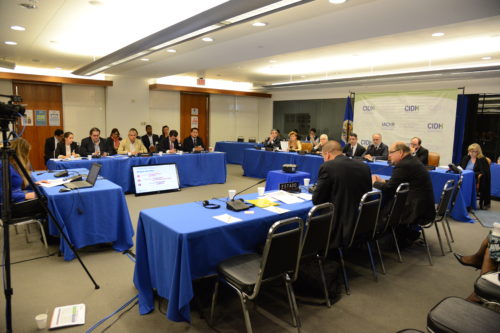 Over the past weeks, Venezuelan citizens have reacted to a deteriorating economic situation and food shortages through protests and an effort to recall President Nicolas Maduro, while the State has responded by declaring a rights-restricting state of emergency and cracking down on dissent. [Vice News; IACHR Press Release: Detentions] At a recent rally, on June 7, 2016, hundreds of Venezuelan protesters shouted, "I am hungry" and called for a referendum that would allow them to remove Maduro from office. The police forces present sprayed tear gas on the demonstrators.  [Reuters] Meanwhile, the State of Exception and Emergency Decree, through broad and vague language, provides Maduro with the ability to severely limit the exercise of rights, including through banning civil society groups from receiving foreign funding, and denies the National Assembly the ability to sanction him. [HRW; IACHR Press Release: Emergency] Human rights experts have spoken out against the decree, warning of the human rights violations that could result, such as the suppression of free expression and assembly, and the deterioration of core principles of a democratic society, including the rule of law and separation of powers. [HRW; IACHR Press Release: Emergency; BBC] Venezuela has committed itself to protecting economic, social, and cultural rights, such as the right to an adequate standard of living, as well as to ensuring protesters' civil and political rights through the ratification of core human rights treaties including the International Covenant on Civil and Political Rights (ICCPR) and International Covenant on Economic, Social and Cultural Rights (ICESCR).
Current Situation in Venezuela
While prior administrations – including that of President Maduro's predecessor, Hugo Chavez – have been accused of, or held responsible for, serious human rights violations related to political participation and popular protests, the current situation is more directly rooted in the material hardship Venezuelans are experiencing. Venezuela has been in a steadily worsening economic crisis, marked by rampant inflation and shortages of basic necessities, including food, medicine, electricity, and water. [HRW; Reuters] In 2015, 12 percent of the population ate two or fewer meals per day. [Vice News] The conditions are widespread, but the food shortage is at its worst in rural regions where as much as 27 percent of the children do not get enough food. [Vice News] About a quarter of Venezuelan children are no longer attending school due to the schools' inability to continue providing meals and the parents' choice to let their children sleep to avoid hunger. [Vice News]
In response, protests, riots, and looting have taken place across the country. [Reuters] People have started riots while waiting in long lines to collect supplies, and some have looted or broken into government food trucks, stores, and warehouses. [Vice News] While many of the recent demonstrations and rioting centered around the food shortage, in protests organized by political opposition groups, protestors have also brought attention to the detention of activists. [Reuters] The Venezuelan government has responded to the movements by spraying tear gas and shooting into the crowds. [Reuters; Vice News]
Maduro alleges that the shortages are an "economic war" waged by the private sector to challenge the socialist regime. [Vice News] He further avers that the Venezuelan political opposition are responsible for fostering violence in the country and, together with the United States' government, are looking to stage a coup. [Reuters] These "destabilization plots" underlie his rationale for the State of Exception and Emergency Decree, which is set to be in effect for 60 days, and are used as justification for detaining dissidents. [HRW] The decree was handed down on May 13, 2016, rejected by the National Assembly a few days later, and then ruled constitutional by the Supreme Court of Justice on May 19, 2016, fueling allegations that the judiciary is no longer independent, but rather serves to enforce executive actions. [IACHR Press Release: Emergency]
International and Regional Response
In a call to action spearheaded by Human Rights Watch, non-governmental organizations demanded that the May 2016 decree be revoked because it could be used to stifle human rights work through limiting funds for organizations and harassing human rights defenders and to derogate from Venezuela's obligations under international human rights standards. [HRW] The organizations called on States to refer the situation to the UN Human Rights Council during its June 2016 session. [HRW] It also called on the relevant bodies in the Organization of American States (OAS) to address the situation on a regional level. [HRW]
The Inter-American Commission on Human Rights (IACHR) expressed concern about the decree stating that derogations must only be implemented in a way proportionate to the aim. Although a State may derogate from some of its human rights obligations in times of emergency, it is strictly limited to those in which "the life of the nation" is threatened and only to the extent "strictly required" in the situation. [HRW] The IACHR further highlighted that provisions in the decree that prohibited international cooperation and foreign finance when presumed to be used for a political purpose put an unlawful burden on human rights organizations to finance themselves and threatens their work. [IACHR Press Release: Emergency] The Commission further stated that the decree also acts as a restriction to free speech, protest, and the principle of plurality. [IACHR Press Release: Emergency]
The OAS Secretary-General, Luis Almagro, has called for a meeting of the OAS Permanent Council, in which Member States will reportedly be asked to determine whether the situation and government actions in Venezuela are an "unconstitutional altercation of the constitutional regime that seriously impairs the democratic order." [BBC] The meeting has been scheduled for June 23 at the OAS headquarters in Washington, D.C. [OAS Press Release] Venezuelan oppositionists urged Almagro to call the meeting. [BBC] If two thirds of the Member States find that Venezuela's actions have undermined the principles of democracy, Venezuela will be suspended from the OAS. [BBC] The meeting will follow shortly after the OAS General Assembly, currently convened in Santo Domingo from June 13 to 15. [BBC] Maduro responded to the decision by accusing OAS of "foreign intervention" and stating that he will bring charges for betraying the nation against the members of the Venezuelan Congress involved in advocating for the OAS meeting. [BBC]
Prior History of Economic Crisis and Human Rights Violations
According to human rights organizations, Maduro has previously used allegations of "destabilization plots" as justification for human rights violations. [HRW] Human Rights Watch has stated that he detained political opposition and dissidents in violation of the protection from arbitrary arrest and detention, limited the rights to freedom of expression and assembly, and allowed the use of torture. [HRW] Human Rights Watch, along with many international, regional, and domestic non-governmental organizations, warns that the present decree could likely result in similar human rights abuses. [HRW]
In the last year, the government has been accused of violating the rights of many low-income and immigrant communities in the name of national security. [HRW] Crackdowns have resulted in extrajudicial killings, arbitrary detentions, arbitrary evictions, violations of due process, and arbitrary deportation. [HRW] In February 2014, under similar economic conditions, the UN High Commissioner for Human Rights and IACHR expressed concern regarding violations of the rights to free expression, assembly, life, and humane treatment. [IJRC: 2014]
Venezuela has been included in the IACHR's annual "black list" of the region's three or four worst human rights violators every year since 2005. See IACHR, Annual Reports. In recent months and years, the IACHR and human rights organizations have criticized Venezuela for its prosecution and detention of demonstrators and political opponents, suppression of free speech, the murder of opposition leaders and journalists, extrajudicial killings by parapolice groups, and prison conditions. See IACHR, Press Releases. The cases decided against Venezuela by the Inter-American Court of Human Rights have addressed many of these same issues.
Additional Information
Venezuela is a State party to the International Covenant on Economic, Social and Cultural Rights, which requires States to recognize the right to food and to be free from hunger, and the International Covenant on Civil and Political Rights, which protects the rights to freedom of expression, freedom of assembly, and freedom from arbitrary arrest and detention. See ICESCR, art. 11; ICCPR, arts. 19, 21, and 9.
Venezuela denounced the American Convention on Human Rights in 2012, officially taking effect in 2013. The State is still a party to the American Declaration of the Rights and Duties of Man (American Declaration). [IJRC: 2012] The American Convention on Human Rights established the Inter-American Court of Human Rights, and accordingly, Venezuela's denunciation of the convention resulted in robbing the court of jurisdiction over the State for violations occurring after its denunciation went into effect. [IJRC: 2012] See American Convention on Human Rights, arts. 61 and 62. Moreover, within the Inter-American regional framework, Venezuela is now bound only by its obligations under the American Declaration, which protects the rights to freedom of expression, assembly, and association and to liberty and security. [IJRC: 2012] See American Declaration of the Rights and Duties of Man, arts. 1, 4, 11, 12.
For more information on economic, social, and cultural rights or news on prior economic crises and protests in Venezuela, visit IJRC's Online Resource Hub.