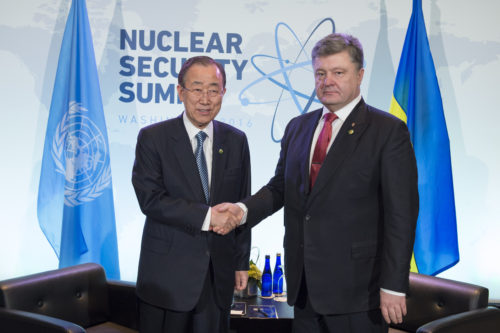 A recent report from the United Nations Office of the High Commissioner for Human Rights (OHCHR) shows that human rights conditions in eastern Ukraine remain precarious two years after the outbreak of conflict there, in view of recent violence in the Donetsk region, increasing militarization near the front line, and continuing rights abuses by both sides in the battle between nationalists and separatists. See Office of the United Nations High Commissioner for Human Rights, Report on the Human Rights Situation in Ukraine (2016). The report, which covers mid-February through mid-May of this year, details ongoing acts of torture, enforced disappearances, and arbitrary detention carried out by both the Ukrainian government and armed opposition groups. Noting an increase in heavy weapons and clashes near the line of separation mandated in last year's deteriorating ceasefire, the OHCHR warns that this conflict may escalate or become protracted and should not be ignored by the international community. [OHCHR Press Release; Reuters] Ukraine is a State party to several universal and regional human rights treaties that protect the rights to life, freedom of expression and assembly, and prohibition of torture.
OHCHR Findings
According to the OHCHR report, the Ukrainian government has engaged in human rights abuses across the country, particularly in the eastern part of the State, in the name of counter-terrorism and fighting the armed groups in the ongoing conflict. OHCHR reported that individuals across Ukraine have suffered restrictions to their freedoms of expression, association, peaceful assembly, and religion. See Report on the Human Rights Situation in Ukraine, at para. 7. The Ukrainian government, according to OHCHR's report, has used counter-terrorism legislation to repress dissenters. See id.
With an average of 30,000 daily attempts to cross the contact line in mid-April, the right to freedom of movement, the OHCHR pointed out, has also been restricted as travelers wait in long lines amid dangerous conditions. See id. at paras. 84-86. On April 27 of this year, shelling in an armed group-controlled territory killed four civilians and wounded eight others as they waited at a checkpoint. See id. at para. 86. Implications of this obstruction of movement are far-reaching, compromising civilians' access to medical care and ability to see their family members and earn a livelihood. See id. at para. 85. Furthermore, recent government restrictions on payments of social entitlements endanger individuals living in armed-group controlled territories, as they are now required to travel across the contact line in order to access entitlements like pensions in state-controlled territories. See id.
According to the report, persistent conflict between the Ukrainian government and armed groups, like the self-proclaimed Donetsk People's Republic and Luhansk People's Republic, has fueled the human rights abuses in the eastern region. Ukrainian authorities have detained hundreds of people suspected of affiliation with the armed groups, reportedly charging them under anti-terrorism laws, torturing them, and violating their rights to due process and a fair trial. See Report on the Human Rights Situation in Ukraine, at para. 4. The Office of the High Commissioner also noted that the Ukrainian government has breached the principle of non-discrimination by lowering human rights protection guarantees specifically within the conflict zone. See id.
Meanwhile, the OHCHR reported that armed groups continue to commit human rights abuses of their own through their territorial control over the Donetsk and Luhansk regions, where recent hostilities began in early March of this year endangering civilians. See id. at para. 5. The Donetsk People's Republic and Luhansk People's Republic exert control over approximately 2.7 million people. See id. The OHCHR has documented frequent arbitrary arrests, and detentions, as well as repressive searches and torture of dissenters, in those regions. See id. The armed groups have effectively blocked the population's access to humanitarian aid by continuously denying entry to international organizations. See id. Now exempt from Ukraine's legal system, the population living in these armed group-controlled territories, OHCHR reports, has been deprived of basic protection and due process guarantees. See id.
As of April 1 of this year, Ukrainian police have initiated 3,687 missing persons cases in Donetsk and Luhansk. See id. at para. 26. This figure does not include the 2,755 investigations that have been launched into abductions and kidnappings. See id. Hundreds of these individuals remain missing, and many, according to OHCHR, are likely secretly detained. See id.
Moreover, the report highlights that impunity for law enforcement and high-level officials allows many of these atrocities to continue unpunished. See id. at para. 54. Government agents are often excused for their conduct on the grounds that their actions are necessitated by the ongoing conflict. See id. For instance, little progress has been made in investigating certain past violent events, including in Kiev at Maidan Nezalezhonosti (Independence Square) and in Odessa, the latter of which killed 48 people. See id. at para. 9.
The report notes a sharp decline in the human rights environment in Crimea over the past two years since Russia's 2014 annexation, largely due to the forced imposition of Russian laws on the Crimean population and daily harassment of those who object. OHCHR reports that individuals resisting Russia's jurisdiction over the peninsula are frequently denied access to vital services like free health care. The arbitrary use of so-called anti-terrorism and anti-extremism laws are reportedly used to punish peaceful conduct and silence opposition, depriving the population of their freedoms of speech, association, assembly, conscience, and religion. See id. at para. 8. Crimean Tatars – the Muslim minorities who suffered mass deportations under the Stalin regime – and Ukrainians who openly oppose Russian control in particular have been targets of suppression. See id. [Al Jazeera]. Open displays of Ukrainian culture and speaking Ukrainian in public are treated with suspicion or wholly prohibited by authorities. See Report on the Human Rights Situation in Ukraine, at para. 8.
The Conflict, in Context
The crisis in eastern Ukraine was sparked by former Ukrainian president Viktor Yanukovych's decision to strengthen ties with Russia by abandoning an economic deal with the European Union. [BBC] Many Ukrainians in the western regions opposed this political move, favoring European integration over Russian alliance, and successfully voted out Yanukovych in 2014. [BBC] Pro-Russian separatists in the Crimean peninsula violently protested – with help from the Russian military – and Crimea was eventually annexed, triggering sanctions on Moscow by the European Union and United States. [BBC] The protests then spread eastward to the Donetsk and Luhansk regions, which both claimed independence in May 2014. However, their self-proclaimed independence as people's republics is not recognized by Kiev or the West. [BBC] Parties to the conflict agreed to a ceasefire on two separate occasions, both in Minsk: the first was established in September 2014 by Ukraine and the pro-Russian rebels, and the second was agreed to in February 2015 by Ukraine, Russia, Germany, France, and pro-Russian rebels. [BBC]
Ukraine's International Human Rights Obligations
In May of this year, the United Nations Subcommittee on Prevention of Torture (SPT) was forced to suspend its visit to Ukraine after its access to key parts of the country was blocked. The SPT had reason to believe that the Security Service of Ukraine was depriving people of their liberty in these restricted areas. [UN News Centre] Malcolm Evans, head of the delegation, explained in a statement released by the OHCHR, "This denial of access is in breach of Ukraine's obligations as a State party to the Optional Protocol to the Convention against Torture. It has meant that we have not been able to visit some places where we have heard numerous and serious allegations that people have been detained and where torture or ill-treatment may have occurred." [UN News Centre]
Ukraine is a State party to several UN human rights treaties, including the Convention against Torture and Other Cruel Inhuman or Degrading Treatment or Punishment (CAT), the International Covenant on Civil and Political Rights (ICCPR), and the International Covenant on Economic, Social and Cultural Rights (ICESCR). OHCHR, Ratification Status. As a party to these agreements, Ukraine is obligated to prevent acts of torture within its territory; prohibit cruel, inhuman or degrading treatment; and to prevent arbitrary deprivation of life.
Ukraine is also a member of the Council of Europe, and is, therefore, a party to the European Convention on Human Rights (ECHR) and subject to the European Court of Human Rights' jurisdiction. Under the ECHR, Ukraine is obligated to secure the rights to freedom of expression; freedom of thought, conscience, and religion; and freedom of assembly and association.
Additional Information
This is the fourteenth report in a series issued by the United Nations Human Rights Monitoring Mission in Ukraine (HRMMU), which was deployed to Ukraine by the United Nations Human Rights Office in March 2014 upon the Ukrainian government's invitation. The HRMMU has monitors based in Kyiv, Donetsk, Lviv, Kharkiv, and Odesa, and compiles a report each month detailing the human rights environment and issuing recommendations. [UN Human Rights]
For more information on the European Court of Human Rights and its past judgments against Ukraine, the UN Subcommittee on the Prevention of Torture, and conflict and international humanitarian law, visit IJRC's Online Resource Hub.