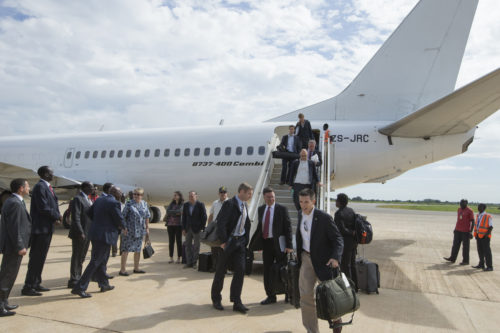 In South Sudan, opposing armed forces backing President Kirr and Vice President Machar may have committed war crimes by attacking civilians and humanitarian personnel and facilities in recent weeks, according to UN representatives, prompting a decision by the African Union to send additional troops to join the UN peacekeeping force there. [NPR; UN News Centre: Juba; OHCHR Press Briefing] Renewed outbreaks of violence in South Sudan have displaced tens of thousands and killed hundreds of civilians and humanitarian aid workers, amid widespread hunger and a suspected cholera outbreak. [UN News Centre: Juba; OHCHR Press Release; Reuters] While a ceasefire that began on July 11 has held, civilians continue to deal with the aftermath. [OHCHR Press Briefing; Guardian] International bodies have condemned the fighting and the targeting of civilians, UN peacekeepers, and UN compounds. [OHCHR Press Briefing; OHCHR Press Release; UN News Centre: Juba; UNICEF Press Release: Violence; ACHPR Press Release]
The recent fighting implicates South Sudan's commitments under international law. As the UN Security Council reminded the State, civilians may not be targeted during armed conflict and humanitarian aid workers must be able to access those in need of their services. [UN News Centre: Juba] South Sudan is further obligated to respect and protect the rights to freedom from torture, the life of the child, and access to medical care for women and children, pursuant to the international human rights treaties it has ratified.
Current Situation
The fighting has impacted not only Juba but the surrounding areas in South Sudan and neighboring countries, as well. In recent weeks, Sudan People's Liberation Army (SPLA) troops attacked civilians in Wau, blocked the UN Mission in the Republic of South Sudan (UNMISS) access to the area, and displaced many thousands of individuals. [AlJazeera] Since July 7, 2016, the SPLA and SPLA in Opposition, representing supporters of President Kiir and Vice President Machar, respectively, have engaged in renewed fighting in Juba despite a peace agreement reached in August 2015. [UN News Centre: Juba] Civilians have sought refuge in churches, schools, and the UNMISS compounds, but two UN camps have been directly targeted, allegedly because opposition fighters are believed to be hiding at UN sites. [OHCHR Press Release; Washington Post; USA Today] The fighting spread to areas outside Juba, such as in Central Equatoria, and reports indicate that more than 30,000 people have been internally displaced by the upsurge in violence. [UN News Centre: Security Council; OHCHR Press Release] Some have joined the 860,000 South Sudanese refugees living in neighboring countries. [UNHCR] The UN High Commissioner for Refugees has urged neighboring countries to open their borders for potential refugees. [UNHCR Press Release]
Reports indicate that civilians and peacekeepers were targeted as they sought refuge at UNMISS compounds and that humanitarian aid workers cannot perform their duties. [OHCHR Press Release] According to UNMISS, eight people were killed, including two UN peacekeepers and another UN employee, and 59 people were injured during civilian protection efforts. [OHCHR Press Briefing; UN News Centre: Security Council] In addition, humanitarian workers have been harassed and prevented from reaching those in need of aid. [OHCHR Press Release]
The two opposing leaders issued a joint press conference on Friday, July 8, calling for calm. This led to a short lull in violence, which deteriorated on July 10, with each side blaming the other for the renewed hostilities. On July 11, President Kiir and Vice President Machar declared a ceasefire, which has held as of July 19. [OHCHR Press Briefing; BBC: AU] Additionally, reports indicate that the African Union has decided to send troops to South Sudan to join the 12,000 UN peacekeepers already present in the country. [BBC: AU]
Civilians, however, continue to feel the impact of both the recent clashes and the larger conflict. With the displacement of citizens from their homes during the latest violence, troops have looted temporarily empty neighborhoods to which displaced civilians are now attempting to return, and civilians continue to face harassment from troops, who will isolate citizens at checkpoints and threaten them with lethal force. [Guardian] A study of the lasting impact of the violence from South Sudan's civil war from 2013 to 2015 has shown civilians suffer from symptoms of post-traumatic stress disorder and have difficulty completing daily tasks, working, studying, and maintaining relationships. See Amnesty International, "Our Hearts Have Gone Dark": The Mental Health Impact of South Sudan's Conflict (2016).
International Responses
UN Secretary General Ban Ki-moon condemned the attacks in the strongest terms, stating that that those responsible for crimes committed in the country since 2013 will be held accountable, and made recommendations to the UN Security Council. [UN News Centre: Security Council] Ban and the OHCHR highlighted the State's duty to protect civilians from accidental violence in crossfire and to prevent the targeting of civilians and peacekeepers. [UN News Centre: Security Council; OHCHR Press Briefing] Ban recommended three directives for Security Council action: put in place an arms embargo on South Sudan, sanction leaders who broke the peace agreement, and provide UNMISS with adequate supplies to protect civilians. [UN News Centre: Security Council] Human Rights Watch also urged the Security Council to impose an arms embargo as an immediate measure to prevent human rights abuses. [VOA]
The UN Security Council issued a statement on July 9, 2016 condemning the violence and urging leaders to take steps to end the fighting; then members met for urgent consultations on South Sudan on July 10, 2016. [What's in Blue: Urgent] In a second press statement, the Security Council reiterated its calls for an end to violence and warned that attacks on civilians and UN premises and personnel could constitute war crimes. [What's in Blue: Briefing]
UNICEF and the UN Special Rapporteur on the human rights of internally displaced persons called particular attention to the needs of those groups most affected by the violence. [UNICEF Press Release: Aid; OHCHR Press Release] While the Special Rapporteur urged all parties to allow displaced civilians access to safe zones and humanitarian workers the ability to reach those in need, UNICEF called for humanitarian aid for women and children as some of the populations hardest hit by the renewed violence. [OHCHR Press Release; UNICEF Press Release: Violence] There is increased need for food, water, and medical assistance due to displacement. [UNICEF Press Release: Aid]
At the regional level, the African Commission on Human and Peoples' Rights expressed its "dismay" at the human rights conditions and their potential consequences for the region's peace and security, while calling for an end to hostilities and, especially, attacks against civilians, embassies, UN facilities, and civilians. [ACHPR Press Release]
In 2014, the African Union created a Commission of Inquiry to examine abuses committed in the conflict through mid 2014, and published its findings in 2015. [AU Press Release; Enough Project] In the August 2015 peace accord, Kiir and Machar agreed to authorize a special court established by the African Union Commission to try those responsible for war crimes and other atrocities. [BBC: Special Court; Amnesty] The Peace and Security Council of the African Union then resolved to create the Hybrid Court of South Sudan. See Peace and Security Council, Communiqué of 547th meeting of the PSC, at the level of Heads of State and Government, on the situation in South Sudan, 26 September 2015, para. 22(ii)(a). The tribunal has yet to be created, and was a subject of recent controversy as the country's leaders voiced their opposition. [Justice Hub; VOA]
Human Rights Obligations
South Sudan, as the youngest nation in the world, has yet to join several key universal and regional human rights treaties, but is a State party to the Convention Against Torture, the Convention on the Rights of the Child (CRC), and the Convention on the Elimination of All Forms of Discrimination Against Women (CEDAW). Article 6 of the CRC protects the right to life for all children, and articles 24 of the CRC and 12 of CEDAW protect the right to equal access of health care for children and women. While South Sudan has accepted the jurisdiction of the CEDAW Committee to consider individual cases against it, the State has yet to allow another UN treaty body to hear individual complaints. See OHCHR, Status of Ratification Interactive Dashboard.
South Sudan is not yet a State party to the African Charter on Human and Peoples' Rights, but the East African Community (EAC) did recently pass a resolution in March 2016 to add South Sudan as a Member State, which would put the State under the jurisdiction of the EAC Treaty and the East African Court of Justice (EACJ), which may hear complaints related to human rights. [IJRC]
South Sudan is also a party to the four Geneva Conventions, which regulate conduct during armed conflict under international humanitarian law. See International Committee of the Red Cross, Treaties, States Parties, and Commentaries: South Sudan. Notably, the fourth Geneva Convention, Convention (IV) relative to the Protection of Civilian Persons in Time of War, mandates humane treatment of civilians. It prohibits any parties to internal armed conflicts from engaging in attacks on the lives or physical well-being of civilians, hostage-taking, and torture or other cruel, inhuman, or degrading treatment. See Convention relative to the Protection of Civilian Persons in Times of War, art. 3. It also requires that wounded individuals have access to care. See id.
Although South Sudan is not a State party to the Rome Statute for the International Criminal Court, which outlines international criminal law and establishes the International Criminal Court (ICC), the State could still fall within the ICC's jurisdiction via Security Council referral. See International Criminal Court, How the Court Works. The UN Security Council, along with Secretary General Ban Ki-moon and the OHCHR, has stated that the recent attacks on civilians and peacekeepers may constitute war crimes. [UN News Centre: Security Council]
History of Armed Conflict in South Sudan
South Sudan has experienced internal violence since 2013 when fighting first broke out between supporters of Kiir and Machar, after Machar formed a rebel army following his ouster from government by President Kiir for planning a coup. [BBC: Machar; Al Jazeera] Both sides engaged in human rights atrocities, including mass killings, sexual and gender-based violence, and looting of civilian property. [Deutsche Welle] After 20 months of conflict, President Kiir signed a peace agreement with rebels in August 2015. [Al Jazeera] The UN Special Rapporteur on the human rights of internally displaced persons noted that the recent actions have undoubtedly breached the tenuous peace agreement. [OHCHR Press Release]
Additional Information
For more information on the right to life, international criminal law, international humanitarian law, and prior news on the human rights situation in South Sudan, visit IJRC's Online Resource Hub.