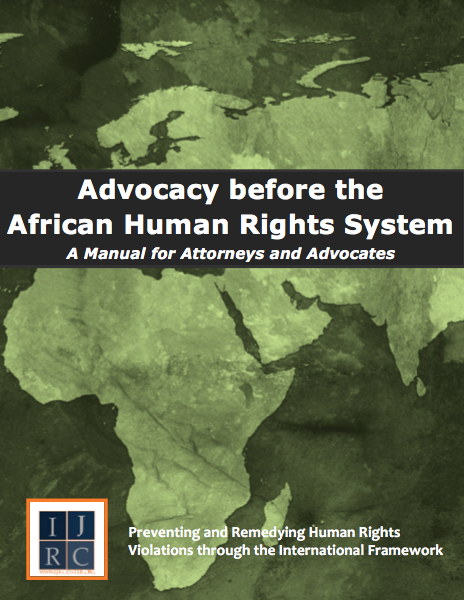 The International Justice Resource Center is thrilled to announce the launch of our latest publication, Advocacy before the African Human Rights System: A Manual for Attorneys and Advocates. This manual, which is part of our publication series Preventing and Remedying Human Rights Violations through the International Framework, is the result of several years' work and benefits from the research and review of numerous colleagues. We are grateful for the input and feedback provided by partner organizations with extensive experience engaging in advocacy before the African Commission and Court on Human and Peoples' Rights. 
The manual provides an overview of the history and components of the African human rights system and the opportunities for advocacy they represent. Its chapters then detail the functions of the African Commission and Court and the ways in which advocates may participate in their activities, with a particular focus on each body's complaints process. Perhaps most importantly for human rights defenders, the manual includes practical tips and strategic advice on effective and timely engagement with the Court and Commission. Significant decisions issued by the Court and Commission are summarized for readers' convenience. The text also explains other continental and regional bodies that play a role in human rights protection, including the Child Rights Committee and East African Court of Justice.
Through numerous footnotes and references, the manual directs readers to the primary sources and reference materials. The final chapter lists additional resources, including websites and publications, that advocates will find useful for further reading.
We welcome your feedback and comments on this new publication (please email us at ijrc@ijrcenter.org) and hope that it is of value to our colleagues working to protect human rights in Africa.