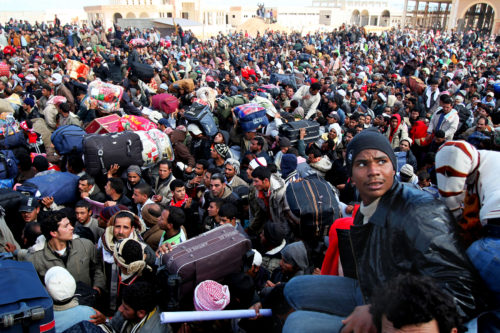 A new report from the United Nations Support Mission in Libya (UNSMIL) and the UN High Commissioner for Human Rights details rights abuses against migrants held in detention in Libya. Published on December 13, 2016, "Detained and dehumanized": Report on Human Rights Abuses Against Migrants in Libya, summarizes information gathered from migrants held in detention centers that are mostly run by the Department for Combatting Illegal Migration (DCIM) and examines issues of arbitrary detention and inhuman conditions of detention; torture and other ill-treatment; forced labor; human rights violations related to interception at sea; sexual violence; and abuses by groups pledging allegiance to ISIL. See UNSMIL & OHCHR, "Detained and dehumanized" Report on Human Rights Abuses Against Migrants in Libya (2016), 14-24. Most of the migrants, refugees, and asylum seekers detained or intercepted by Libyan authorities are en route to Italy from Egypt, Chad, and Nigeria. See id. at 6. The report emphasizes the connection between the breakdown in independent legal processes in Libya in recent years and the human rights abuses migrants face when travelling through Libya; smugglers, armed groups, and criminal gangs enjoy impunity, and migrants do not enjoy due process guarantees when detained. See id. at 12-13. The report recommends the release of vulnerable detainees, respect for due process guarantees, and assistance from other countries in educating migrants on the dangers they may face in Libya and in providing humanitarian relief. See id. at 24-27.
Human Rights Violations
During four visits to the DCIM detention centers in Tripoli and Misrata and a monitoring mission to Italy, UNSMIL interviewed over 50 individuals, including men, women, and children, who had been subjected to human rights violations and abuses during their transit through Libya. See id. at 3. In addition to information gathered from these visits, UNSMIL and OHCHR received information from media professionals, local authorities, and medical and humanitarian workers. See id. at 3-4.
The report found that migrants in Libya are held arbitrarily in DCIM detention centers where there is no formal registration, legal process, access to lawyers, or judicial authorities. See id. at 13. It was reported that migrants' documents and belongings are often confiscated and many are detained even when they have required documents, such as work permits, passports, and visas. See id. at 15.
The conditions of detention at DCIM centers fall short of international human rights standards. The report describes the centers as warehouses or structures lacking basic sanitation facilities, light, ventilation, and characterized by severe overcrowding, which has led to the spread of various infectious diseases. See id. at 15. In addition to inadequate physical spaces to hold people, there is also a lack of adequate food and access to medical care for detained migrants. See id. at 15-16.
The report also documents examples of migrants detained in DCIM centers who were subjected to torture and other ill-treatment by DICM guards. See id. at 17. Detained migrants reported serious injuries sustained from the guards beating them, resulting in some instances in loss of eyesight or reduced hearing abilities. Some migrants also believe that the death of some detainees was due to inadequate conditions in the detention centers, including malnutrition and violence. See id. Migrants were forced to ask family members to transfer money and sometimes tortured as a means of compelling them to do so. See id.
Many migrants reported that they were forced to work in farms, as domestic workers, in construction and paving roads, and as garbage collectors—many of whom were held at the workplace for months at a time. See id. at 18-19. Often those forced to work did not receive compensation and was threatened with death if they did not continue working. In other cases in detention, migrants were forced to work to pay for their release. See id. at 18.
The report indicated that migrants also face dangerous situations at sea on boats often prone to capsizing. Smuggled migrants would sometimes be forced to take control of the boats without the requisite skillset. The report indicates that migrants intercepted at sea were placed in DCIM detention centers or private residences and farms where they were subjected to forced labor. See id. at 19.
Importantly, the report documents various abuses against migrant women and girls during their transit through Libya, including rape and sexual violence. See id. at 21-22. The report notes that cultural mediators from UNHCR and other international non-governmental organizations have reported that boys and men are also subjected to rape and other sexual abuse. See id. at 21.
Groups pledging allegiance to ISIL, the report describes, have also been engaged in the abduction, rape, and sexual abuse of migrants. The same groups force abducted migrants to convert from Christianity to Islam. See id. at 23. Groups of women and girls abducted by these groups were subject to beatings and rape, forced to marry ISIL fighters, and forced to conduct household chores. See id.
State Obligations
As a party to various international treaties, Libya has international legal obligations by which it must abide. See id. at 8-10. At the universal level, Libya is a State party to the International Covenant on Civil and Political Rights (ICCPR); International Covenant on Economic, Social and Cultural Rights (ICESCR); Convention against Torture and Other Cruel, Inhuman or Degrading Treatment or Punishment (Convention against Torture); International Convention on the Elimination of all Forms of Racial Discrimination (CERD); Convention on the Elimination of All Forms of Discrimination against Women (CEDAW); Convention on the Rights of the Child (CRC); and International Convention on the Protection of the Rights of All Migrant Workers and Members of Their Families. At the regional level, Libya is a State party to the African Charter on Human and Peoples' Rights and the 1969 Convention governing the Specific Aspects of Refugee Problems in Africa.
In particular, the report reiterates principles of international human rights law specific to the detention of migrants, including the principle of non-refoulement, which prohibits the return of any individual to a place where there is a risk of torture or other serious human rights violation. See id. at 10. The principle of non-refoulement is explicitly guaranteed under the Convention against Torture. See id.
Additionally, the report emphasizes that migrants have the right to security and liberty of person and that they should not be detained solely for reasons related to their immigration status according to the ICCPR, the African Charter, and other relevant treaties. See id. at 9. The report makes clear that detention should be a measure of last resort, imposed only if there is no less restrictive alternative available. See id. at 9.  And when imposed, detention should be decided on an individual basis, for the shortest possible time, under judicial supervision, and only when strictly necessary and proportionate. Further, the report makes clear that detaining children constitutes a violation of the rights of the child and is never in the best interest of the child. See id. at 9.
Currently, Libya does not have a comprehensive migration framework, an asylum system in law or practice, nor legal provisions in place that would allow State institutions to undertake the administrative detention of migrants. See id. at 11-12. However, State institutions do have the power to implement other laws, such as deportations and migrant labor laws. See id. at 11.
Recommendations
Importantly, the report's recommendations include the establishment of a coordinated strategy at the regional and international level. With regard to Libya, the report calls on the country to immediately release the most vulnerable migrants; close detention centers not managed by DCIM and reduce the number of DCIM detention centers; improve the conditions of detention, including holding female detainees separately from male detainees and providing adequate food, medical care, water, and sanitation; protect detainees from torture and other abuse; and to decriminalize irregular migration and adopt asylum law. See id. at 24-26.
Additionally, the report urges countries of destination beyond Libya to increase the availability of resettlement opportunities, including humanitarian admission schemes, family reunification schemes, labor mobility, visas for persons in need of international protection, and effective asylum procedures at borders; to expand search and rescue operations; and to cooperate with Libyan authorities and institutions to ensure adequate training and support in order to stop arbitrary detention of migrants and mistreatment in detention. See id. at 26-27.
Finally, the report recommends that countries of origin develop sustainable programs that make returns possible and provide for repatriation of stranded migrants; engage with communities to educate them on the risks associated with traveling through Libya; and investigate and/or prosecute smuggling offences, while respecting the human rights of those accused and those being smuggled. See id. at 27-28.
Background
The breakdown in the Libyan justice system began with the 2011 conflict and further deteriorated in 2014. The result is a state of impunity for armed groups, criminal gangs, smugglers, and traffickers that control the movement of migrants in the country. See id. at 6. In August 2014, UNHCR suspended return programs to Libya and urged all States to suspend forcible returns. See id. at 8. Given that Libya is a transit and destination country, migrants include persons fleeing persecution as well as extreme poverty and lack of access to work, education, and healthcare. See id. at 5.
Additional Information
For more information about the human rights of migrants or asylum and the rights of refugees, visit IJRC's Online Resource Hub.