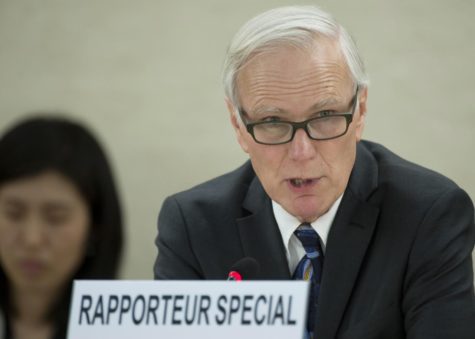 The United Nations expert on poverty and human rights is calling attention to the privatization of traditionally public goods and services as an increasingly common, but largely overlooked human rights problem. See Report of the Special Rapporteur on extreme poverty and human rights, UN Doc. A/73/396, 26 September 2018, paras. 2, 4, 56. In his new report, presented to the UN General Assembly on October 19, 2018, the UN Special Rapporteur on extreme poverty and human rights, Philip Alston, criticizes the World Bank, the International Monetary Fund (IMF), and the UN for promoting privatization without adequately addressing potential human rights outcomes. See id. at paras. 14-15, 18-20. While the Special Rapporteur emphasizes that privatization is "premised on fundamentally different assumptions from those that underpin respect for human rights," he urges international bodies and human rights advocates to more boldly challenge privatization and assert the economic and social rights at risk. See id. at paras. 38, 68-73, 82, 87. The Rapporteur's report comes on the heels of the Special Rapporteur's country visit to the United States, which received significant media attention after the Special Rapporteur criticized the Trump administration for "gutting" the nation's safety net. [Washington Post]
Privatization & Human Rights
For purposes of the report, the Special Rapporteur defines privatization broadly as "any private sector involvement in public service provision." See Report of the Special Rapporteur on extreme poverty and human rights, para. 5. This definition covers the sale of traditionally public sectors to private actors as well as cases of public-private partnerships where States invite private involvement in the public sector, including partial ownership, financing, management, and service or product delivery. See id. The report notes that the privatization of State services is widespread, and has occurred across sectors such as criminal justice, education, healthcare, social services, utilities, transportation, and telecommunications infrastructure. See id. at 11-12. The Special Rapporteur warns that "[t]here is a real risk that the waves of privatization experienced to date will soon be followed by a veritable tsunami." See id. at 12.
The Special Rapporteur notes that privatization introduces a profit motive to social protections that prioritizes efficiency concerns and transforms rights-holders into clients, marginalizing the poor or troubled and prioritizing those with less needs or who can afford to pay. See id. at paras. 34-35, 82. This profit motive incentivizes organizations, such as service providers, to minimize the time spent with clients, close cases earlier, generate additional fees where possible, and cater to those who are better-off with easier problems, further marginalizing those with fewer resources or more complex and expensive problems. See id. at para. 34. The Special Rapporteur questions whether any profit-based model for providing core services can adequately protect human rights, including the rights to equality and non-discrimination. See id. at para. 3.
Importantly, the Special Rapporteur emphasizes that States do not avoid their human rights obligations by privatizing core services and delegating responsibility to the private sector. [OHCHR Press Release: Privatization] Nevertheless, "privatized entities are rarely held meaningfully to account" for the human rights impacts of their actions, the report notes. See Report of the Special Rapporteur on extreme poverty and human rights, para. 83.
International Development & Privatization
The Special Rapporteur attributes the increase in privatization to the success of the neoliberal economic policies, "aimed at shrinking the role of the State," that are "aggressively" promoted by international organizations, including the UN. See id. at para. 81. He highlights the World Bank's 2017 "Maximizing Finance for Global Development" agenda, where the Bank's approach to development effectively reserves "profitable enterprises . . . [for] the private sector" and publicly finances activities that are not profitable. See id. at para. 20. The Special Rapporteur also notes that the IMF often attaches privatization requirements as conditions on its loans, while the UN has promoted public-private partnerships and private financing as a development goal. See id. at paras. 14, 18-19. However, these policies rarely track or address their potential human rights or poverty-related impacts. See id. at paras. 20, 83.
The Role of Civil Society
The Special Rapporteur emphasizes the importance of the human rights community in protecting against the harms of privatization. He observes that "human rights advocates often shy away from asserting a human right to health, to water or to equal access to justice, for fear that such language might alienate conservatives, privatization advocates promiscuously invoke the language of freedom, property rights, autonomy and dignity, albeit often in ways that are entirely alien to agreed international human rights standards." See id. at para. 73. The Special Rapporteur proposes that civil society use the language of rights to fight directly against harms of privatization and "reassert the centrality of concepts such as equality, society, the public interest and shared responsibilities." See id. at para. 68-70, 73-74.
Recommendations for States and the International Community
The Special Rapporteur identifies several immediate steps that States should take to protect human rights against the potential negative effects of privatization, including establishing appropriate standards for public and private actors to ensure that data is collected on the human rights impact of privatization, collecting information and reporting on the impact on poor and marginalized communities, insisting that agreements for the privatization of public goods specifically address human rights implications, and exploring new ways for international and national institutions to meaningfully hold States and private parties accountable in the privatization context. See id. at para. 87.
Recent Work of the Special Rapporteur
In connection with his responsibility to report on issues affecting extreme poverty and human rights, the Special Rapporteur will conduct country visits to assess national human rights situations. See IJRC, Special Rapporteur on extreme poverty and human rights. Within the past year, the Special Rapporteur visited and issued reports on both the U.S. and Ghana. See OHCHR, Country Visits. After visiting Ghana in April of 2018, the Special Rapporteur commended Ghana as a "champion of African democracy," but cautioned that unless growing inequality and higher poverty rates are directly addressed, the country will fall short of eradicating extreme poverty by 2030 as targeted by the UN Sustainability Development Goals. [OHCHR Press Release: Ghana] Following his December 2017 visit to the U.S., the Special Rapporteur cautioned that while the U.S. is the world's richest country, it is quickly "becoming a champion of inequality." [OHCHR Press Release: U.S.] The Special Rapporteur also concluded that many of the current U.S. administration's policy proposals will lead to further entrenched poverty. [OHCHR Press Release: U.S.] The Special Rapporteur's next country visit will be to the United Kingdom, from November 6 to 16, 2018. See OHCHR, Forthcoming Country Visits.
Additional Information
For more information on the Special Rapporteur on extreme poverty and human rights, UN Special Procedures, or economic, social, and cultural rights, visit IJRC's Online Resource Hub. To stay up-to-date on international human rights law news, visit IJRC's News Room or subscribe to the IJRC Daily.