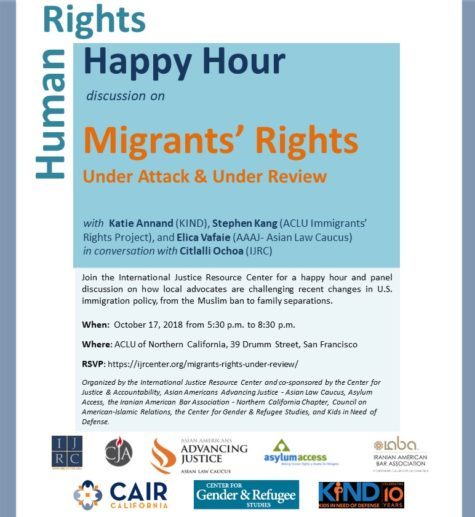 Join the International Justice Resource Center for a panel discussion on local advocates' efforts to protect migrants' rights amid the many developments of the past 20 months.
The event will run from 5:30 p.m. to 8:00 p.m., with the panel discussion and Q&A beginning at 6:00 p.m. and ending by 7:30 p.m.
You are invited to mingle and connect with fellow human rights advocates before and after the panel. Wine and light appetizers will be served.
The panel is hosted by IJRC, with the co-sponsorship of the Center for Justice & Accountability, Asylum Access, Asian Americans Advancing Justice – Asian Law Caucus, Council on American-Islamic Relations (CAIR), the Iranian American Bar Association – Northern California Chapter, the Center for Gender & Refugee Studies, and Kids in Need of Defense (KIND). The panel is part of IJRC's "Human Rights Happy Hour" discussion series to bring local advocates together to hear updates, and build connections, on timely rights issues.
Panelists
Katie Annand is the Managing Attorney of the San Francisco and Fresno offices of Kids in Need of Defense (KIND).  KIND trains and mentors pro bono attorneys to represent children in immigration court proceedings. Katie joined KIND in February 2016 after running a successful solo practice specializing in Special Immigrant Juvenile Status (SIJS), a form of legal relief for undocumented children abused, abandoned or neglected by one or both parents. Katie also worked as a volunteer and staff attorney with the Immigration Center for Women and Children, where she represented clients seeking SIJS and U visas, and as an associate with Reed Smith, LLP in the commercial litigation and financial services groups.
Stephen Kang is a Detention Attorney at the ACLU Immigrants' Rights Project, where his practice focuses on enforcing and advancing the due process rights of noncitizens facing deportation. His active cases include Gomez v. Sessions, which challenges the detention of immigrant juveniles based on unfounded allegations of gang membership, and Hernandez v. Sessions, which addresses the government's practice of setting cash bonds for detained immigrants without considering their financial circumstances. Stephen also litigates cases concerning the right to appointed counsel, such as J.E.F.M. v. Sessions, where he represents a class of pro se children in removal proceedings. Stephen joined the ACLU as an Equal Justice Works Fellow.
Elica Vafaie is a Staff Attorney and Program Manager of the National Security & Civil Rights Program at Advancing Justice- Asian Law Caucus focused on protecting the civil and human rights of Arab, Middle Eastern, Muslim and South Asian (AMEMSA) communities. Previously, Elica worked as the supervising attorney to establish the University of California Undocumented Legal Services Center providing free immigration legal services and know your rights training to mixed status UC students and their families across California.
The panel will be moderated by Citlalli Ochoa, Staff Attorney with the International Justice Resource Center, an organization dedicated to helping advocates make use of international human rights protections and encouraging human rights oversight bodies to be responsive to realities on the ground.