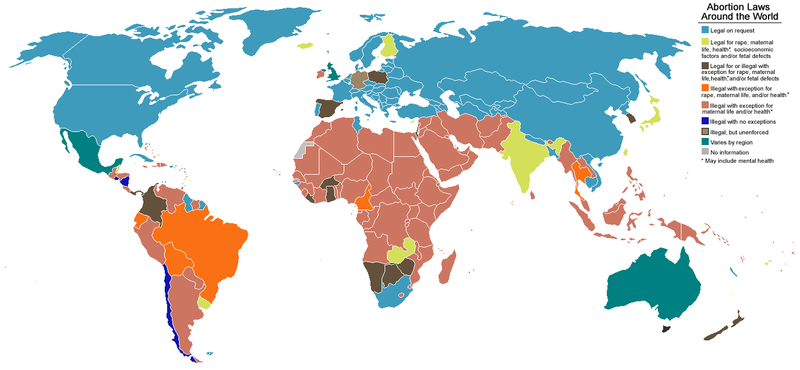 On May 29, 2013, the Inter-American Court of Human Rights (the Court) granted provisional measures ordering El Salvador to take all necessary measures to protect the life and personal integrity of "Beatriz," an ill, pregnant 22-year-old Salvadoran woman, in effect mandating termination of her pregnancy.  I/A Court H.R., Matter of B. Provisional Measures. Judgment of May 29, 2013, para. 17.  In response, El Salvador agreed that Beatriz could undergo a caeserean section, after which the baby died on June 4, 2013. [Al Jazeera]
Various ultrasounds revealed that Beatriz's fetus was anencephalic, which means that the brain is only partially developed, and had almost no chance of life outside the uterus. [Christian Science Monitor]  Furthermore, Beatriz suffers from Lupus and kidney disease, which made her pregnancy very high-risk.  In fact, doctors in El Salvador indicated there was a "strong probability of maternal death" and her lawyers had  stated that the pregnancy was life-threatening.
Because El Salvador has an absolute ban on abortions, in mid-April Beatriz's doctors asked the Constitutional Chamber of the Supreme Court of El Salvador for permission to perform an abortion. Matter of B. at para. 2.  As the decision was pending before that court, Beatriz and her lawyers petitioned the Inter-American Commission for Human Rights (IACHR) for precautionary measures granting her the right to have an abortion. Id. at paras. 2-3.  On April 29, 2013, the Commission granted the precautionary measures Beatriz requested, requesting that El Salvador "adopt the necessary measures to implement the treatment recommended by the Medical Committee of the National Hospital . . . aiming to protect the life, personal integrity and health of [Beatriz]."  [IACHR]
Despite the Commission's grant of precautionary measures, the Salvadoran Constitutional Chamber decided on May 30, 2013 that Beatriz could not receive an abortion. [CEJIL]  The Constitutional Chamber found that while Beatriz does suffer from Lupus and kidney complications, the threat to Beatriz's life was not "actual or imminent." [Guardian]  Furthermore, the decision stated that "the rights of the mother cannot be privileged over those' of the fetus."  [New York Times]  In response, Beatriz's lawyer, Victor Hugo Mata, stated, "the court placed the life of the anencephalic baby over Beatriz's life . . . . Justice here does not respect the rights of women." 

After the Salvadoran Court's decision, the Commission sought intervention from the Inter-American Court, which can issue emergency orders ("provisional measures") in situations of extreme gravity and urgency even if the case is not before the Court, where such measures are necessary to avoid irreparable harm.  See American Convention on Human Rights, art. 63.2.  Recognizing that Beatriz needed to be under constant medical supervision, the Court determined that her condition was a situation of extreme gravity.  Matter of B. at para. 12.  Her condition was also urgent because, as her doctors pointed out, there could be a crisis at any moment and it was impossible to determine when. Id. at para. 13.  Lastly, the risks to her life, personal integrity, health, and mental health constituted irreparable harm. Id. at para. 14.  Therefore, on May 29, the Court issued provisional measures ordering El Salvador to adopt measures allowing medical personnel to protect Beatriz's life, personal integrity, and health. Id. at para. 17.
On May 30, El Salvador's Health Ministry gave doctors permission to perform a caeserean section in order to circumvent the abortion ban. [Reuters]  The Health Minister, María Isabel Rodríguez, claimed "the interruption of the pregnancy is no longer an abortion.  It is an induced birth."  [New York Times]  After the caeserean took place on June 4, Beatriz was in stable condition, but the baby died five hours after the procedure. [Al Jazeera]
Also on June 4, UN human rights experts, including the Special Rapporteur on violence against women, Rashida Manjoo; the Chairperson of the Working Group on the issue of discrimination against women in law and practice, Kamala Chandrakirana; the Special Rapporteur on torture and other cruel, inhuman or degrading treatment or punishment, Juan Méndez; and the Special Rapporteur on the right of everyone to the enjoyment of the highest attainable standard of physical and mental health, Anand Grover; issued a statement urging El Salvador to reconsider its absolute ban on abortion and commit to ensuring all women the right to life and health in accordance with international law. [OHCHR]  As a party to the International Covenant on Economic, Social and Cultural Rights (ICESCR), El Salvador must recognize the right of everyone to the highest attainable standard of physical and mental health. See ICESCR, art. 12.  Furthermore, as a party to the Convention on the Elimination of All Forms of Discrimination Against Women (CEDAW), El Salvador is obligated to take steps to ensure that women do not face discrimination in accessing health care services, including family planning.  See CEDAW, art. 12.  The UN human rights experts stated that El Salvador was in contravention of both treaties for putting Beatriz's life at risk and causing her physical and emotional suffering.  [OHCHR]
El Salvador's abortion laws are considered some of the most restrictive in the Americas. [Guardian]  Until 1997, El Salvador permitted abortions under certain circumstances.  However, during the 1997 penal code reform, abortion was outlawed completely.  [UCA]  This has led to a lack of health services for women (particularly those with fewer resources), abortions performed under high-risk conditions, and criminal prosecution of women who obtain abortions. [Center for Reproductive Rights]  In contrast, many other Latin American nations have recently taken steps to open up access to abortion, including Uruguay's legalization of abortion in the first 12 weeks of pregnancy and Argentina's decriminalization of abortion in cases of rape.  See also Aborto en Latinoamérica.
For additional information on the statistics and legal restrictions on access to abortion around the world, see the numerous resources produced by the Guttmacher Institute, including Abortion Worldwide: A Decade of Uneven Progress (2009) and Facts on Induced Abortion Worldwide (2012).  Ipas' four-part compilation of relevant human rights protections and citations, Maternal Mortality, Unwanted Pregnancy and Abortion as Addressed by International Law  (2012) (Part I, Part II, Part III, Part IV), includes excerpts from UN and regional human rights monitoring bodies.