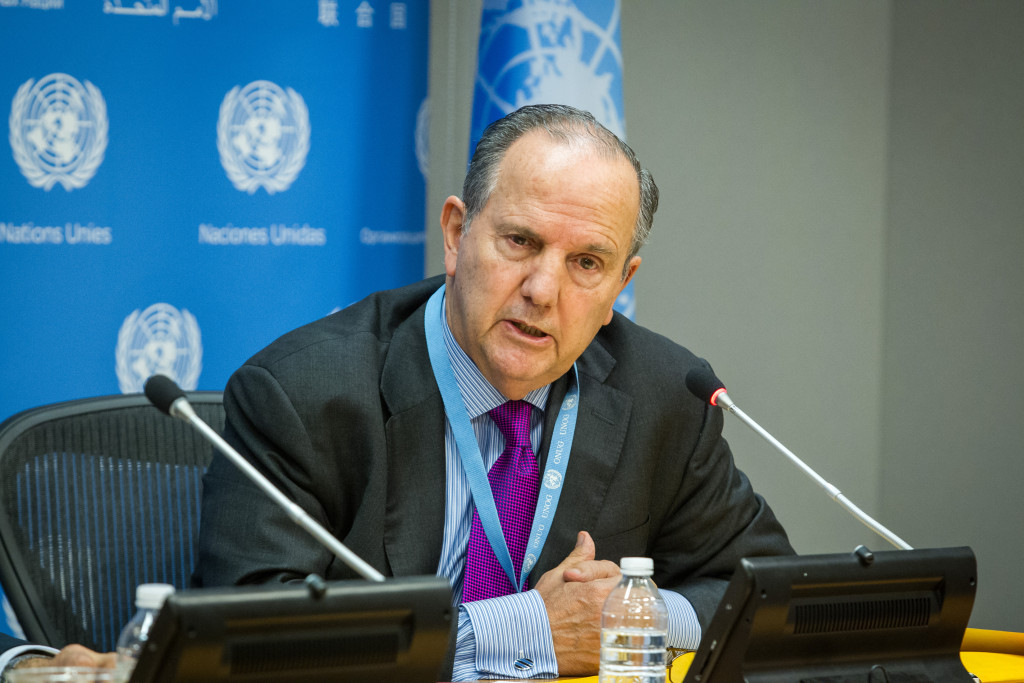 On October 20, the Special Rapporteur on torture and other cruel, inhuman or degrading treatment or punishment, Juan E. Méndez, presented his seventeenth expert's report to the Third Committee of the UN General Assembly during its 70th Session, in New York. [Anti-Torture Initiative] The report addresses the extraterritorial obligations that arise under the Convention against Torture and Other Cruel, Inhuman, or Degrading Treatment or Punishment (CAT) and its Optional Protocol.
The report expounds on when positive and negative obligations apply extraterritorially; defines jurisdiction with regard to the control a State party must have over a situation in order to trigger obligations; the application of the exclusionary rule without regard to location; and the duty to investigate and prosecute torture as part of international cooperation. See Interim report of the Special Rapporteur on torture and other cruel, inhuman or degrading treatment or punishment, UN Doc. A/70/303, 7 August 2015.
Mr. Méndez stated:
I am calling upon States to exercise jurisdiction over acts of torture and ill-treatment, regardless of the locus where wrongfulness took place, and to provide civil remedies and rehabilitation for victims of acts of torture or other ill-treatment, regardless of who bears responsibility for mistreatment or where it took place.
[UN News Centre] Watch Mr. Méndez present his report on UN Web TV. 
When Extraterritorial Obligations Apply
The Special Rapporteur tackles extraterritorial obligations in light of States' increasing transnational activities, and in order to "ensure that there is no vacuum of human rights protection that is due to inappropriate and artificial limits on territorial jurisdiction," which might provide States with an incentive to "avoid absolute legal obligations and [give rise to' serious breaches of international law." Id. at para. 13.
Mr. Méndez states that, under current international legal norms, the jus cogens prohibition of torture and other ill-treatment applies whenever a State "brings a person within its jurisdiction by exercising power, control or authority over territory, persons or transactions outside its borders," no matter the victim's citizenship or the where the State engages in the action or inaction giving rise to its international responsibility. Id. at paras. 14, 15. Moreover, he asserts that the State's responsibility to protect human rights extraterritorially is presumed, in part because international law no longer emphasizes territorial sovereignty as a basis of jurisdiction. Id. at para. 16. State actions giving rise to extraterritorial jurisdiction can include cross-border military operations, the occupation of foreign territories, anti-migration and anti-piracy operations, peacekeeping, covert operations in foreign territories, detaining persons abroad, extraditions, and the exercise of de facto control or influence over non-State actors operating in foreign territories.
The report refers to decisions of the International Court of Justice, European Court of Human Rights (ECtHR), UN Human Rights Committee, and Inter-American Court of Human Rights (IACtHR) holding that "construing State responsibility so as to allow a State to perpetrate on the territory of another State human rights abuses that it could not perpetrate on its own territory would produce unconscionable and absurd results." Id. at para. 14.
The Special Rapporteur contends that the excessive use of force by State agents extraterritorially, resulting in loss of life or injury that meets the threshold for torture or other ill-treatment must also fall within the purview of the CAT, despite not being within a territory under the de facto control of the State. This expands the conception of extraterritorial jurisdiction beyond the widely held view that States are responsible for actions taken against individuals within their effective control. However, the Special Rapporteur supports his interpretation by referring to the judgement of the IACtHR in Alejandre v. Cuba, holding the State responsible for the shooting down of two civilian airplanes flying in international airspace, and the judgments of the ECtHR in Jaloud v. The Netherlands, finding the State had an obligation to investigate the killing of an Iraqi national by Dutch troops at a checkpoint in Iraq because shooting at his vehicle constituted an exercise of jurisdiction. See id. paras. 14-19.
Positive Obligations to Prevent Torture
Not only are States deemed responsible for their extraterritorial actions, but also for their inaction in extraterritorial locations and when foreign officials are acting extraterritorially within the State's borders. Thus, States have negative obligations, not to torture and not to aid, acquiesce to, conceal, or incite torture or with the knowledge that ill treatment will occur, and positive obligations, to investigate, punish, and prevent torture committed by foreign actors within their territorial control.
The Special Rapporteur specifically referred to the United States' practice of abduction, transfer, and extraterritorial detention to evade torture regulations post-9/11; he stated that the countries in which such torture occurred have an obligation to cooperate with criminal and civil proceedings. He further cited the ECtHR's decision in El-Masri as embodying the principal of complicity by finding Macedonia responsible for torture committed by foreign officials on their soil with State acquiescence and holding found that Poland had an obligation to do more than refrain from collaborating with and facilitating the CIA rendition program when it knew or ought to have known that detainees would be subject to extraordinary rendition and risk of torture upon transfer in Abu Zubaydah v. Poland. See id. at paras. 21-25.
States' extraterritorial duties to prevent torture apply where the State has effective control over the individuals, including indirect or direct and de jure or de facto control. Accordingly, a State cannot avoid investigation of interrogation tactics used abroad by virtue of jurisdictional arguments. See id. at paras. 36-37
Non-Refoulement and Migrants' Rights
The non-refoulement principle requires States not to expose individuals to real risks of torture or other ill-treatment by expulsion, extradition or refoulement to another State. Refoulement may occur extraterritorially whenever States operate and hold individuals abroad, including in the context of armed conflict or offshore detention or refugee processing facilities. The application of the principle still applies in full regardless of the geographic location of the facility as long as the State is in a position of control over the transfer of individuals. A State's responsibility is engaged whenever its agents fail to take reasonable steps to avoid a risk of ill-treatment about which they knew or ought to have known at the time of transfer. Unlike under the 1951 Refugee Convention, which bases the principal of non-refoulement on the individual's refugee status, non-refoulement in the context of the CAT applies regardless of refugee status. Thus, extending additional protection to non-refugee migrants. See id. para. 38.
Commentator Response
Civil society organizations have hailed the report for restricting States from evading their international obligations. The application to refugee and migrant holding centers and expansive understanding of non-refoulement proves particularly relevant in the context of the current migrant crisis because it prohibits refoulement regardless of refugee status. [Just Security]
Others have raised the implications of the report as it applies to Australia, which has used the Manus Island Detention Center to hold a key witness to the murder of asylum seeker Reza Barati, who has allegedly been subject to torture therein. [New Daily] The extraterritorial application of the CAT may also affect how American interrogation and torture is addressed in the international community.
Additional Information
The mandate of the UN Special Rapporteur on torture and other cruel, inhuman or degrading treatment or punishment is to examine questions related to torture, relying on the Convention against Torture and Other Cruel, Inhuman or Degrading Treatment or Punishment and the Optional Protocol to the Convention against Torture and Other Cruel, Inhuman or Degrading Treatment or Punishment for guidance. The Special Rapporteur conducts fact-finding country visits, communicates with States regarding allegations of torture, and submits annual reports on his or her activities to the Human Rights Council and the UN General Assembly. Juan E. Méndez (Argentina) was appointed by the UN Human Rights Council as the Special Rapporteur on torture and other cruel, inhuman or degrading treatment or punishment in November 2010.
For more information on the right to humane treatment and personal integrity; Special Rapporteur on torture and other cruel, inhuman, or degrading treatment or punishment; or other UN Special Procedures, visit IJRC's Online Resource Hub.