New Database Increases Access to Rwandan Genocide Tribunal's Records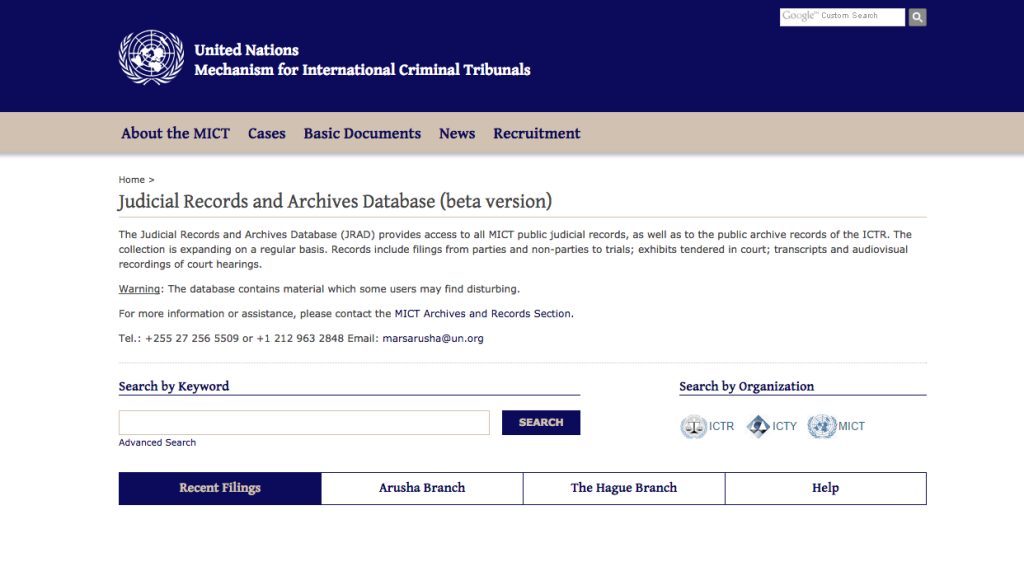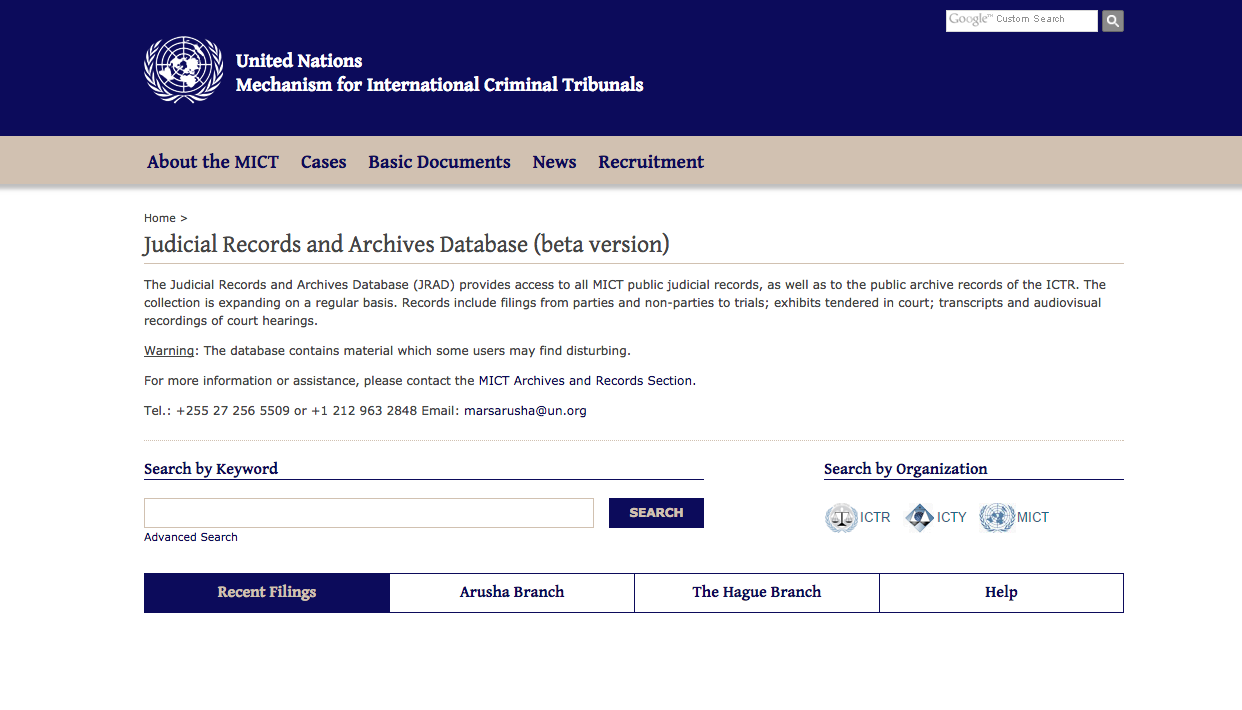 A new database aims to increase access to the proceedings, evidence, decisions, and orders of the international tribunal created to prosecute those most responsible for the commission of international crimes during the Rwandan genocide of 1994. On December 3, 2015, the Mechanism for International Criminal Tribunals (MICT) launched the Judicial Records and Archives Database (JRAD) to facilitate public access to the vast collection of records pertaining to cases under the jurisdiction of the International Criminal Tribunal for Rwanda (ICTR) and the MICT, which is the body overseeing enforcement of sentences and other aspects of the tribunal's work. The JRAD includes visual and audio records of the tribunal's proceedings, exhibits and filings, and transcripts. [MICT Press Release]
This new database supplements the existing Court Records database of the International Criminal Tribunal for the former Yugoslavia (ICTY), as well as the joint MICT/ICTR/ICTY Case Law Database and ICTR Basic Documents and Case Law Database. Separately, the International Criminal Court makes available select records on its website, although these are generally limited to its own orders and judgments. The JRAD database provides new access, however, to the evidentiary foundation and procedural history of the ICTR cases.
JRAD houses over 25,000 textual, photographic and audio visual records, including transcripts and audio recordings of judicial proceedings and filings and exhibits related to the ICTR cases. The records include filings from both parties and non-parties to trials. The collection is updated on a regular basis and the users may have access to additional unpublished records by sending a request to the JRAD. [MICT Press Release]
JRAD allows users to search the database by words contained in the document or its title, case, material type, record number, or date. Users can also see a listing of all the records and materials related to a specific case. However, not all non-text materials are viewable directly through the database; rather, users may request such items from the MICT. While the database provides brief descriptions for audiovisual and visual materials, this information may not always be sufficient for users to determine the significance or context of specific exhibits and recordings.
The database has been created as part of the Mechanism's responsibility to promote the legacy of the ICTR and ICTY. The MICT, established by the United Nations Security Council on December 22, 2010, aimed to fulfil several significant functions of the ICTR and ICTY after the completion of their mandates. See MICT, Archives of the International Criminal Tribunals. It is a small and temporary body with two brunches, one in Arusha, Tanzania and one in the Hague, Netherlands. See MICT, About the MICT.
Both the ICTR and ICTY have unique archives due to the extreme nature of atrocities committed during both genocides. Therefore, some archive materials can be highly disturbing and their management requires special care. Moreover, the fragile and irreplaceable records require special technical maintenance. The collection of records consist of witness statements, victims testimonies and testimonies of the perpetrators of the atrocities and it is considered one of the most complete collections of eyewitness testimonies of violations of international humanitarian law occurred since World War II. See id.
Additional information
For more information on the courts and areas of law discussed in this post, visit the IJRC Online Resource Hub pages on the ICTR, ICTY, internationalized criminal tribunals, and international criminal law.