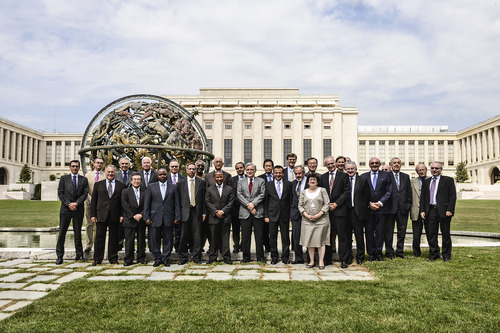 During its 68th session, the International Law Commission (ILC) adopted an additional five draft articles for a possible international convention on crimes against humanity. The new draft articles address criminalization under national law, establishment of national jurisdiction, investigations and inter-State cooperation, preliminary detention, the obligation to extradite or prosecute, and treatment of alleged offenders. See International Law Commission, Sixty-eighth Session (2016). The ILC Special Rapporteur on Crimes against Humanity, Sean D. Murphy, submitted his second report to the ILC, in which he provides background on these topics and proposes the text of articles 5 through 10. See ILC, Second report on crimes against humanity by Sean D. Murphy, Special Rapporteur, UN Doc. A/CN.4/690, 21 Jan. 2016. The ILC provisionally adopted draft articles 1 through 4 at its 67th session. Since he began spearheading the ILC's work in this area in 2014, Murphy has highlighted the importance of a convention on crimes against humanity to fill a gap in international criminal law by complementing the work of the International Criminal Court (ICC) on a national level. See, e.g., Sean Murphy, Toward a Convention on Crimes against Humanity?, La Revue des droits de l'homme, 7 (2015).
Draft Articles 5 through 10
Draft Article 5 lays out States'obligation  to criminalize crimes against humanity in their national criminal codes and to ensure liability by eliminating statutes of limitations on this type of offense, holding superiors responsible for actions of their subordinates, and preventing subordinates from escaping liability on the basis of orders from a superior. See Pavel Šturma, Crimes Against Humanity: Statement of the Chairman of the Drafting Committee, 9 June 2016.
In draft Article 6, the drafting committee established three conditions for national jurisdiction: when the act is committed within their territory, when the offender is a national or habitual resident of the State, and when the victim is a national of the State. Id. The next article requires States to conduct prompt and impartial investigations of crimes against humanity where they occur within the State's territory or otherwise is reasonably within its jurisdiction. Id.
The remaining provisions, draft articles seven, eight, and nine refer to the States' obligations when a person who has allegedly committed crimes against humanity is within their jurisdiction. The State must take the person into custody, alert States with potential jurisdiction, and conduct a preliminary inquiry. The draft applies the principle of aut dedere aut judicare, which obligates the State to either prosecute or extradite an alleged offender. Lastly, draft Article 10 mandates that alleged offenders are treated fairly and afforded all the protections of international human rights law. Id.
The Need for a New Convention
International law scholars highlight the need for an international convention on crimes against humanity, citing the numerous examples in recent history of violations, such as Khmer Rouge regime in Cambodia, the Bosnian-Serbian conflict, and the ongoing atrocities in Syria. [EJIL Talk] Although crimes against humanity are now codified under the Rome Statute of the International Criminal Court (Rome Statute), it is insufficient for its failure to require national legislation, failure to define crimes against humanity as existing customary international law, and gaps in State responsibility. [EJIL Talk] According to a 2013 report, less than 55% of Member States in the UN have national law expressly prohibiting crimes against humanity. UN General Assembly, Second Report on Crimes against Humanity, UN Doc. A/CN.4/690, 21 January 2016, para. 18.
Murphy noted that crimes against humanity remains the only crime currently in force under the Rome Statute that does not have a corresponding international treaty on State prevention and punishment; the 1948 Convention on the Prevention and Punishment of the Crime of Genocide and Geneva Conventions on war crimes establish State obligations for the other two categories of crimes under ICC jurisdiction. See Sean Murphy, Toward a Convention on Crimes against Humanity? Many have noted the inefficiency and high cost of seeking justice through the ICC and the Court itself highlights that it is meant only to be a complementary system to domestic systems, this it is important to facilitate State responsibility. [Forbes]
Non-governmental organizations (NGOs) have encouraged the development of an international treaty as a means to ensure justice for victims. A group of NGOs specifically highlighted the importance of closing loopholes in jurisdiction through measures that were later adopted in the draft articles, including aut dedere aut judicare. [Crimes Against Humanity Initiative]
Prior Developments
The ILC added crimes against humanity as one of its topical program areas during its 66th Session, held in 2014. At the same session, it established the position of Special Rapporteur on the topic and appointed Sean D. Murphy. It also requested that States submit information on their domestic law practices regarding crimes against humanity, such as whether it was criminalized as such, the text of the relevant statutes, jurisdictional limitations, and examples of prior cases. See International Law Commission, Sixty-sixth Session (2014).
The Crimes Against Humanity Initiative at Washington University School of Law, including its Professor Sean D. Murphy, provided significant impetus for launching ILC interest in the program area. [EJIL Talk] Prior to the ILC's session in 2014, an expert meeting in Geneva brought together international justice experts and members of the ILC to consider a proposed convention on the topic. [EJIL Talk]
At the 67th Session, Murphy presented his first report. See ILC, Sixty-seventh Session (2015). The report detailed the history and existing legal obligations with regard to crimes against humanity. See ILC, First Report on Crimes against Humanity by Sean D. Murphy, Special Rapporteur, UN Doc. A/CN.4/680, 17 February 2015. Murphy noted that most treaties aimed at criminalizing specific acts contain provisions obligating the State to both punish and make efforts to prevent the actions. Id. at para. 78. Accordingly, he recommended a draft Article 1 containing these obligations with regard to crimes against humanity. Id. at para. 120. Next, he recommended that draft Article 2 define crimes against humanity, which had been formulated differently throughout several international agreements. Id. at paras. 121,177.
The ILC opted to provisionally adopt articles 1 through 4, based in part on the report, to address the scope of the provisions, the general obligations of the States parties, the definition of crimes against humanity, and the specific obligations regarding prevention. In addition, the ILC reiterated its request for information from States on their practices. See International Law Commission, Sixty-seventh Session (2015).
Additional Information
The ILC was established in 1947 by the UN General Assembly. It was mandated to research, develop, and codify areas of international law, in accordance with the UN Charter. See International Law Commission, Home. The Commission is composed of 34 individual members who serve five-year terms. See IJRC, United Nations.
In addition to crimes against humanity, the ILC will discuss topics including: protection of persons in the event of disasters; immunity of State officials from foreign criminal jurisdiction; identification of customary international law; protection of the environment in relation to armed conflicts; and jus cogens during the 68th Session. The Session is held in two parts, May 2 to June 10 and July 4 to August 12, 2016. See ILC, Sixty-eight Session (2016).
For more information on international criminal law, international humanitarian law, and recent news related to crimes against humanity, visit IJRC's Online Resource Hub.