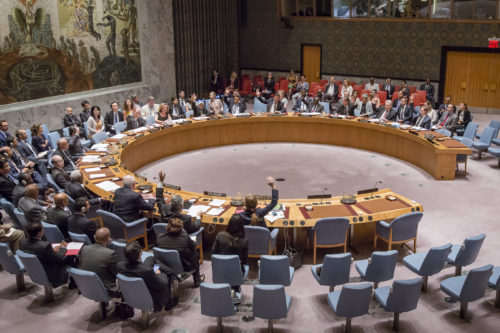 In response to the ongoing crisis in Burundi, the United Nations Independent Investigation on Burundi (UNIIB) presented its final report to the Human Rights Council on September 27, 2016, which documented evidence of gross human rights abuses perpetrated by the government and its affiliates. [OHCHR Press Release] UNIIB was formed in light of increasing instability in Burundi, which was prompted by the decision of the President to gain a third term in office and the resulting protests and coup attempt. In the course of investigation, UNIIB uncovered evidence of widespread and patterned violations of human rights including arbitrary deprivation of life, enforced disappearances, torture, sexual and gender-based violence, unlawful arrests, arbitrary detention, ethnically charged language, and improper restrictions to freedom of expression and of association, among others. UNIIB experts suggested that these crimes may amount to crimes against humanity, and warned against the danger of genocide in the region. See Report of the United Nations Independent Investigation on Burundi (UNIIB) established pursuant to Human Rights Council resolution S-24/1, UN Doc. A/HRC/33/37, 20 September 2016. UNIIB recommended that the government strengthen domestic accountability mechanisms and increase its engagement with international human rights systems, and called on the international community to establish a commission of inquiry and to consider intervening pursuant to Chapter VII of the UN Charter. See id. at paras. 138, 146, 163. Within a week of the report's publication, government officials, lawmakers, and citizens protested the report outside UN offices in Burundi. [Washington Post]
UNIIB Final Report Findings
UNIIB's final report cited systemic and widespread human rights abuses in Burundi, carried out primarily by the State and its agents from April 15, 2015 to June 30, 2016. See Report of the United Nations Independent Investigation on Burundi (UNIIB) established pursuant to Human Rights Council resolution S-24/1. The report estimated that more than a thousand people have been killed, thousands have been tortured and illegally detained, and hundreds more disappeared. See id. at para. 35. According to UNIIB, 286,036 people have fled Burundi to neighboring countries between April 2015 and August 2016, and another 109,459 people have been internally displaced. See id. at para. 36. The resulting economic decline and human displacement has affected access to employment, education, and health care. See id. at para. 91.
The report concluded that there were serious violations of the right to be free from arbitrary deprivations of life, with evidence confirming 564 cases of executions, 87 extra-judicial executions, allegations of mass burials, and targeted assassinations. See id. at paras. 39, 42-47. Primary targets for these abuses include human rights activists, political opponents, and their relatives. See id. at para. 49. Additionally, relatives of victims of enforced disappearances claimed that authorities have not provided information regarding the whereabouts of the persons concerned. See id. at para. 50.
The report produced evidence of grave violations of the absolute prohibition on torture and cruel, inhuman, or degrading treatment or punishment. UNIIB gathered testimony, which provided a non-exhaustive list of forms of torture carried out by security forces including, for example, mutilating or harming genitals, gang rape, electrocution, forcing families to stay next to the dead body of a relative, and humiliating speech including with an ethnic dimension. See id. at para. 54.
The current crisis has exacerbated crimes already taking place in Burundi, including sexual and gender-based violence, and the use of ethnically charged language. See id. at paras. 56, 73-75. The international community has condemned the ethnically divisive statements made by public officials in Burundi, which experts warn could lead to the incitement of violence previously abated by the Arusha Peace and Reconciliation Agreement for Burundi (Arusha Agreement), which provided for power-sharing amongst socio-political and ethnic groups in Burundi. See id. at paras. 73-75.
UNIIB's report described an environment of suppression of the right to freedom of expression and association, most notably against civil society actors, human rights defenders, and journalists. See id. at para. 78. Violations include halting media activities, issuing international arrest warrants against civil society leaders, suspending students, and continuing threats of harm or death. See id. Government led oppression intensified after the 2015 protests, and instances of arbitrary arrests and detentions, during which victims are often subjected to physical abuse and extortion, have increased. See id. at paras. 65, 67.
The government's actions have left, according to the report, little room for accountability for the ongoing human rights abuses. The culture of oppression and reprisals in Burundi has resulted in many victims staying silent. This is especially problematic, the report pointed out, given the lack of domestic accountability mechanisms available to victims, and the refusal of the government to engage meaningfully with the international human rights systems. See id. at paras. 102-104, 106-112, 115-116.
In addition to State responsibility, however, experts with UNIIB also examined individual responsibility for what may amount to crimes against humanity, and in April 2016 the International Criminal Court (ICC) initiated a "preliminary examination" of alleged crimes under its jurisdiction committed in Burundi since April 2015. See id. at paras. 118-24. UNIIB also warned against the danger of genocide in the region given the current climate, and in light of its history. See id.
UNIIB Recommendations
UNIIB concluded the report with recommendations to the government and international community to prevent future human rights abuses. Rather than perceiving the UN and other human rights bodies as adversaries, UNIIB stressed the importance of the government viewing these mechanisms as partners in a common pursuit to improve the situation in Burundi. See id. at para. 133. UNIIB experts called on the government to ensure effective accountability mechanisms, political settlement, independent judiciaries, an effective torture prevention mechanism, rights promotion and protection, and greater cooperation with international human rights systems, among other recommendations. See id. at paras. 138-154.
With respect to the international community, UNIIB recommended that the UN continue to monitor and take steps to prevent human rights violations in Burundi, as well as to establish means to scrutinize its own functions. See id. at paras. 155, 158. It proposed the establishment of an international commission of inquiry to continue UNIIB's work with a view to establishing individual accountability, and recommended that Burundi's membership in the Human Rights Council be reconsidered. See id. at paras. 156, 164. If Burundi continues to reject the deployment of a UN police force authorized earlier this year, UNIIB recommended that the Security Council consider invoking Chapter VII of the UN Charter to impose sanctions or initiate other interventions. See id. at para. 155. Additionally, the African Union, the UNIIB recommended, should continue to work to ensure compliance with the pillars of the Arusha Agreement, and the East African Community must become active in leading negotiation efforts between oppositional forces in the region. See id. at paras. 160-161. Finally, the report also highlighted the need for the international community at large to put pressure on Burundi to improve the situation of human rights within its borders. See id. at para. 163.
Burundi's International Human Rights Obligations
Under international human rights law, a State has the primary responsibility to respect, protect, and fulfill human rights, and to ensure that its agents, as well as non-State actors, respect those rights. See Report of the United Nations Independent Investigation on Burundi (UNIIB) established pursuant to Human Rights Council resolution S-24/1, para. 13.
Burundi is a State party to several UN human rights treaties, including the International Covenant on Civil and Political Rights (ICCPR); the International Covenant on Economic, Social and Cultural Rights (ICESCR); the Convention Against Torture and Other Cruel, Inhuman, or Degrading Treatment or Punishment (CAT); the International Convention on the Elimination of All Forms of Racial Discrimination (ICERD); the Convention on the Elimination of All Forms of Discrimination against Women (CEDAW); the Convention on the Rights of the Child (CRC); and the Convention on the Rights of Persons with Disabilities (ICRPD). See OHCHR, Status of Ratification: Interactive Dashboard. Under these agreements Burundi is obligated to prevent human rights abuses, including, for example, the arbitrary deprivation of life, torture, gender-based violence, and the repression of freedom of expression and freedom of association.
Burundi accepted additional human rights obligations as a State party to the Rome Statute of the International Criminal Court and to the African Charter on Human and Peoples' Rights. The ICC may try individuals for crimes against humanity, war crimes, and genocide. The African Charter protects the rights to life, prohibition of torture and inhumane treatment, freedom of expression, and freedom of association.
Context of the Crisis in Burundi, and the Establishment of UNIIB
Since independence in 1962, Burundi has experienced recurrent periods of violence and ethnic tensions. See UN High Commissioner for Human Rights, Report of the United Nations Independent Investigation on Burundi (UNIIB) established pursuant to Human Rights Council resolution S-24/1, UN Doc. A/HRC/33/37, 20 September 2016, para. 18. In 2000, after a decade-long civil war, peace was formalized with the Arusha Agreement. See id. at para. 20. Burundi enjoyed relative stability until 2014, when President Pierre Nkurunziza ran for a third term and the Constitutional Court affirmed the constitutionality of his campaign for a third term, resulting in local and international resistance and a coup attempt. See id. at paras. 21-25.
In response to local and international opposition, the government and its agents began a broad practice of reprisals that targeted military coup leaders, civilian demonstrators, as well as their relatives, or anyone suspected to oppose the presidency, or the ruling party. See id. Government security forces committed gross human rights abuses. See id. The crisis that escalated as a result of these events continues today.
After a series of other international responses, including fact-finding missions and deploying human rights observers, on  December 17, 2015, Human Rights Council resolution S-24/1 requested a mission of independent experts to investigate the human rights abuses in Burundi, ultimately establishing UNIIB. See id. at paras. 1, 28-30. UNIIB includes two UN experts – the UN Special Rapporteurs on extrajudicial, summary or arbitrary executions and on the promotion of truth, justice, reparation and guarantees of non-recurrence – and one AU expert – the African Commission on Human and Peoples' Rights Special Rapporteur on Refugees, Asylum Seekers, Migrants and Internally Displaced Persons in Africa – and has facilitated 227 interviews with government officials, politicians, and civil society members in Burundi; interviewed refugees in neighboring countries; received 57 submissions through its website; and considered numerous international and national human rights reports. See id. at para. 11.
Additional Information
For more information on international human rights instruments, international criminal law, and the Human Rights Council, please visit IJRC's Online Resource Hub.