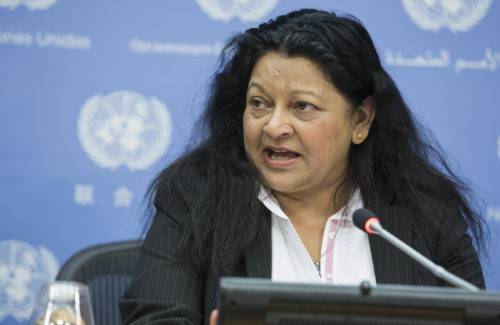 The United Nations Commission of Inquiry on Human Rights in Eritrea has again called on the UN Security Council to refer the situation in Eritrea to the International Criminal Court (ICC) for adjudication of possible crimes against humanity committed by State officials since 1991. Speaking on behalf of the former three-member commission, whose mandate ended in June 2016, Sheila Keetharuth announced to the UN General Assembly on October 28 that the Commission found significant human rights violations intended to maintain the political leaders' power, no rule of law, a decimated civil society, and a lack of accountability for abuses. [OHCHR Press Release] Among other recommendations, the Commission of Inquiry urged the African Union to create a mechanism for accountability and encouraged UN Member States to accept Eritrean migrants, emphasizing that returning to Eritrea could result in the detention and torture of those individuals. [OHCHR Press Release]
Establishment and Findings of the Commission
Beginning in November 2014, the Commission of Inquiry on Human Rights in Eritrea investigated "systematic, widespread and gross violations of human rights" in the country, as directed by the Human Rights Council. See Human Rights Council, Resolution 29/18, Situation of human rights in Eritrea, UN Doc. A/HRC/RES/29/18, 2 July 2015; UN General Assembly, Resolution 26/24, Situation of human rights in Eritrea, UN Doc. A/HRC/RES/26/24, 27 June 2014.
After collecting extensive witness interviews and written testimonies, the Commission released its first report in June 2015, concluding that the Eritrean government is repressive and controlling, using mass surveillance to target individuals and subjecting its people to arbitrary detention, torture, and extrajudicial execution. The atmosphere in Eritrea, the report indicates, is characterized by fear, with the government silencing and isolating anyone who threatens its continued existence. See UN Human Rights Council, Report of the commission of inquiry on human rights in Eritrea, UN Doc. A/HRC/29/42, 4 June 2015, para. 31. This climate makes "the enjoyment of all human rights and fundamental freedoms by all Eritreans a remote possibility," Keetharuth stated to the General Assembly recently. [OHCHR Press Release]
In its second and final report, presented to the Human Rights Council in June 2016, the Commission described the serious, ongoing human rights abuses in the country. According to many who have fled, the Eritrean government continues to arbitrarily detain and torture civilians and conducts extrajudicial executions. Additionally, the country mandates military service for indefinite durations (often longer than a decade) and subjects servicemen to rape and torture in military camps. See UN Human Rights Council, Report of the commission of inquiry on human rights in Eritrea, UN Doc. A/HRC/32/47, 9 May 2016, paras. 35, 37-39, 51.
The government maintains strict control over religious freedoms, systematically repressing those who practice any religion other than the four authorized. See Report of the commission of inquiry on human rights in Eritrea, 9 May 2016, para. 42. Sexual and gender-based violence is also rampant. Underage girls are forced to marry, and women and girls attempting to flee the country experience sexual abuse and violence by border guards. See id. at paras. 45, 48.
The Commission noted that the violations of the rights to freedom of expression, assembly, and association have continued since its first report. See id. at para. 53. The State only allows for government-operated associations, prohibiting all other political groups and trade unions. See id. at para. 34. Demonstrators are arrested, put in detention, and sometimes executed. See id. The government silences inquiries into an individual's fate, discussions of politics, and assertions of human rights and then charges those who express these ideas or questions as traitors. See id. at para. 32.
Moreover, the Commission has noted that domestic mechanisms that might typically address these human rights concerns are severely lacking, if not absent. Keetharuth, who is also the UN Special Rapporteur on the situation of human rights in Eritrea, explained that Eritrea lacks a constitution, parliament, and free press—institutions commonly utilized by civil society to engage in open discussions and keep the government from exceeding its authority. [OHCHR Press Release] An effort in 1997 to create an enforceable constitution was unsuccessful. See Report of the commission of inquiry on human rights in Eritrea, 9 May 2016, para. 31. Additionally, the government refuses to hold elections until it believes all threats to the country's security are eliminated. See id. at para. 30.
The Commission reported possible crimes against humanity for the first time in its second report. See id. at para. 57. The Commission found there are reasonable grounds to conclude that Eritrea has engaged in enslavement, severe deprivation of liberty, torture, enforced disappearance, rape, murder, persecution, and inhumane acts, all of which may constitute crimes against humanity if deliberately committed in a widespread or systematic manner. See id. at paras. 64-95. It determined that authorities were committing these abuses in places of detention and military training camps, and identified senior government officials and agencies as those responsible. See id. at paras. 99, 102-05.
The Commission's Call to Action
The Commission's second report recommends the government of Eritrea to establish institutions and laws that would help enforce human rights standards. For instance, the Commission recommended that Eritrea establish an independent judiciary, ensure separation of powers, hold democratic elections, and provide room for the creation of political parties, and implement the 1997 constitution in line with international human rights standards. See id. at para. 119.
The Commission also made specific asks of the government with regard to each type of violation. The Commission recommended that Eritrea provide information on detainees, improve conditions of detention and allow for independent monitoring of detention facilities, cease the use of torture and establish complaint mechanisms, respect freedom of religion, eliminate practices that harm women and girls, criminalize all forms of sexual violence, put an end to extrajudicial killings, and hold perpetrators responsible for human rights violations and crimes, among other recommendations. See id. at paras. 122-125, 127, 128. Additionally, the Commission made recommendations specifically to the military, calling for an end to torture, sexual violence, and enslavement and the establishment of an independent complaint mechanism. See id. at para. 122.
In relation to the international community, the Commission recommended that the UN Security Council refer the case to the International Criminal Court, which investigates and tries individuals for genocide, war crimes, and crimes against humanity. See id. at para.132. [OHCHR Press Release] It also recommended that the African Union, with the support of the international community, set up its own judicial body specifically to investigate and prosecute those suspected of crimes against humanity. Id. at para. 133. There is precedent for such a court, in the establishment of the Extraordinary African Chambers in Senegal, which is authorized to prosecute those most responsible for crimes against humanity committed in Chad in the 1980s. [IJRC]
Although Eritrea is not one of the 124 States parties to the Rome Statute, the instrument establishing the ICC and through which States submit to the Court's jurisdiction, the ICC can exercise jurisdiction if the situation is referred to the Court by the Security Council. See ICC, How the Court Works. An ICC referral would set into motion a thorough investigative process, which could lead to prosecuting those responsible for the atrocities.
In support of the recommendation to refer the case to the ICC, Keetharuth stressed that these conditions have persisted for 25 years and reiterated that during the tenure of the Commission, "there was no material change in the country that could potentially have a positive effect on the situation of human rights." [OHCHR Press Release] Keetharuth also cited the local government's self-serving motives and the Commission's belief that "Eritrea has neither the political will nor the institutional capacity to prosecute the crimes." [OHCHR Press Release]
The Commission made additional recommendations to other countries and international bodies. The African Union and other States should, according to the Commission, monitor the situation in Eritrea and hold individuals accountable for crimes against humanity both at the international level and through domestic courts. See Report of the commission of inquiry on human rights in Eritrea, 9 May 2016, paras. 133-34. The Commission called on States to additionally protect Eritreans seeking asylum and to assist Eritrea in strengthening its institutions and establishing an independent judiciary. See id. at para. 134.
Eritrea's Human Rights Obligations
As a State party to human rights treaties including the African Charter on Human and Peoples' Rights and the International Covenant on Civil and Political Rights, Eritrea is obligated to protect the rights to life, liberty, and security of the person, among others.
Additionally, the State is required to respect the right of individuals to be free from torture and other cruel, inhuman, or degrading treatment pursuant to articles 5 and 7 of those agreements, respectively, as well as the Convention against Torture, to which Eritrea is also a State party.
Eritrea has not accepted the complaints process associated with any UN human rights treaty and has failed to fulfill its reporting obligations. However, the African Commission on Human and Peoples' Rights (ACHPR) has jurisdiction to decide individual complaints concerning human rights violations committed or permitted by Eritrea. The ACHPR has criticized the government's human rights record on numerous occasions. See ACHPR, Eritrea.
Additional Resources
For more information about the Commission of Inquiry on Human Rights in Eritrea, the Human Rights Council, or the International Criminal Court, visit IJRC's Online Resource Hub.
To stay up-to-date on international human rights law news, visit IJRC's News Room or subscribe to the IJRC Daily.