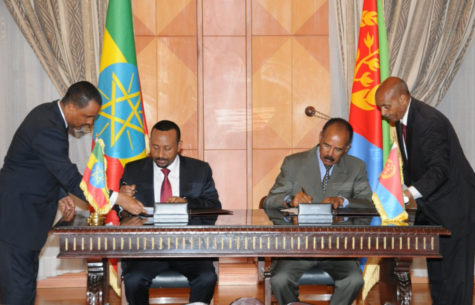 In recent weeks, the Ethiopian government has retreated from democratic reforms by arresting more than 1,200 individuals, killing several dozen, sending arrestees to "rehabilitation" camps, and shutting off mobile internet access as violence and protests reached the capital. [NYTimes: Arrests; Quartz] Among other reforms, new Prime Minister Abiy Ahmed had welcomed previously-outlawed opposition groups to return to Ethiopia and reopened the border with Eritrea, in keeping with a peace agreement signed earlier this year. [BBC; Amnesty International] Attacks and hate speech against ethnic minorities, and clashes with supporters of the returning opposition groups, have surged over the past year and displaced 1.5 million people; many have taken to the streets in peaceful protest, and civil society has criticized the government for arresting and killing protesters rather than protecting people from attacks. [Amnesty International] The violence continues to claim lives across the country. [Al Jazeera]
Ethiopia's Current Situation
Some reports have placed the number of those arrested by Ethiopia in September as high as 3,000 people, many of whom are being detained at the Tolay Military Camp for a "rehabilitation education." [Amnesty; NYTimes: Arrests] The Addis Ababa's police commissioner has claimed that approximately half of the arrests were made in response to increased criminal activity in Addis Ababa and that those targeted were robbers and thieves. [Amnesty] However, police have also claimed that approximately 1,200 of those detained were arrested for taking part in protests against the ethnic violence that broke out earlier in the month. [Amnesty; NYTimes: Arrests] The authorities have provided little evidence that any of the individuals detained participated in, or were connected to, the ethnic violence. [Amnesty; NYTimes: Arrests]
These arrests have been seen as a government response to increased ethnic violence in and around the capital, Addis Ababa. [Amnesty; NYTimes: Arrests] Violence broke out against ethnic minorities near the capital on September 15, the day of a rally held to celebrate the return of the Oromo Liberation Front (OLF), an ethnic-based separatist group that had been long exiled in Eritrea. [Reuters: Violence] Over the course of the following week, the violence escalated, with reports of the death toll reaching 58 people. [Daily Nation]
Recent Reforms
The recent violence in the country comes amid widespread changes initiated by Ethiopia's Prime Minister, Abiy Ahmed, who assumed office in April of this year. [BBC: Abiy Ahmed; NYTimes: Arrests] Reforms have included lifting the Ethiopia's longstanding state of emergency, releasing thousands of prisoners, allowing dissidents to return from exile, and unblocking numerous websites and TV channels. [BBC: Abiy Ahmed] Prime Minister Abiy also removed several opposition groups from the State's official "terrorists" list and fired the head of the State's prison system, which is notorious for acts of torture and mistreatment. [Reuters: Reform] Some have connected the recent ethnic tensions in Ethiopia to the country's recent reforms, specifically those that allowed groups like the OLF to return to Ethiopia from exile. [NYTimes: Arrests; Reuters: Violence]
In an unexpected move, Prime Minister Abiy also initiated successful peace talks with a longtime adversary in the region, Eritrea. [NYTimes: Arrests] On July 9th, 2018, both countries signed a peace deal, resolving a border dispute that erupted in a deadly war in 1998. [Philadelphia Tribune] In addition to formally ending the conflict, the two States took several measures to normalize relations, including reinstating telephone connections, allowing commercial flights to fly between the two countries, and reopening embassies in both capitals. [NPR: Border] Most recently, Ethiopia and Eritrea opened two border crossings for the first time in 20 years, restoring trade between the two countries and their diplomatic relations. [NPR: Border]
International Response
Many of the recent developments in the region have received international praise. [OHCHR Press Release: Briefing] The High Commissioner for Human Rights welcomed many of Ethiopia's reforms, including the release of political prisoners, following the election of Prime Minister Abiy Ahmed. [OHCHR Press Release: Visit] The UN Secretary General said that the peace agreement was "illustrative of a new wind of hope blowing across Africa." [Reuters: UN] The UN Special Rapporteur on the situation of human right in Eritrea called for the peace agreement to "be duly celebrated," adding that the agreement "raises hopes that human rights will be at the centre of Eritrea's path towards a society respectful of all fundamental rights." [OHCHR Press Release: Rapporteur]
However, after the violent clashes, Amnesty International condemned Ethiopia's response, calling it a threat to Ethiopia's recent progress. [Amnesty] Amnesty also called for all the prisoners to be released "immediately and unconditionally." [Amnesty]
Background of the Ethiopia-Eritrea Peace Deal
The peace deal marked an end to a 20-year conflict between Ethiopia and Eritrea. [Reuters: Relations] The conflict originated in 1998 as a territorial dispute over the ownership of the town of Badme, but launched into a full conflict that lasted for two years, during which an estimated 80,000 people died and more than 70,000 Ethiopians of Eritrean origin were expelled from Ethiopia. [Reuters: Relations] Although the military conflict ended in 2000, the countries remained in a stalemate over the border after Ethiopia refused to accept the results of an international arbitration ruling that awarded Badme to Eritrea. [Reuters: Relations]
States' Human Rights Obligations
Both Eritrea and Ethiopia are party to several regional and universal human rights treaties. See IJRC, Eritrea Factsheet; IJRC, Ethiopia Factsheet. These treaties require the States to protect, respect, and fulfil the human rights of all those within their territory, and also subject them to the oversight of the African Commission on Human and Peoples' Rights and some of the UN human rights treaty bodies. However, neither country has accepted the jurisdiction of the African Court on Human and Peoples' Rights.
Additional Information
For more information on the African human rights system, UN human rights mechanisms, Eritrea, and Ethiopia, visit IJRC's Online Resource Hub. To stay up-to-date on international human rights news, visit IJRC's News Room or subscribe to the IJRC Daily.