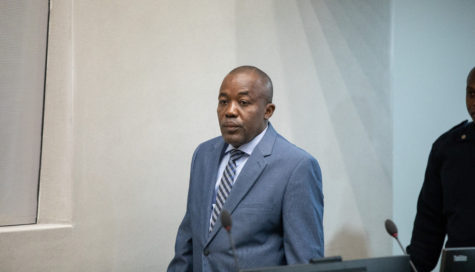 Alfred Yekatom, the first person to be transferred to the International Criminal Court (ICC) in connection with the Court's investigation into crimes committed in the Central African Republic (CAR) since 2012, made an initial appearance before the Court's Pre-Trial Chamber II on November 23. [ICC Press Release: Alfred; FIDH] Mr. Yekatom is alleged to have committed war crimes and crimes against humanity between December 2013 and August 2014 in the context of the CAR's ongoing conflict between the Seleka and the Anti-Balaka armed groups. [ICC Press Release: Yekatom] Yekatom is accused of having commanded an anti-balaka group that carried out killings, torture, forced displacement of Muslim civilians and looting and destruction of Muslim homes and places of worship, in western CAR. CAR authorities delivered Yekatom to the ICC on November 17 in compliance with the ICC's November 11 warrant for his arrest. [ICC Press Release: Situation] On April 30, 2019, the Court will hold a hearing to determine whether there is sufficient evidence to support the allegations against him and, if so, to transfer his case to the Trial Chamber. [ICC Press Release: Yekatom]
The Case Against Alfred Yekatom
The CAR government referred the conflict situation to the ICC on May 30, 2014 covering events since August 1, 2012, including crimes allegedly committed by the Seleka, a coalition of armed groups composed of predominantly Muslim members, and the Anti-Balaka, a mainly Christian movement countering the Seleka. [ICC Press Release: Situation] Shortly thereafter, on September 24, 2014, ICC Prosecutor, Fatou Bensouda, formally initiated an investigation into the situation. [ICC Press Release: Situation] The ICC's Pre-Trial Chamber II confirmed there is evidence that the violence in the CAR between September 2013 until at least December 2014 could be characterized as a non-international armed conflict. [ICC Press Release: Situation]
The Court's Pre-Trial Chamber II confirmed his identity and verified that he was fully aware of both the charges against him and his rights during the proceedings at his initial appearance in The Hague. [ICC Press Release: Yekatom]
Mr. Yekatom is alleged to have participated on the side of the Christian militia groups, known as the Anti-Balaka, which was formed as a counter force against the Seleka, a predominantly Muslim militia group. [ICC Press Release: Yekatom] During this time period, the Chamber confirmed that the Anti-Balaka committed systematic and widespread attacks against Muslim civilians and targeted anyone thought to support the Seleka. [ICC Press Release: Yekatom] Mr. Yekatom who served as a military commander of over 3,000 members, is alleged to have been responsible for committing or otherwise playing a role in the commission of various war crimes, including murder, torture and cruel treatment, mutilation, intentional attack against the civilian population, intentional attack against buildings dedicated to religion, enlistment of children under the age of 15 years and their use to participate actively in hostilities, displacement of the civilian population and destruction of the adversary's property. [ICC Press Release: Yekatom] He is also accused of crimes against humanity, which include murder, deportation or forcible transfer of population, imprisonment or other severe deprivation of physical liberty, torture, persecution, enforced disappearance and other inhumane acts. [ICC Press Release: Yekatom]
Before his transfer to ICC custody, Mr. Yekatom had been in the CAR government's custody since October 29 after threatening a fellow Member of Parliament with a gun and then firing it twice at the ceiling of the Parliament building in the capital, Bangui. [Reuters]
The ICC
The ICC, located in The Hague, Netherlands, was inaugurated in 2002 and is tasked with prosecuting individuals for war crimes, genocide, and crimes against humanity. The ICC may conduct a preliminary examination of a situation after receiving information regarding possible international crimes in a State party to the Rome Statute or committed by nationals of a State party, a State party to the UN Security Council refers a situation, or a State makes a declaration under Article 12(3) of the Rome Statute. Preliminary investigations examine jurisdiction, admissibility, and the interests of justice to determine if there is a basis to investigate the situation. The ICC is an international tribunal designed to complement national judiciaries; thus, it can only step in when national courts are unable or unwilling to prosecute.
The ICC has also opened an investigation into Rome Statute crimes committed in CAR in 2002-2003, a situation that was also referred to the Court by the CAR government. That investigation focused on killings, sexual violence, and looting by government and rebel forces. See ICC, Central African Republic. In that case, one individual, Jean-Pierre Bemba, has been prosecuted and acquitted on appeal of war crimes and crimes against humanity related to attacks against civilians by the Mouvement de Libération du Congo rebel group, and was convicted of tampering with witnesses and evidence in that trial. [IJCR; ICC Press Release: Bemba]
Background on the Conflict
The CAR, currently one of Africa's poorest countries, has been plagued by ongoing violence and instability since suffering under French colonial rule through gaining its independence in 1960. See UN Security Council, Report of the International Commission of Inquiry on the Central African Republic, UN Doc. S/2014/928, 22 December 2014, para. 25. Since its independence, the country has struggled for decades with corrupt leadership, political instability, human rights abuses, and widespread poverty. See id. In the political turmoil of 2014, Seleka forces ousted then President, Francois Bozizé, and violently seized power, committing a variety of abuses against the people under their control. [HRW] The Anti-Balaka organized as a countermovement to the Seleka, and both groups are considered to have committed widespread atrocities against civilians. [HRW] The UN Commission of Inquiry report estimated the number of people killed to be at least 3,000 to 6,000 in the span of less than two years. See Report of the International Commission of Inquiry on the Central African Republic, para. 79.
Currently, although it is proving difficult to hold some those most responsible for the alleged crimes legally accountable, the CAR government's cooperation with the ICC may signal an end to impunity and the possibility of justice for the victims. [FIDH; HRW] The country has also recently created a hybrid court, composed of CAR and international judges, specifically to handle cases of atrocity crimes that took place during this conflict. [HRW] That court officially launched its operations in October. [FIDH]
Additional Information
For more information on the International Criminal Court, international humanitarian law, or international criminal law, visit IJRC's Online Resource Hub. To learn more about the Central African Republic's human rights obligations, see IJRC's Central African Republic Factsheet. To stay up-to-date on international human rights law news, visit IJRC's News Room or subscribe to the IJRC Daily.