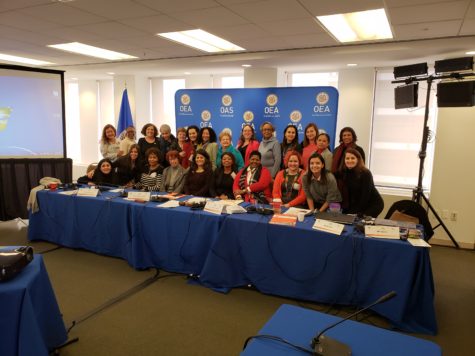 On August 8, 2019, the Follow-up Mechanism to the Belém do Pará Convention (MESECVI) presented a new general recommendation providing guidance to States in addressing "the high number of missing women and girls in some countries" of the Americas and the inadequacy of available data on this type of violence against women. [MESECVI Press Release] The document is the second-ever general recommendation issued by MESECVI, the body charged with overseeing implementation of the Inter-American Convention to Prevent, Punish and Eradicate Violence Against Women, also known as the Belém do Pará Convention. See Inter-American Commission of Women, General Recommendation of the Committee of Experts of the MESECVI (No. 2): Missing Women and Girls in the Hemisphere, Doc. MESECVI/CEVI/doc.250/18, 5 December 2018. It adds to the Inter-American human rights doctrine on State obligations to prevent, punish, and redress disappearances of women and girls, and analyzes the connections between such disappearances and other types of violence against women, including femicides, trafficking, and sexual exploitation. See id. at 4.
The General Recommendation
State Obligations
Women, girls, and groups of women or girls are considered missing or disappeared when their family and friends do not know of their whereabouts. See id. at 15. Establishing that the disappearance of women and girls is in itself a form of violence, the General Recommendation explains that the disappearance of women and girls in the Americas often precedes other forms of violence and must be distinguished from the disappearance of men because it often follows particular patterns unique to gender-based violence. See id. at 8-10.
The General Recommendation reiterates that under the Belém do Pará Convention, "any gender-based act or conduct that causes the death, or physical, sexual or psychological injury to a woman, both in the public and private spheres" constitutes violence against women. See id. at 13. Thus, the General Recommendation clarifies that while Inter-American System jurisprudence has extensively addressed State obligations to prevent forced disappearances, which include cases in which a State directly responsible and situations in which the government knows or should know of the disappearances taking place but is failing to take action, States also have an obligation to prevent disappearances that result from the acts of individual private actors. See id. at 13-14. Drawing on a case presented before the Inter-American Court of Human Rights (IACtHR) in 2009, Gonzalez et al. v. Mexico (commonly referred to as the "Cotton Field" case), which arose from three separate incidents of murdered women whose bodies were all left in the same cotton field in Ciudad Juárez, Mexico, the General Recommendation highlights that in the context of general societal violence against women, States bear a responsibility for disappearances committed by individuals when the crimes present an "ongoing pattern." See id. at 14. Nevertheless, the Committee states that, regardless of whether a pattern exists, "when an individual causes the disappearance of a wom[a]n and/or young girl, an act of violence against women has occurred, which the State has a special obligation to prevent." See id. at 14-15.
The Committee notes that States bear obligations under the Belém do Pará Convention to prevent, investigate, and gather data with respect to this phenomenon, and emphasizes the need to implement a gender perspective in these efforts. See id. at 17-25. With respect to prevention, the Committee explains that in addition to preventing human rights violations related to missing women and girls, States must "guarantee the cultural transformation necessary to eliminate the root causes of unequal power relationships." See id. at 18. Additionally, States have a special obligation regarding prevention that requires an "exhaustive search" and investigation in situations in which States are aware that girls, women, or groups of women are at risk or have been reported missing. See id. at 19. The General Recommendation explains that an exhaustive search requires an effective legal framework and established policies and practices to ensure that State officials are prepared to act swiftly when cases are reported. See id. Special measures of prevention also necessitate adequate protections for women victims and their family members. See id.
With respect to adequate investigations, the General Recommendation echoes the Inter-American Court's jurisprudence holding that States have an obligation to conduct effective investigations, even when the alleged violation is committed by a private individual. See id. at 20. However, the Committee goes further, requiring States to "take into account the gender of the victims, and apply a gender perspective to all actions taken by agents of the State." See id. Additionally, the Committee finds that gender stereotypes in reporting and held by State officials often result in the dismissal of reports and inadequate investigation, which creates a general climate of impunity for perpetrators of violence against women. See id. at 20-21.
Moreover, upon the discovery of the remains of a missing woman or girl, the General Recommendation states that officials are under an obligation to search for evidence of sexual violence or mutilation that suggests possible "gender-based discriminatory connotations," especially within a broader social setting of violence against women. See id. at 22. When women are found alive, States must give them the opportunity to decide whether or not they want their family members notified of their whereabouts, ensuring this decision is made with their prior and informed consent. See id. at 23. Finally, the Committee finds that women are at particular risk for disappearance connected with crimes frequently perpetrated against women including sexual violence and trafficking, making State data collection imperative for prevention and prosecution efforts. See id. at 13, 24.
Recommendations
The Committee includes a total of 16 recommendations that States parties should adopt in order to fulfill their obligations under the Belém do Pará Convention. See id. at 27-30. Some of the more specific recommendations include: ensuring gender-specific and trauma-sensitive components in the training of all State officials involved in the investigations of missing women and girls, including judges, prosecutors, and healthcare workers, among others; taking an intersectional approach to preventative measures and lines of investigation that consider additional vulnerabilities of indigenous and disabled women, women of African descent, or women with non-conforming sexual or gender identities; taking steps to include family members and friends, where appropriate, in the search for the missing woman or girl, the investigation process, and subsequent legal proceedings; adopting and implementing immediate search protocols when reports are received of a missing woman or girl; and, collecting data on missing women and girls, broken down by various relevant demographic factors, including gender, and making it accessible to the public. See id. at 27-30. The Committee emphasizes that, more broadly, States must take all necessary steps to "prevent, investigate, punish, and eradicate this form of violence against women." See id. at 27.
MESECVI
MESECVI is a specialized body of the Organization of American States (OAS) and functions as an "independent, consensus-based peer evaluation system that looks at the progress made by States Party to the Convention in fulfilling its objectives." See id. at 2. It was created in 2004 to monitor the implementation of the Belém do Pará Convention, which entered into force in 1995, and is tasked with protecting women's rights through the prevention of violence against their "personal, sexual, and psychological integrity," in both public and private spaces. See OAS, What is MESECVI?. Its methods of work are based on an ongoing evaluation process through the sharing of information among States parties to the Convention and a designated Committee of Experts. See id.
The Committee of Experts is the technical body of the MESECVI. It is composed of independent experts, appointed by each of the States parties to the Belém do Pará Convention; Committee members exercise their functions in a personal capacity. The MESECVI Committee of Experts presented its first general recommendation in 2018, which dealt with issues of self-defense and gender-based violence. See OAS, MESECVI Library.
Additional Information
For more information on the Inter-American System and the human rights of women, visit IJRC's Online Resource Hub. To stay up-to-date on international human rights news, visit IJRC's News Room or subscribe to the IJRC Daily.