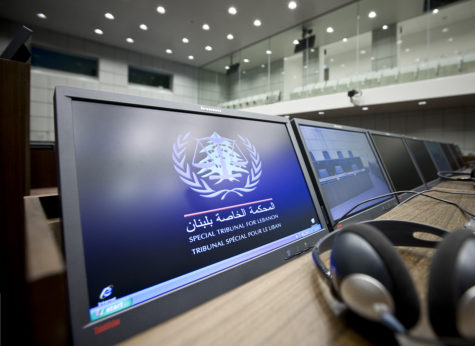 The Special Tribunal for Lebanon (STL) announced new charges on September 16, 2019 against Salim Jamil Ayyash relating to his alleged involvement in the 2004 and 2005 attacks targeting Lebanese politicians Marwan Mohammed Hamade, Georges Anis Hawi, and Elias Miche El-Murr. [STL Press Release] The new charges are separate from the pending charges against Ayyash, and three other defendants, in connection with the February 14, 2005 attack that killed former Lebanese Prime Minister Rafik Hariri and 21 others. [STL Press Release] While Ayyash's whereabouts are unknown, the Pre-Trial Judge issued both domestic and international warrants to be executed by Lebanese authorities and INTERPOL, respectively, for his arrest and handover to the STL. [STL Press Release] The STL is the first internationalized criminal tribunal to prosecute crimes of terrorism. See STL, Ayyash Case Information Sheet, March 2019. Since opening its doors in 2009, the tribunal has yet to issue any judgments in its pending cases, and none of the defendants are in its custody. [Washington Post; UN Press Release: STL]
New Indictments Against Ayyash
The Prosecutor of the STL has accused Ayyash, with others, of having played a role in both the planning and perpetration of three bombings in 2004 and 2005 that targeted Hamade, Hawi, and El-Murr, with the goals of "caus[ing] a state of terror" and of assassinating the three politicians. See STL, Prosecutor v. Salim Jamil Ayyash (Case No. STL-18-10-I-PTJ), Indictment (Public Redacted Version), 14 June 2019, para. 4. The attacks injured Hamade and El-Murr, along with 17 other victims, and killed Hawi, Hamade's body guard Ghazi Abou-Karroum, and a passerby named Khaled Moura. See id. at para 4, 27, 64.
The new indictment, issued by the Pre-Trial Judge Daniel Fransen on June 14, 2019, charges Ayyash with the following counts under Lebanese law and the STL Statute: (1) conspiracy aimed at committing a terrorist act; 2) or, in the alternative, criminal association; (3) committing terrorist acts; (4) intentional homicide with premeditation with respect to Ghazi Abou-Karroum, Hawi, and Khaled Moura; and, (5) attempted intentional homicide with premeditation of El-Murr, Hamade, and 17 other persons. See id. at paras. 4, 66-76.
The STL Prosecutor presents as evidence records showing calls between Ayyash and other alleged participants in the attacks – including Mustafa Amine Badreddine, a Hezbollah military commander who died in 2016 – via "phone networks" allegedly used for planning and coordinating the three attacks. See id. at paras. 8-14. The indictment describes Ayyash as having been at "all relevant times…a supporter of Hezbollah," a "political and military" organization in Lebanon. See id. at para. 3. However, Hezbollah has continually denied any involvement in the assassinations. [Washington Post; Foreign Policy]
Other Proceedings Against Ayyash
The STL Prosecutor first indicted Ayyash in June of 2011 for his alleged role in the "terrorist act to assassinate Rafik Hariri," which killed Hariri and 21 individuals, and injured another 226. See STL, Ayyash Case Information Sheet. Ayyash is accused of conspiring to commit a terrorist act, committing a terrorist act using explosives, intentional homicide, and attempted intentional homicide. See id. The STL issued the initial warrants for Ayyash's arrest in 2011. See id. Despite the fact that Ayyash's whereabouts remain unknown, the STL decided in February 2012 to try him in absentia, meaning that STL is conducting his trial without Ayyash being physically present at the Tribunal's seat in The Hague. See id. The Head of the Defense Office at the STL has assigned legal counsel to Ayyash and the other defendants. See id. Their trial began on January 16, 2014 and the prosecution, defense, and victims' advocate finished making their closing arguments on September 21, 2018. See id. The Trial Chamber has not yet issued its judgment. See id.
Additional Information
The STL was established as an internationalized criminal tribunal pursuant to the United Nations Security Council Resolution 1757, giving it jurisdiction with regard to any attacks committed in Lebanon between October 1, 2004 and December 12, 2005 if the attacks are connected to the February 14, 2005 bombing that resulted in the death of former Prime Minister Rafik Hariri. [STL Press Release] It is the first tribunal ever created to handle cases dealing with the crime of terrorism committed outside of an armed conflict situation. See STL, Ayyash Case Information Sheet. The STL Appeals Chamber has clarified that the STL is empowered to apply Lebanese domestic law in conjunction with its own Statute and customary international law. See id.
To learn more about internationalized criminal tribunals, such as the Special Tribunal for Lebanon, or to view other news posts on the STL, visit IJRC's Online Resource Hub.