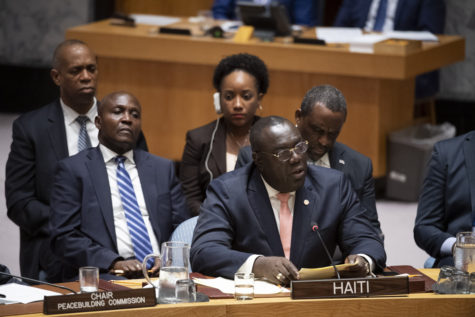 As oversight bodies call for restraint amid ongoing protests in Haiti, the United Nations is ending its 15-year peacekeeping mission in the country. [IACHR Press Release; UN News: Protests] On October 16, 2019, a special political mission, the United Nations Integrated Office in Haiti (BINUH), replaced the United Nations Mission for Justice Support in Haiti (MINUJUSTH), shifting the UN's focus from law enforcement to governance. [UN News: Security Council] The UN Secretary General appointed Helen Meagher La Lime, a citizen of the United States, as the Special Representative for Haiti to head the BINUH, which is charged with promoting and strengthening political stability and peaceful relations, good governance, and human rights. [UN Press Release] The MINUJUSTH and its predecessor, the UN Stabilization Mission in Haiti (MINUSTAH), leave behind a mixed legacy, marred with controversies ranging from sexual abuse to a cholera epidemic. The new special political mission will begin its work in the midst of an economic crisis, fuel and food shortages, and ongoing violent protests against President Jovenel Moïse that have resulted in at least 30 deaths since September 2019. [Washington Post; UN News: Security Council]
New UN Special Political Mission
The UN Security Council created the BINUH via UN Security Council Resolution 2476(2019), adopted on June 25, 2019, to assist Haiti in carrying out fair elections; train the Haitian National Police in human rights protections; develop approaches to reduce community and gang violence; address human rights violations in the country; improve the administration and oversight of the prison system; and, strengthen the justice system, including by addressing corruption and ensuring a judicial appointment process based on merit. See UN Security Council, Resolution 2476 (2019), UN Doc. S/RES/2476 (2019), 25 June 2019, para. 1. The BINUH will also be responsible for strengthening gender-based responses and considerations in all areas, including for addressing sexual and gender-based violence. See id. at paras. 1(a)(ii), 3. The BINUH's mandate will initially be for 12 months. See id. at para. 1.
While Meagher La Lime will head the BINUH, the BINUH will also consist of several advisory units focusing on elections and constitutional reform and accountability, violence reduction, human rights, and victims' advocacy, for example. See id. at para. 2. A UN Police Commissioner will lead the police and corrections unit, and will be supported by 30 civilian and other personnel who will serve as police and advisors. See id.
The UN Secretary General is responsible for updating the UN Security Council on the BINUH's implementation and the overall implementation of Resolution 2476(2019) every 120 days, beginning October 16, 2019. See id. at para. 8.
Haiti: Current Human Rights Situation
The BINUH will begin its work in the face of violent protests, which escalated in February of this year. [UN News: Protests] In September, the protests intensified, resulting in the death of 20 people and at least 200 injured. [New Yorker] The most recent protests, which are currently ongoing, were prompted by increased fuel shortages, lack of safe drinking water and food, and continuous discontent with Moïse, who refuses to resign and has failed to deliver tangible results in response to natural disasters or the economic situation in the country. [Washington Post; Reuters]
The almost-daily demonstrations have left the country with limited basic services and "almost entirely paralysed," and human rights violations continue to take place at the hands of the Haitian National Police with little to no accountability. [OHCHR Press Release] The UN has called on the government and protesters to refrain from using violence and to "engage in a constructive dialogue," but there does not seem to be a real end in sight. [UN News: Protests; Washington Post]
The Inter-American Commission on Human Rights echoed these concerns, drawing attention to incitement to violence, disrupted access to public services, attacks on journalists, and use of force against protesters. [IACHR Press Release] Commissioner Flávia Piovesan, IACHR Rapporteur for Haiti, further emphasized that "[a]dverse conditions in Haiti prompt three main priorities: restarting political talks, ensuring free and peaceful protests, and fully restoring the basic services that have been brought to a standstill by the escalation of violence." [IACHR Press Release]
The UN Human Rights Council let the mandate of the Independent Expert on the human rights situation in Haiti expire in 2017. While the UN Office of the High Commissioner for Human Rights (OHCHR) had been integrated into the UN's peacekeeping presence, High Commissioner Michelle Bachelet has recently stated she hopes to establish an independent human rights office in the country. [UN News: Bachelet]
UN Presence in Haiti: Background
UN peacekeeping troops arrived in Haiti in 2004 pursuant to UN Security Council Resolution 1542, which established the MINUSTAH, and in response to the overthrow of President Jean-Bertrand Aristide. [Aljazeera] In 2017, the UN Security Council replaced MINUSTAH with a smaller peacekeeping mission, the MINUJUSTH, which was established by UN Security Council Resolution 2350(2017). See MINUJUSTH, Mandate.
The MINUJUSTH reduced the number of personnel on the ground and withdrew military personnel, acknowledging the progress that the country had made towards stabilization, including the presidential, local, and legislative elections in 2017. See UN Security Council, Resolution 2350(2017), UN Doc. S/RES/2350 (2017), 13, April 2017. The MINUJUSTH was tasked with focusing on the justice system and ensuring political stability. See id.
In June 2019, the UN Security Council adopted the resolution initiating the UN transition to a non-peacekeeping presence in the country, even though the "MINUJUSTH benchmarks would not be achieved" by the October 2019 deadline. [UN News: Haiti] The UN Under Secretary General for Peace Operations has emphasized that the "UN [is] turning the page on peacekeeping in Haiti 'but [is] not closing the book on United Nations support.'" [UN News: Security Council]
While Meagher La Lime, who previously served as head of the MINUJUSTH, has noted achievements made by UN peacekeeping efforts in the country, mainly in "reinforcing rule of law institutions, increasing the capacity of the Haitian National Police, and promoting human rights," UN presence in Haiti has been criticized by civil society and various stakeholders for its inability to remedy some of the harms its operations have caused. [UN News: Haiti; Al Jazeera] These include the cholera epidemic in 2010, reported sexual abuse and exploitation, and other violence against civilians by UN peacekeepers. [Al Jazeera; NY Times] Some view the controversies surrounding UN presence in Haiti as a "legitimacy deficit" that must be addressed by the BINUH in order to ensure that its goals of promoting political stability and good governance are met. [Al Jazeera]
Additional Information
For additional information on Haiti's human rights obligations, the United Nations, or to view news posts on Haiti, visit IJRC's Online Resource Hub. To stay up-to-date on international human rights law news, visit IJRC's News Room and subscribe to the IJRC Daily.