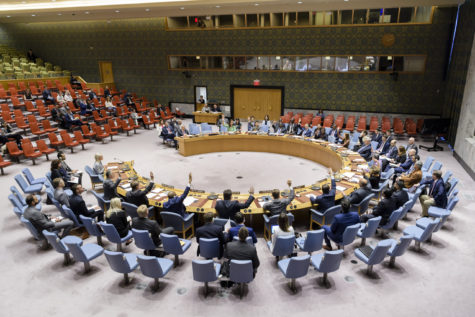 A new United Nations report on the right to education in Iraq concludes that, two years after the defeat of the Islamic State in Iraq and the Levant (ISIL), many children and young adults remain unable to access secondary education because of difficulties obtaining the necessary documents, restrictions on travel within the country, and limited or inadequate educational programs. [UN News Press Release] The United Nations Assistance Mission for Iraq (UNAMI) and the UN Office of the High Commissioner for Human Rights (OHCHR) released the joint report, titled The Right to Education in Iraq: Part One – The legacy of ISIL territorial control on access to education, on February 17, 2020. The short text focuses on children 12 and older who live in camps for internally displaced persons (IDPs) or in former ISIL-controlled areas; it identifies key challenges, provides an overview of the legal framework to the right to education, and presents recommendations to the Iraqi government. See OHCHR & UNAMI, The Right to Education in Iraq: Part One – The legacy of ISIL territorial control on access to education (2020), 6, 9-12, 14. The report is the first in a series that will examine access to post-primary education in Iraq's post-conflict context, taking into account the different circumstances that prevent children from Iraq's various ethnic, religious, and social groups from accessing education. See id., p. 4.
Access to Education in Iraq
The report focuses on the young people most impacted by ISIL's "campaign of widespread violence" that began in 2014 and resulted in the displacement of over six million Iraqis. See id., p. 4. Despite ISIL being defeated in 2017, estimates indicate that 1.4 million people remain internally displaced, of whom 658,000 are children. See id. Almost half of those children are not enrolled in school. See id. The report examines access to post-primary education, focusing on children and young adults who lived in ISIL-controlled areas between 2014 and 2017 and children living in camps for persons displaced by the conflict. See id., p. 4.
Based on interviews and group discussions with children, young adults, teachers, and parents between November 2018 and January 2020 in six different camps for IDPs, the report finds that during the conflict, children and young adults missed years of education that have resulted in a "substantial gap in their academic knowledge." See id., p. 4.
In the post-conflict environment, children and young adults continue to face challenges when attempting to access education. See id., p. 4. The report identifies two key challenges: 1) the absence of programs aimed at reintegrating students into the State education system and 2) the lack of access to civil documentation required for enrollment. See id., pp. 9-12. The report notes that State-imposed restrictions on freedom of movement complicate both access to documentation and to schools for many. See id., pp. 8, 10, 11.
Key Challenges
The absence of appropriate programs to address the "knowledge gap" impacts young people living in IDP camps and those who lived in previously ISIL-controlled areas. See id., p. 9. The report explains that families who lived in ISIL-controlled areas often took their children out of school because the schools were run by ISIL and followed a curriculum that encouraged violence and radicalization, meaning these children missed years of schooling but may now be too old to enroll in State schools and do not have other options. See id., pp. 7-9. While the government has implemented some "alternative learning courses" that are part of an Accelerated Learning Programme (ALP) for children between 12 and 18 years old, ALP programs do not address the challenges that young adults who lived in ISIL-controlled areas face. See id., p. 11. In particular, the report finds that ALP schools only cover primary education, meaning that individuals who had their education disrupted at the secondary-school level have no options available to them. See id. Additionally, the ALP schools and programs tend to be based in large cities, making them inaccessible to those who live in IDP camps or rural areas. See id. For children and young adults living in IDP camps, movement restrictions also impact their ability to attend schools or programs outside the camp. See id.
Lack of civil documentation, which according to the report impacts approximately 45,000 internally displaced children, creates a serious challenge for accessing social services and enrolling in schools. See id., p. 11. The report finds that obtaining new documents requires a security clearance that many are not able to obtain because they are suspected of having a link to ISIL. See id. Renewing civil documents also requires returning to the individual's place of origin, which many describe as "impossible." See id., p. 12. While the Iraqi Ministry of Education issued a directive in 2018 that allows children to register without documentation so long as parents submit the required documents within a month, the report notes that the directive has not been disseminated or implemented, the one-month deadline is not feasible to meet for many parents, and the directive does not address the fact that many families cannot obtain documents at all due to the denial of a security clearance. See id.
These challenges, the report states, "are creating a marginalised generation of children and young adults, many of whom are or will be entering adulthood without any post-primary schooling." See id., p. 4.
Recommendations
The report makes specific recommendations to the Iraqi government, focusing on making documentation more accessible and increasing education opportunities for the affected groups. See id., p. 14. With respect to documentation-based requirements, the recommendations call on the government to remove the "security clearance" requirement to obtain civil documentation, accelerate the document review and request process, and remove or reduce the documentation requirement for children to enroll in schools, among others. See id. In terms of access to quality education for all, including for individuals living in IDP camps, the recommendations call on the government to increase the number of schools and teaching hours, implement a system of placement testing that accurately assesses children's education level, revise education provisions and expand alternative education programs for children and young adults who missed school as a result of ISIL, and disseminate guidance or trainings to teachers who teach students who suffered from trauma. See id.
International Legal Framework
In introducing the report, the UN High Commissioner for Human Rights Michelle Bachelet emphasizes that "[t]he importance of education for children and young people cannot be overstated" and that "[i]nclusive, quality education is not just a right in itself. It is a 'multiplier' right – one which enables children and youth to realize their other human rights too." See id., p. 2. The right to education is protected under several international human rights treaties to which Iraq is a party, including the International Covenant on Economic, Social and Cultural Rights (ICESCR) and the Convention on the Rights of the Child (CRC), which explicitly protect the right to education. See id., p. 6. While the right to education is not absolute, States are required to provide free compulsory primary education without discrimination. See id. According to the Committee on Economic, Social and Cultural Rights, States parties to the ICESCR must also make secondary education available and accessible, and work toward making secondary and higher education free for all. See id., p. 6 (citing CESCR General Comment No. 13 on the Right to Education (Article 13 CESCR), UN Doc. E/C.12/1999/10 (8 Dec. 1999)).
In general, the right to education requires States to meet four core standards: 1) availability, which refers to States obligation to ensure that educational institutions and programs are available within their jurisdiction, and that the institutions and programs function properly; 2) accessibility, which encompasses access to education without discrimination, physical accessibility, and access to affordable education; 3) acceptability, which requires States to provide a type of education that is acceptable to students, in terms of quality and content, and, in certain cases, also acceptable to parents; and, 4) adaptability, which requires States to also provide education that is flexible and adaptable to the changing needs of communities, and that responds to students' needs with respect to diverse social and cultural settings. See id.
The Iraqi constitution specifically guarantees the right to education, including free, mandatory primary education. See id., p. 7. In response to the conflict, Iraq has also developed the Iraqi Minimum Standards for Education in Emergencies, which are specifically tailored to address the post-conflict situation. See id.
Additional Information
UNAMI is a political mission established in 2003 by the UN Security Council that, inter alia, assists and advices the Iraqi government with human rights protections, as well as humanitarian and development efforts. See UN Iraq, UN Assistance Mission for Iraq. The UNAMI's mandate was extended in 2019 pursuant to UN Security Council resolution 2470. [UN Press Release]
For more information on the United Nations human rights mechanisms, the right to education, or children's human rights, visit IJRC's Online Resource Hub. To stay up-to-date on international human rights law news, visit IJRC's News Room or subscribe to the IJRC Daily.