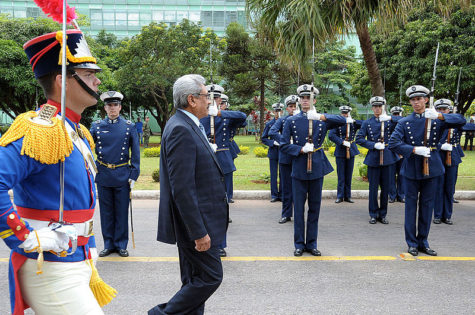 Efforts to secure accountability for the atrocities of Sri Lanka's civil war faced another setback in March 2020 when Sri Lankan President Gotabaya Rajapaksa pardoned one of very few individuals convicted of committing atrocities during the conflict. [OHCHR Press Release: Pardon] President Rajapaksa, himself an accused war criminal, ordered the immediate release of former army Sergeant Sunil Ratnayake, convicted in 2015 for the murder of eight Tamil civilians (commonly referred to as the Mirusuvil massacre) in 2000. [NYTimes] A spokesperson for the United Nations High Commissioner for Human Rights (OHCHR) condemned the pardon as "an affront to victims and yet another example of the failure of Sri Lanka to fulfill its international human rights obligations to provide meaningful accountability for war crimes, crimes against humanity and other gross violations of human rights." [OHCHR Press Release: Pardon] Civil society organizations have expressed similar reactions, with Amnesty International accusing Sri Lanka of using the COVID-19 pandemic "as an opportunity to release those convicted for heinous crimes." [Amnesty International: Pardon] More than 10 years later, those accused of atrocities during the 26-year conflict have largely avoided accountability in the rare civil and criminal proceedings in Sri Lanka and abroad, and given the government's reluctance to investigate alleged perpetrators. [Reuters]
Ratnayake's Pardon & Political Context
President Rajapaksa pardoned Ratnayake on March 26, 2020. Ratnayake's pardon reverses one of the rare convictions of military officers alleged to have committed atrocities during in Sri Lanka's civil war. [HRW: Pardon] He was sentenced to death in 2015 for the murder of eight civilians from the Tamil ethnic group – including three teenagers and one five-year-old – in 2000, following a trial that lasted over a decade. [Reuters] The eight civilians were internally displaced persons (IDPs) who were killed in the village of Mirusuvil when they returned to gather their belongings after the village was shelled. [Amnesty International; NYTimes] In 2019, Sri Lankas's Supreme Court unanimously rejected Ratnayake's appeal and upheld the conviction. [Al Jazeera] His case was "widely cited as a rare instance of accountability, amid lingering concerns over impunity for war-crimes committed" in the context of Sri Lanka's 26-year civil war. [The Hindu]
President Rajapaksa and his predecessor Maithripala Sirisena have recently made several decisions that further call into question the possibility of accountability. In 2019, former President Sirisena appointed Lieutenant General Shavendra Silva as Sri Lanka's army chief, an individual who faces serious allegations of human rights violations, including war crimes and crimes against humanity. [NYTimes; OHCHR Press Release: Appointment] In August 2019, various UN independent experts stated that "[i]t defies understanding that a person suspected of leading in the commission of serious violations of human rights and international human rights law will be put at the head of an institution which stands to be investigated for these violations and reformed to avoid their recurrence" in reference to Silva's appointment. [OHCHR Press Release: Appointment] The UN also announced that Sri Lankan troops would no longer be permitted to participate in UN peacekeeping, and the U.S. banned Silva from entering its territory. [HRW: Army Chief; Guardian] Moreover, the experts questioned Sri Lanka's "commitment to a genuine transitional justice process." [OHCHR Press Release: Appointment]
President Rajapaksa, who began his presidential term in November 2019, is a retired army officer who served as defense secretary during the final stages of Sri Lanka's civil war and has also been accused of ordering war crimes during that time. [HRW: Pardon; NYTimes] As a candidate he promised to release "war heroes" jailed on "baseless" offenses and since taking office, he has made several controversial appointments to his cabinet. [NYTimes] President Rajapaksa has since appointed retired general Kamal Gunaratne, who is also implicated in alleged war crimes, as defense secretary. [HRW: Pardon] According to Human Rights Watch, Gunaratne is currently responsible for leading Sri Lanka's response to the COVID-19 pandemic. [HRW: Pardon]
Efforts at Accountability
Government efforts to investigate and prosecute conflict-era atrocities have been limited and delayed. In response, some groups have sought accountability before foreign courts. International Truth and Justice Project is behind, and has documented, several civil cases in the U.S. and other countries. One led former Sri Lankan general Jagath Jayasuriya to flee his ambassador posting in Brazil to return to Sri Lanka, where he has apparently not faced prosecution. [AP] In April 2019, the Center for Justice & Accountability filed a civil suit against now-President Rajapaksa for his alleged role in the killing of journalist Lasantha Wickrematunge when he was Secretary of Defense; a U.S. federal court dismissed the case after determining that Rjapaksa was entitled to official immunity.  See CJA, Wickrematunge v. Rajapaksa.
United Nations Investigations & Proposed Tribunal
In 2014, the UN High Commissioner for Human Rights established the OHCHR Investigation on Sri Lanka (OISL) to investigate alleged human rights violations in the country committed by government forces and the Liberation Tigers of Tamil Eelam (LTTE) from February 2002 to November 2011. In a 2015 OHCHR report on Sri Lanka, the OHCHR confirmed "patterns of grave violations" and urged for the "creation of a hybrid special court" to address allegations of war crimes and crimes against humanity, finding that Sri Lanka's criminal justice system "lacks a reliable system for victim and witness protection and has been corrupted by decades of emergency, conflict and impunity." [UN News]
While Sri Lanka voluntarily committed to provide accountability and redress for all human rights violations committed during the civil war in UN Human Rights Council resolution 30/1 on the Promotion reconciliation, accountability and human rights in Sri Lanka, and reaffirmed this commitment in 2017 and most recently in Human Rights Council resolution 40/1 in 2019, it has consistently rejected the establishment of a hybrid special court. [Amnesty International: Hybrid Court]
Most recently, in February 2020, Sri Lanka announced that it would no longer honor its commitments in resolutions 30/1 and 40/1 to "establish a judicial mechanism with a special counsel to investigate allegations of violations and abuses of human rights and violations of international humanitarian law," among others. See Permanent Mission of Sri Lanka to UN, Foreign Relations Minister meets UN High Commissioner for Human Rights. The announcement follows previous statements by now President Rajapaksa, declaring that once his government took office, Sri Lanka would no longer cooperate with the UN Human Rights Council, and would instead prioritize purely domestic reconciliation and accountability. [Amnesty International: Withdrawal] In response, civil society organizations have called on the Human Rights Council to establish an international accountability mechanism and conduct international investigations and prosecutions to ensure justice for the victims of the conflict. [Amnesty International: Withdrawal; HRW: Accountability]
Sri Lanka Conflict
The country experienced a period of turmoil and conflict between the army and the LTTE rebels who fought for Tamil independence. [Washington Post] The civil war lasted over two decades and ended in 2009 with the LTTE's defeat. As part of this conflict, both government forces and rival Tamil groups committed serious human rights violations. See IJRC, UN Report Highlights Human Rights Violations in Sri Lanka and Urges Creation of Hybrid Court. The UN estimates that at least 40,000 individuals from the Tamil ethnic group died during the last few months of the civil war, but despite credible allegations of atrocities by military officials during the country's civil war, military officers have rarely faced justice in Sri Lanka. [NYTimes]
Additional Information
To learn more about international humanitarian law, international criminal law, or internationalized or hybrid criminal tribunals, visit IJRC's Online Resource Hub.