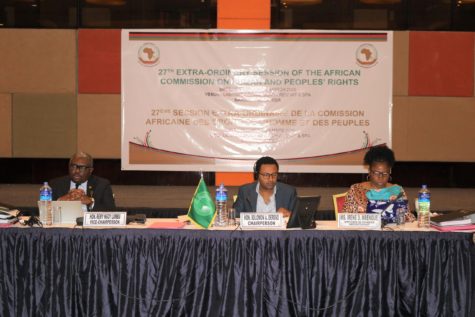 The African Commission on Human and Peoples' Rights (ACHPR) has published new rules that partially clarify and formalize the work of the individuals and groups appointed to monitor and protect specific human rights and vulnerable groups on the Commission's behalf. See ACommHPR, Standard Operating Procedures on the Special Mechanisms of the African Commission on Human and Peoples' Rights (2020). The new Standard Operating Procedures on the Special Mechanisms mandate specific procedures and conduct, and envision greater consistency and transparency with regard to the special mechanisms' work, although some details remain unclear. The text refers to the forthcoming revised ACHPR Rules of Procedure, which the ACHPR adopted along with the new Standard Operation Procedures during its 27th Extraordinary Session, held from February 14 to March 4, 2020. See ACHPR, Final Communiqué of the 27th Extraordinary Session of the African Commission on Human and Peoples' Rights. While the ACHPR's 12 thematic special mechanisms share similarities with the rapporteurships of the Inter-American Commission on Human Rights (IACHR), they are unique in that the working groups and committees include outside "expert members" who are not themselves ACHPR commissioners and who volunteer on a part-time basis. See ACommHPR, Standard Operating Procedures on the Special Mechanisms of the African Commission on Human and Peoples' Rights (2020). The IACHR similarly released new guidelines on the work of its rapporteurships in February 2020. [IACHR Press Release]
Standard Operating Procedures
The ACHPR special mechanisms consist of all ACHPR special rapporteurs, committees, and working groups established in accordance with Rule 25(1) of the revised 2020 Rules of Procedure, or the relevant provision of prior Rules of Procedure. See ACommHPR, Standard Operating Procedures on the Special Mechanisms of the African Commission on Human and Peoples' Rights (2020). As of April 14, 2020, the newly adopted 2020 Rules of Procedure are not yet publicly available on the Commission's website. An earlier draft of the Rules of Procedure retained the text of Rule 23 from the 2010 Rules of Procedure, and did not address the special mechanisms' composition or authority in any detail. [IJRC] The SOPs elaborate on the ACHPR special mechanisms' roles and responsibilities, composition, code of conduct, various working methods, and relationships with stakeholders. See ACommHPR, Standard Operating Procedures on the Special Mechanisms of the African Commission on Human and Peoples' Rights (2020).
Responsibilities
In general, special mechanism mandate holders are responsible for seeking, receiving, and investigating information related to their specific mandates. See id. at para. 3. They set and develop standards with the goal of promoting and protecting human rights in the region. See id. During each ACHPR Ordinary Session, the special mechanisms must submit regular reports to the ACHPR detailing their activities. See id. According to the SOPs, special mechanisms are also responsible for engaging and cooperating with States parties to the African Charter on Human and Peoples' Rights, civil society, national human rights institutions, intergovernmental organizations, as well as other international and regional mechanisms. See id.
Composition & Appointment
The SOPs provide additional details on the composition, appointment procedure, and term limits of special mechanisms. See id. at paras. 4-13. For example, they indicate that each ACHPR committee or working group must have a total of no more than eight members, including three ACHPR commissioners and five outside "expert members." See id. at paras. 6-10. The SOPs do not specify what the composition should be if there are fewer than eight members in a committee or working group.
The "expert members" must be nationals of a State party to the African Charter and "possess proven skills and experience in the thematic area" in order to apply or be nominated for a position on a special mechanism. See id. at paras. 8-12. The SOPs require the ACHPR to publish a call for applications, identifying the specific selection criteria, before filling expert member openings. Commissioner members of special mechanisms must propose candidates, who will then need to be approved by an ACHPR resolution. See id. at para. 12. Expert members serve for a two-year term that may be renewed twice, as of the adoptions of the SOPs. See id. at para. 13. Only commissioner members may serve as Chairperson of a committee or working group. See id. at para. 4.
Code of Conduct
The SOPs lay out a code of conduct for mandate holders, detailing how mandate holders must act when they are serving as special mechanism members. See id. at para. 14. Notably, mandate holders must "[a]ct in an independent capacity" and not "accept instructions from any governmental or non-governmental entity or any individual;" not use "their office or knowledge" as a special mechanism for private gain; and, not accept any gifts, decorations, payments, favors, or honors for their activities as mandate holders. See id. at para. 14. A breach of the code of conduct may result in the termination or non-renewal of a member's term. See id. at para. 16.
Working Methods
In fulfilling their mandates, special mechanism mandate holders issue "urgent appeals" to governments regarding human rights emergencies; send "letters of concern" and "letters of appreciation" to States regarding human rights developments; issue public statements, including when a State "repeatedly" fails to respond to an urgent appeal or letter of concern; propose resolutions for consideration by the ACHPR; carry out awareness-raising activities; engage with States during the ACHPR's consideration of State reports; conduct country visits; prepare thematic reports or studies; submit regular reports to the ACHPR; and, follow up with States to ensure their recommendations are followed or in response to unanswered requests. See id. at paras. 17, 34-35, 38, 41, 43, 46, 48.
Across their functions, the SOPs encourage special mechanisms to collaborate and work jointly with other ACHPR special mechanisms and with the special procedures of the United Nations and other bodies. See id. at paras. 21, 32, 33, 45-45.
According to the SOPs, special mechanisms are responsible for considering all credible and relevant information that they receive alleging human rights abuses or violations, and cross-checking all information. See id. at para 17. Whether or not action is taken on the information received depends on the "the reliability of the source" and "the credibility of the information." See id. at para. 20. The SOPs highlight that, unless it is necessary to reveal a source, special mechanisms are required to protect the identity of sources in order to protect against acts of retaliation. See id. at para. 23.
Guidance for Other Systems' Special Procedures
In February 2020, the Inter-American Commission on Human Rights (IACHR) also issued additional Guidelines on the activities and functions provided in the mandates of the Special Rapporteurships of the IACHR. The goal of the IACHR guidelines is to strengthen coordination between the IACHR, its Executive Secretariat, and the two IACHR Special Rapporteurs to ensure cooperation in the "fulfillment of their mandate and functions," action protocols and work methodologies, and financing efforts, among others. [IACHR Press Release] The Guidelines clarify the IACHR Special Rapporteurs "frameworks for action," elaborating on the Special Rapporteurships' responsibilities with respect to the IACHR petition and case system, promotion and academic visits, monitoring activities in the region, on-site visits, thematic and periodic reports on rights related to their thematic areas, public hearings, technical advice, work plans, and finances. See IACHR, Guidelines on the activities and functions provided in the mandates of the Special Rapporteurships of the IACHR (2019).
The IACHR currently has two special rapporteurs – on freedom of expression and on economic, social, cultural, and environmental rights – who are not members of the Commission. They are independent experts chosen by the Commission, who serve on a full-time basis for a period of three years, which may be renewed once.
For its part, the United Nations Human Rights Council has adopted a Code of Conduct for its special procedure mandate holders. See OHCHR, Special Procedures of the Human Rights Council. Mandate holders collectively adopted Terms of Reference for country visits and a broader Manual of Operations, as well. The Human Rights Council identifies the specific functions and responsibilities of individual special procedures when it creates or renews their mandates.
Additional Information
For more information on the ACHPR and its special mechanisms, the ACHPR revised Rules of Procedure, the IACHR, the IACHR special mechanisms, or the UN special procedures, visit IJRC's Online Resource Hub. To stay up-to-date on international human rights news, visit IJRC's News Room or subscribe to the IJRC Daily.