Mary & Harry Schwartzbart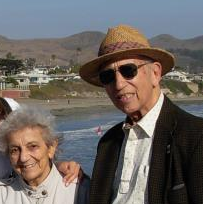 Mary (1919-2011) and Harry (1923-2011) Schwartzbart leave a legacy of love, hard work, generosity, and commitment to each other and to a more fair and just society. Mary's passion for helping others and her aversion to intolerance and discrimination could be seen in the hours she volunteered transcribing sheet music into Braille, her insistence on each person's right to be different, and the example she gave her piano students, children and grandchildren of open-mindedness and compassion. Harry's interest in democracy, freedom of expression and religion, and the rule of law were evident in his library, his conversation, and his dedication to Americans United for Separation of Church and State, among other non-profit organizations.  They shared a love of music and traveled to many places around the globe in search of opportunities to learn from and observe other judicial systems and cultures.  The long and loving partnership between Mary, who was of Syrian and Lebanese descent, and Harry, of Austrian and Jewish descent, was a model in countless ways to those who knew them.
In the International Justice Resource Center's first year of existence, Mary and Harry were among its most vocal and generous contributors.  We are eternally grateful for their moral and financial support.  This year, David Schwartzbart and the Schwartzbart family honor Mary and Harry's legacy with a generous matching grant to IJRC's "I Am a Human with Rights!" campaign.