Migrants' Rights Are Human Rights
Migrants' rights are human rights. This fundamental truth, established in international human rights law, bears repeating in view of the Trump administration's efforts to deter, criminalize, and stigmatize migrants, visitors, and asylum seekers. These policies and actions carry profound consequences for migrants' human rights in the United States. The upcoming hearings of the Inter-American Commission on Human Rights are a chance to convey this message loud and clear.
Watch the "caravan" hearing at 3:45 p.m. EST, Dec. 6: https://livestream.com/OAS2ENG/LIVE 
See the toolkit to get involved or learn more.
Visit the social media page for images and messages to share.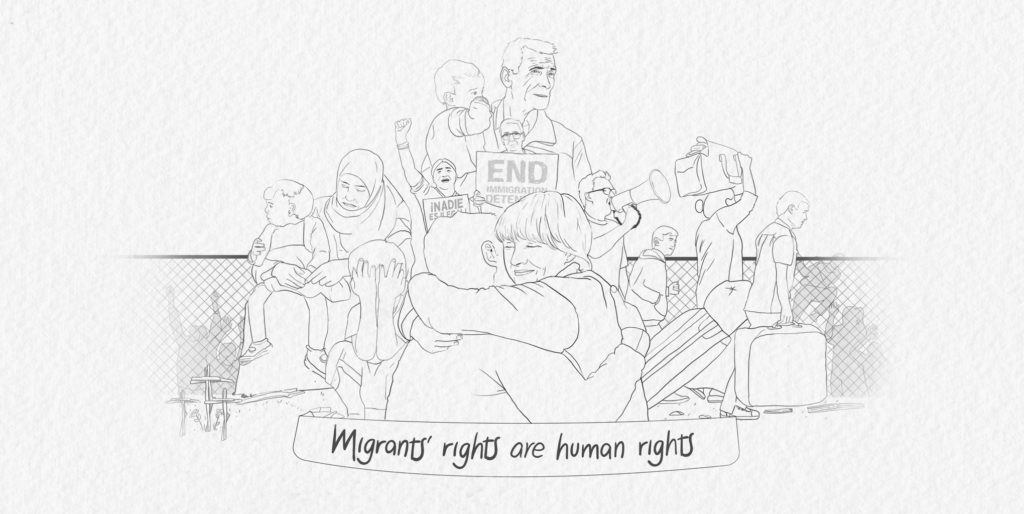 DECEMBER 2018 HEARINGS
In the first week of December 2018, the Inter-American Commission on Human Rights (the independent human rights oversight body for the Americas, also known as the IACHR) will convene in Washington, D.C., where it will hear from advocates and question the U.S. government on harmful immigration policies and practices.
These hearings will be open to the public and streamed online. They are a unique and important opportunity to seek accountability for violations of the human rights to life, due process, liberty, respect for family life, and the right to seek asylum, among other fundamental rights being violated in U.S. immigration enforcement. The hearings will allow the IACHR to question the government on the record, and amplify the voices of those affected by family separations, immigration detention, restrictions on seeking asylum, and related critical concerns.
What: Inter-American Commission on Human Rights' 170th Period of Sessions
When: December 5 & 6, 2018
Where: 1889 F Street, N.W., Washington, D.C. 20006
Who: independent human rights experts, government representatives, civil society, and the public
THE ISSUES
This country's immigration system has long been cruel, arbitrary, and ineffective for many of the people who seek to enter the U.S. to claim asylum, work, join family members, or build new lives away from the violence, unrest, or severe inequality of their countries of origin. Under the Trump administration, the harmful impacts of the U.S. approach have been made worse by the discriminatory implementation of immigration law and the creation of new policies intended to criminalize and dehumanize migrants – including with the threats of family separations, indefinite detention, criminal prosecution, and unpredictable changes in eligibility – particularly those from Latin America and the Middle East.