Liberian farmers, charcoal producers and workers are seeking redress before the Overseas Private Investment Corporation (OPIC) for the economic, social and environmental harms allegedly caused by a development project in which OPIC invested.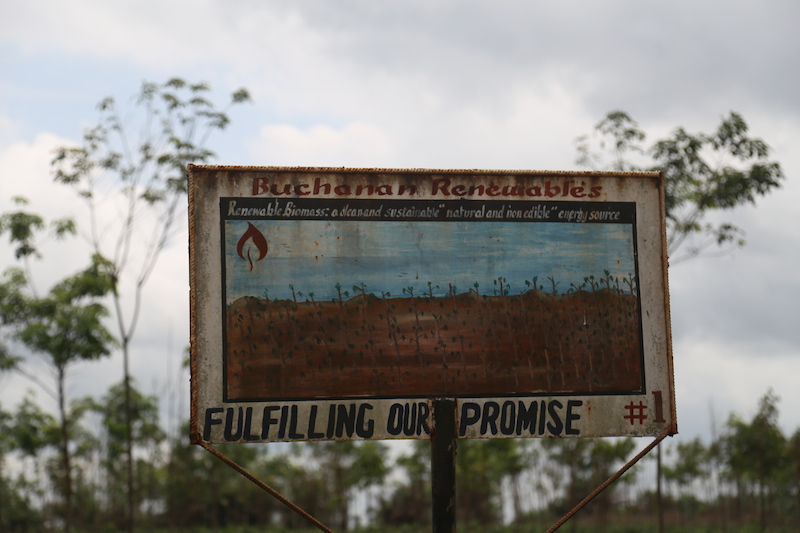 OPIC, a United States governmental agency that provides financial assistance to development projects abroad, backed Buchanan Renewables' plans to build a biomass power plant in Liberia and produce woodchips from mature rubber trees. The project, initiated in 2007, was abandoned in 2013, leaving behind farmers and charcoal producers who had relied on the mature rubber trees cut down by Buchanan Renewables (BR), as well as a range of complaints by the company's employees. In January 2014, hundreds of Liberians filed a complaint with OPIC's President and CEO, seeking an independent review of the investment's human rights impact, which the agency subsequently agreed to carry out, as well as a process for securing remedy for those harmed. [Accountability Counsel; OPIC]  The organizations representing the affected Liberians are waiting for further details from OPIC on the specific steps it intends to take and on the extent to which its clients will be included in the process. [Accountability Counsel Press Release]
Background: The Buchanan Renewables Project
The BR project was reportedly intended to revitalize family farms, create jobs, develop sustainable energy, and facilitate economic development by constructing a biomass-fired power plant, cutting down mature rubber trees for biofuel, and planting new ones in their place. [Accountability Counsel] OPIC approved financing for around 70% of the project, a total of $216.7 million. [Accountability Counsel] However, BR cut down the trees before the Liberian government decided whether to grant BR the permit to build the power plant. [IPS] When the government denied the permit, BR backed out of the project without addressing the harm caused. [IPS]
The OPIC complaint was filed on behalf of three groups affected by the project: farmers who had earned their livelihood through the mature rubber trees that BR failed to adequately replace; charcoal producers who were denied access to their previous wood supplies by BR; and, former BR workers who allegedly experienced physical and sexual abuse, suffered workplace injuries, and were denied pay. See Accountability Counsel and Green Advocates International, Fueling Human Rights Disasters: An Examination of the U.S. Overseas Private Investment Corporation's Investment in Buchanan Renewables (2014). The complaint additionally alleges that BR contaminated water sources, and that the victims are "struggling to feed their families and have had to take children out of school due to the impacts of BR's abuses." Accountability Counsel and Green Advocates International represent the Liberian complainants before OPIC, with the additional support of research by Centre for Research on Multinational Corporations (SOMO) and Swedwatch. [Accountability Counsel]
Seeking Redress from OPIC
Project-related complaints are typically processed through OPIC's Office of Accountability. According to the Office of Accountability, its compliance review process "assesses and reports on complaints regarding OPIC's compliance with its policies related to the environment, social impacts, worker rights, and human rights," while its problem solving mechanism is intended to address complaints filed by "members of local communities who are, or are likely to be, materially, directly, and adversely affected by an OPIC-supported project."
In order for an affected community to use either mechanism, the project must be "OPIC-supported" at the time of the complaint.  OPIC's funding and contract for the BR Project concluded in January of 2013, meaning the Liberians' complaint could not be submitted through this avenue. [Accountability Counsel; OPIC] Consequently, the parties submitted their complaint letter to the President and CEO of OPIC directly.
OPIC's Social, Environmental, and Human Rights Obligations
The complaint asserts that OPIC is obligated to investigate and provide redress because it contravened its own social and environmental standards by failing "to require an appropriate level of due diligence regarding BR's operations in Liberia" or to "take adequate action to stop or remedy the harm experienced" due to BR's activities, and contravened Liberian labor and environmental laws, in contravention of OPIC policy. See Complaint Related to OPIC's Buchanan Renewables Project in Liberia.
OPIC's operations are guided by separate sets of standards concerning projects' environmental and social impact, and are also regulated in several areas by U.S. law. See OPIC, OPIC Environmental Handbook (February 2004); OPIC Handbook (February 2006). According to the complainants, these policies obligate OPIC to conduct due diligence into social and environmental impacts of projects and to fully investigate projects' financial feasibility. See Fueling Human Rights Disasters, p. 52.  OPIC's internal policies also require OPIC-funded projects to comply with the host country's laws and regulations. OPIC, Environmental and Social Policy Statement, October 15, 2010, para. 4.2.
OPIC's Environmental and Social Policy Statement adopted the International Finance Corporation's Eight Social and Environmental Performance Standards as the standard for OPIC's environment and social review process. The complainants allege that "OPIC failed to verify BR's compliance with the Performance Standards," which resulted in multiple violations. See Fueling Human Rights Disasters at 51. The Performance Standards allegedly violated address the following topics: social and environment assessment and management systems; labor and working conditions; pollution prevention and abatement; community health, safety and security; biodiversity conservation and sustainable resource management; indigenous peoples; and cultural heritage. See id. at 52-75.
The complaint further refers to OPIC's duty under the United Nations Guiding Principles on Business and Human Rights to "protect against business-related human rights abuses and provide access to remedy for victims."  The UN Guiding Principles, also known as the "Ruggie Principles," are intended to apply to all States and businesses, and are focused on States' duty to protect human rights, corporate responsibility to respect human rights, and providing victims with access to a remedy. See OHCHR, Guiding Principles on Business and Human Rights: Implementing the United Nations "Protect, Respect and Remedy" Framework, 2011. The UN Guiding Principles provide that a meaningful grievance mechanism should be legitimate, accessible, predictable, equitable, transparent, rights-compatible, and a source of continuous learning. See id. at para. 31.
Remedies Sought
The Liberian complainants are urging OPIC to "conduct a rigorous, transparent and independent investigation." [Accountability Counsel]  To that end, they request to be involved with discussions about the project impacts and proposed remedies. See Complaint Related to OPIC's Buchanan Renewables Project in Liberia (22 January 2014).
The victims' requests for remedies include: immediate support for maintenance of their farms and for farmers unable to feed their families, livelihood support, a means of accessing clean water, mitigation for all impacts of BR's operations on charcoalers, back pay, employment benefits, and a remedy for victims who suffered individual abuses. See Fueling Human Rights Disasters, p. 78. With upcoming plans for additional U.S. engagement in Africa's energy sector in motion, it is important to the Liberian complainants and their advocates that this OPIC investigation will "prevent the perpetuation of such abuses through OPIC's financing of future projects." Id.
For additional information about business and human rights, see IJRC's news post on Business and Human Rights: Towards Greater Accountability, and the Business & Human Rights Resource Center website.