UN Working Group Holds Julian Assange Has Been Arbitrarily Detained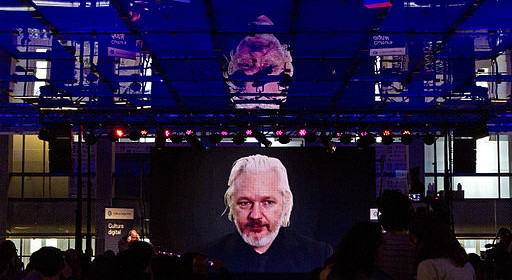 In a controversial decision, the United Nations Working Group on Arbitrary Detention (WGAD) has concluded that WikiLeaks founder Julian Assange's detention, house arrest, and subsequent seclusion in Ecuador's London embassy constitute  arbitrary detention which the governments of Sweden and the United Kingdom should redress. [OHCHR Press Release: Assange] The independent experts' opinion, released on February 5, 2016, finds violations of Mr. Assange's rights to due process, liberty, equal protection, and humane treatment in the restrictions imposed on him pending his extradition to Sweden, where authorities want to interview him concerning an allegation of rape made against him in 2010. See WGAD, Opinion No. 54/2015 concerning Julian Assange (Sweden and the United Kingdom of Great Britain and Northern Ireland), UN Doc. A/HRC/WGAD/2015, 4 December 2015. It further recommended that Sweden and the United Kingdom facilitate Mr. Assange's freedom of movement, end his arbitrary detention, and afford him the right to compensation. [OHCHR Press Release: Assange]
 Mr. Assange was first detained for 10 days in isolation at Wandsworth Prison in London, then placed under house arrest for 550 days before he jumped bail and claimed asylum in the Ecuadorian Embassy in the United Kingdom in 2012. [OHCHR Press Release: Assange] The British government had the embassy under 24-hour surveillance for more than three years. Mr. Assange alleged that he is being arbitrarily detained in the embassy by the threat of arrest and extradition to Sweden, which he fears will lead to his extradition to the United States on potential charges related to his work with WikiLeaks. [BBC News; Reuters] Sweden and the United Kingdom argued that Mr. Assange voluntarily restricted himself to the confines of the embassy to evade lawful arrest. [OHCHR Press Release: Assange]
A number of critics have argued that the Working Group's logic is unconvincing with regard to whether Mr. Assange's current "self-imprisonment" in the Ecuadorian embassy can be considered a deprivation of liberty, let alone arbitrary detention. [The Guardian: Editorial; EJIL: Talk!; Head of Legal; The Guardian: Opinion] While the British government announced its plans to challenge the opinion, the United Nations Office of the High Commissioner for Human Rights has released numerous statements publicizing the Working Group's decision, including a video.
The Working Group's majority opinion emphasizes the following facts: Mr. Assange has been charged with no crime in Sweden, both governments have failed to recognize that he has been granted asylum by Ecuador, his liberty has been restricted for more than five years in connection with a criminal case that has not moved beyond the pre-investigation stage and in which Mr. Assange has not been afforded appropriate opportunities to participate, he has been denied an opportunity to challenge his ongoing detention, and British law now bars extradition where the person has not been charged with a crime. See WGAD, Opinion No. 54/2015 concerning Julian Assange (Sweden and the United Kingdom of Great Britain and Northern Ireland).
WGAD Opinion
Four of the WGAD's five members participated in the decision. A fifth member, Ms. Leigh Toomey, recused herself from taking part in the opinion because she, like Mr. Assange, is an Australian citizen. [OHCHR Press Release: Working Group] Three members concurred that Mr. Assange's situation constituted arbitrary detention, while one member disagreed.
Majority Opinion
The majority found that Mr. Assange's detention fell under Category III of the five categories upon which it can base a finding of arbitrary detention. Category III includes situations in which the "total or partial non-observance of the international norms relating to the right to a fair trial is of such gravity as to give the deprivation of liberty an arbitrary character." The majority concluded that the States violated articles 9 and 10 of the Universal Declaration of Human Rights and articles 7, 9(1), 9(3), 9(4), 10 and 14 of the International Covenant on Civil and Political Rights. See WGAD, Opinion No. 54/2015 concerning Julian Assange (Sweden and the United Kingdom of Great Britain and Northern Ireland), para. 99.
Specifically, the majority emphasized that Mr. Assange's initial ten-day detention in isolation was inherently arbitrary because he was deprived of due process protections, including access to counsel. See id. at para. 86. The WGAD then analyzed Mr. Assange's subsequent house arrest as a continuation of this initial deprivation of liberty, and criticized the length and harshness of the restrictions on his movement during this 550-day period. See id. at para. 87. The WGAD did not assess the impact, if any, of Mr. Assange's decision to contravene the conditions of his bail and remain in the Ecuadorian embassy; it characterized this move as one in which he "sought refuge." Id. at para. 88. The majority then condemns the fact that Swedish and British authorities have not recognized that Mr. Assange has been granted asylum by Ecuador, and have continued to subject him to surveillance. Id. at para. 89. The WGAD majority explain that situations of arbitrary detention may include those in which a person is subjected to "constant surveillance" and that surveillance does not satisfy the requirements of being lawful, proportional, reasonable, and necessary. Id. at para. 91.
With regard to the these requirements, the members emphasized both that the only legal basis for Mr. Assange's detention was the European Arrest Warrant issued by Sweden for the purposes of their preliminary investigation and that Mr. Assange himself had not been allowed to view the basis of the allegation against him, as required by Swedish law. Id. at paras. 93-94. In this respect, the WGAD implies, the process justifying his detention was not fair or in accordance with the law.
Similarly, the majority found Mr. Assange's detention was not proportional to the Swedish authorities' interest, in light of: the length of time the investigation had languished, the the likely availability of other methods (besides an in-person interview in Sweden) of obtaining the information they sought, Mr. Assange's stated willingness to cooperate, and the fact that he had been granted asylum based on an expressed fear of persecution if he were extradited. Id. at para. 97. The majority also emphasized that the embassy would not be able to adequately tend to Mr. Assange's health, and that his detention there remained indefinite and not subject to effective judicial review. Id. at para. 98. Finally, the Working Group noted that the relevant British legislation had changed since Mr. Assange's initial detention, such that extradition on European Arrest Warrants may not be authorized when the person has not been charged with a crime. Id.
It recommended that Sweden and the United Kingdom review Mr. Assange's situation and, as a measure of reparation, ensure his freedom of movement and provide him access to an enforceable right to compensation. Id. at paras. 100-01.
Tochilovsky's Dissent
Vladimir Tochilovsky of Ukraine issued a dissenting opinion, arguing that the detention of Mr. Assange was not in violation of international human rights standards, and that the decision of the majority may overstep the mandate of WGAD. Mr. Tochilovsky characterized Mr. Assange's presence in the Ecuadorian Embassy as "self-confinement" and thus not an area of detainment, and his house arrest, during which he was permitted to leave his residence, as a restriction rather than a deprivation of liberty. Thus, he concluded that the situation is outside the competence of WGAD. See id. (individual dissenting opinion of Vladimir Tochilovsky), at paras. 3-5.
Julian Assange
Julian Assange, the founder of WikiLeaks, came under fire in July 2010 for releasing the "Afghanistan War Story," over 90,000 documents that included secret U.S. military reports. He was alternatively described as a "hero," "villain," "whistleblower," and "terrorist." [Western Journalism] In August 2010 he sought to obtain Swedish residency and establish WikiLeaks under its protective whistleblower laws; the request was denied and two days after the request Swedish prosecutors issued an arrest warrant on the basis of alleged sexual offenses. WikiLeaks then published WikiLeaks publishes "The Iraq War Logs," almost 400,000 documents on the US-led war and occupation; detailing more than 100,000 known deaths in Iraq, many classified internally as civilian. The third major publication released more than 250,000 U.S. diplomatic correspondences.
Sweden issued another arrest warrant in November 2010, but still without official charges. Mr. Assange fought the extradition in a UK High Court and lost in November 2011, but was given a chance to appeal. He lost the appeal in Supreme Court on May 30, 2012. He then claimed asylum in the Ecuadorian Embassy in London; the Ecuadorian government has sought to have Mr. Assange permitted to board a flight to Quito, Ecuador to no avail. [Deutsche Welle]
Response to the Decision
Both the UK and Swedish governments have said they will not comply with the WGAD finding because they believe that he is evading lawful arrest under the functioning of the European arrest warrant. The UK government stated, "this changes nothing." [The Guardian] The Swedish foreign minister maintains that the legal process for the case against Mr. Assange will continue to be handled by Swedish prosecutors. [BBC News] Despite the governments' stance that they are operating within legal rights, international jurists speculate that the ruling is embarrassing to two States with generally high compliance with international human rights standards and establishes a dangerous precedent for other States to defy findings of UN bodies. [The Guardian] On the other hand, London-based international lawyer, Mark Ellis warns that the WGAD decision undermines the rule of law by allowing Mr. Assange to evade "fairly extensive" legal processes. [The Guardian]
The Working Group on Arbitrary Detention
The WGAD is one of the thematic special procedures overseen by the United Nations Human Rights Council. It focuses on arbitrary detention, including instances in which States imprison or otherwise detain individuals in a manner not allowed by law or without respecting due process guarantees. It is empowered to monitor States' adherence to their international responsibilities against arbitrary detention through investigation if cases of deprivation of liberty, to seek and receive information from governments, inter-governmental organizations, and non-governmental organizations, to send urgent appeals and communications to governments based on allegations of arbitrary detention submitted to it, to conduct field missions, to formulate general recommendations, and to present an annual report to the Human Rights Council. See OHCHR, Working Group on Arbitrary Detention.
The WGAD is made up of five experts: Ms. Leigh Toomey of Australia; Mr. José Antonio Guevara of Mexico; Mr. Roland Adjovi Sètondji of Benin; Mr. Vladimir Tochilovsky of Ukraine; and the Chairman-Rapporteur of WGAD, Mr. Seong-Phil Hong of the Republic of Korea. The opinions of WGAD are legally binding insofar as they are based on binding international human rights law, such as the International Covenant on Civil and Political Rights, to which both Sweden and the United Kingdom are party.
For more information on the Working Group on Arbitrary Detention and prior news posts on arbitrary detention, visit IJRC's Online Resource Hub.