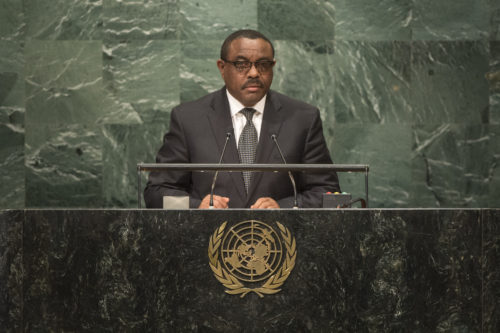 In response to the continued suppression of protests in Ethiopia, international and regional human rights bodies as well as political figures have voiced their concerns and called for investigations into the government's use of force. These observers question police tactics against anti-government peaceful protesters, who have been demonstrating during the last year against the expansion of the capital's borders and recently against police forces' use of tear gas and firearms during a religious ceremony earlier this month causing a stampede and resulting in deaths. [Al Jazeera: Merkel; OHCHR Press Release; ACHPR Press Release] United Nations experts have urged authorities to cease violent intervention in peaceful protests and allow an international commission to conduct an investigation, and the African Commission on Human and Peoples' Rights (ACHPR) has also called for an investigation into the stampede. [OHCHR Press Release; ACHPR Press Release] German Chancellor Angela Merkel, during her recent visit with Ethiopia's Prime Minister Hailemariam Desalegn, encouraged the government to engage in an open discussion with those fighting to be heard while allowing protests to continue, as long as law enforcement's response is kept proportional. [Al Jazeera: Merkel]
While recent remarks focus on the unrest of the last year, civil society has documented the ongoing suppression of journalists, bloggers, and voices critical of the government since before the May 2015 elections. [Amnesty International; HRW] Ethiopia's international human rights obligations require it to respect and uphold the rights to freedom of peaceful assembly, to freedom of association, to freedom of expression, and to life.
Unrest in Ethiopia
On October 9, Ethiopia declared a state of emergency in response to anti-government protests in which more than 500 people have reportedly been killed by security forces since November 2015. Protests erupted in the Oromia region last November in response to the government's planned annexation of farmlands, but eventually spread throughout the country and evolved into demands for more political, economic, and cultural rights. [Al Jazeera: Merkel]
The situation gained greater international attention on October 2 when more than 50 people were killed in a stampede at a religious festival in Bishoftu, a city about 25 miles from the nation's capital, Addis Ababa. The stampede began when police fired tear gas at the crowd and warning shots into the air in order to disperse the chanting crowd. [Al Jazeera: Stampede]
In addition to the hundreds of people killed over the past 11 months, thousands are thought to have been injured, tens of thousands arrested, and hundreds forcibly disappeared. Many are also believed to have been subjected to torture and ill-treatment at the hands of the government. [OHCHR Press Release]
The suppression of anti-government voices in Ethiopia is not a new trend according to civil society. Ahead of the May 2015 elections, the government arrested and detained opposition leaders and party members. Police used force to prevent peaceful protests from continuing and arrested several journalists, charging them under the anti-terrorism legislation. [Amnesty International; HRW]
International Response
UN Special Procedures
A statement made on October 10 by Agnes Callamard, UN Special Rapporteur on extrajudicial, summary or arbitrary executions; Maina Kiai, UN Special Rapporteur on freedom of peaceful assembly and of association; and the Working Group on enforced or involuntary disappearances, called for government action and an international investigation to address the current unrest  in Ethiopia, violence used against demonstrators, and the suppression of peaceful protests. [OHCHR Press Release]
In particular, Callamard is concerned about the use of counterterrorism legislation against individuals exercising their rights to peacefully assemble. Such legislation allows authorities to use force against suspects and detain them for up to four months. Stressing that these actions are unwarranted for peaceful protesters, she emphasized that "[w]henever the principles of necessity and proportionality are not respected in the context of crowd control, any death caused by law enforcement officials is considered an extrajudicial execution." [OHCHR Press Release]
The experts also demand that authorities immediately reveal the locations of those who have been forcefully or involuntarily disappeared. Kiai emphasized that "[c]urtailing assembly and association rights is never the answer when there are disagreements in a society." He fears that suppression of dissenting factions will only lead to greater political and social unrest. [OHCHR Press Release]
Finally, the experts underscored the importance of investigating and holding accountable those responsible for the violence. The Ethiopian government is accused of perpetrating extreme violence against protesters, a claim that Prime Minister Desalegn has denied. [Al Jazeera: Merkel] The experts have called on Ethiopia to permit an international commission to inquire into the protests and examine the tactics used against peaceful protesters. [OHCHR Press Release; Al Jazeera: Merkel] Back in January, these and other UN human rights experts called on Ethiopia to conduct its own investigation.
African Commission on Human and Peoples' Rights
The ACHPR released a press statement on October 12 acknowledging the situation in Ethiopia  and calling on the State to protect fundamental human rights and investigate the recent incidents of police force. The ACHPR cited the recent Bishoftu stampede that killed more than 50 people and the wave of violence that broke out in the aftermath. Since that time, the ACHPR indicated that it has received reports of protestors attacking vehicles traveling between the capital and the surrounding area, burning hospitals and schools, dismantling infrastructure, and looting. The ACHPR also expressed concern that the government has blocked internet access nationwide. [ACHPR Press Release]
The ACHPR specifically called on Ethiopia to: (1) protect peoples' fundamental human rights (particularly the right to life) during this state of emergency, (2) undertake impartial investigations into the circumstances surrounding the Bishoftu stampede and bring its perpetrators to account, (3) ensure the safety and security of its people, (4) restore internet access and refrain from instituting a blanket ban on protests, and (5) allow the ACHPR to conduct investigations into the alleged killings, beatings, and arbitrary arrests and detention. [ACHPR Press Release] As the unrest continues, the ACHPR vowed to remain apprised of the matter and urged non-State actors and the general public to abstain from all forms of violence. [ACHPR Press Release]
Additionally, on September 28, the ACHPR's Rapporteur on the Human Rights Situation in Ethiopia and Special Rapporteur on Prisons, Conditions of Detention and Policing in Africa sent a letter of appeal to Ethiopia. The letter was written in response to the outbreak of a deadly fire at Qilinto Prison in Ethiopia's capital where many opposition figures and journalists are housed.
German Chancellor Angela Merkel
During her meeting with Prime Minister Hailemariam Desalegn on October 11, German Chancellor Angela Merkel offered Germany's mediation services to Ethiopia. [Washington Post] Merkel suggested to Desalegn that Ethiopia allow peaceful protests to continue, permit only proportionate use of force by police, and include opposition groups in political dialogues. "I made the case that you should have open talks with people who have problems," she said. [Al Jazeera: Merkel]
Some have argued that Merkel's requests did not go far enough. Critics say she should have demanded the release of political prisoners or insisted on a UN investigation into the oppression. [Al Jazeera: Merkel; Reuters]
Ethiopia's Human Rights Obligations
Ethiopia is a State party to the African Charter on Human and Peoples' Rights and the International Covenant on Civil and Political Rights, among other human rights instruments. Under the African Charter on Human and Peoples' Rights, Ethiopia is obligated to protect the rights to freedom of expression, freedom of association, and freedom of assembly, pursuant to articles 9, 10, and 11. Under articles 19, 21, and 22 of the International Covenant on Civil and Political Rights, Ethiopia is obligated to respect and ensure the same rights. Additionally, both treaties protect the right to life in their respective articles 4 and 6.
Additional Resources
For more information on UN special procedures, the African Commission on Human and Peoples' Rights, and other human rights monitoring bodies, visit IJRC's Online Resource Hub.
To stay up-to-date on international human rights law news, visit IJRC's News Room or subscribe to the IJRC Daily.