OHCHR Reports Unprecedented Violence Against Rohingya Muslims in Myanmar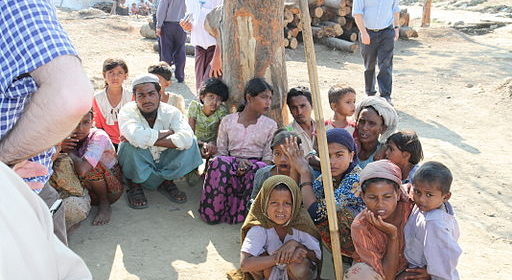 The Office of the High Commissioner for Human Rights (OHCHR) recently published its findings from over 200 interviews with Rohingya refugees in Bangladesh that described severe human rights violations against Rohingya in Myanmar since an October 9, 2016 attack on the police in Myanmar's Rakhine state. See OHCHR, Report of the OHCHR mission to Bangladesh: Interviews with Rohingyas fleeing from Myanmar since 9 October 2016 (2017), at 3. The United Nations High Commissioner for Human Rights, Zeid Ra'ad Al Hussein, has expressed deep concerns about the unprecedented violence against the Rohingya Muslims as the interviews demonstrated the grave extent of human rights violations taking place in the region, including killings, beatings, the destruction of property, rape and sexual violence, and enforced disappearances, among others. According to the report, the systematic abuses perpetrated by the State may amount to crimes against humanity. See id. at 9, 42. [OHCHR Press Release]
This latest report complements earlier reports that confirmed human rights abuses against Rohingya in Myanmar, including discrimination based on religion, deprivation of liberty, violations of the rights to health and education, and trafficking, among other abuses. The OHCHR had previously recommended preventative measures to the State as well as conducting thorough investigations of alleged human rights abuses. See UN High Commissioner for Human Rights, Situation of human rights of Rohingya Muslims and other minorities in Myanmar, UN Doc. A/HRC/32/18, 29 June 2016.
October 9, 2016 Attack
According to the OHCHR, security forces in Myanmar may have killed more than a thousand Rohingya Muslims since October 2016; this figure refutes estimates from military personnel that placed the death toll at hundreds. [Reuters] After the attack on police in October, the area in Myanmanr's Rakhine state was closed, preventing humanitarian aid workers from entering and restricting the freedom of movement of those inside the area. See OHCHR, Report of the OHCHR mission to Bangladesh Interviews with Rohingyas fleeing from Myanmar since 9 October 2016, at 7. Security forces began to conduct operations in the area starting in October and running through January 2017. See id. at 7-8.
Human Rights Abuses and Violence Since October 9, 2016
According to information gathered, a majority of witnesses observed extrajudicial killings, beatings, the destruction of property, and disappearances. See id. at 9. The report documented systematic indiscriminate deaths due to random firing and use of grenades, targeted killings of prominent Rohingyas, deaths due to burning of houses, and accounts of the killing of new borns and other children. See id. at 14-19.
The deliberate destruction of property, including hundreds of houses, schools, markets, and mosques, targeted structures and areas based on ethnicity and religion. In some instances, individuals were forced to destroy their own homes and property. Security forces and Rakhine mobs also destroyed food and food sources, such as paddy fields, and looted Rohingya houses. See id. at 31-36.
The report cites that more than half of the female victims had reported instances of rape or sexual violence, and nearly half of all victims reported a family member had been killed or disappeared. See id. at 9. The report documented violations related to torture, including, rape, gang rape, and other forms of sexual violence, such as invasive body searches. Women and girls, including those as young as 11, reported being raped violently sometimes in front of other women or family and experiencing mental and physical health consequences after, such as depression and abdominal pain. The OHCHR also gathered stories of women and girls who died as a result of gang rape. See id. at 20-24.
Other forms of reported torture included physical assault via bamboo sticks, gun butts, metal rods, and body parts, among other tactics; application of stress positions for periods of time ranging from one hour to three days; and psychological torture, including forcing victims to watch family members be abused. See id. at 25-28.
The OHCHR interviewed individuals who also reported a lack of access to medical care; beatings, stabbings, and shootings; discrimination based on ethnicity and religion; and restrictions on freedom of movement and the ability to work. See id. at 9, 31, 35.
Reports indicate that religious practices have been restricted. Family members have not been able to perform burial rituals for their relatives. The army killed religious students and scholars. See id. at 35-36.
Testimonies purported that the Myanmar security forces, or Rakhine villagers in tandem with security forces, perpetrated the violence. See id. at 13. The eight most affected Rohingya villages were Boro Gozibil, Keyeari Para, Zambinnya, Nichapro, Chali Para, Choto Gozibil, Rabillya, and Wabeg. See id. at 37-38. The OHCHR report estimates 66,000 Rohingya have fled to Bangladesh since October 2016, and another 22,000 Rohingya are internally displaced. See id. at 42.
Conclusions
Based on the testimonies gathered, the report observed that the strategy of security forces in the region resembled that of past counter-insurgency efforts to "cut off rebel forces from their four main support sources (food, funds, intelligence, recruits)" as a part of a "calculated policy of terror." See id. at 41-42. According to the OHCHR, the attacks must be viewed as a part of an ongoing, widespread pattern of discriminatory policies targeting Rohingya on the basis of their ethnic and religious identity, which the report stated has in other contexts been described as ethnic cleansing. These actions likely, the report said, indicate the commission of crimes against humanity. See id.
Context
While Myanmar's military-controlled government transitioned to a civilian government in 2016, the military continues to hold significant influence with a quarter of the seats in parliament. See UN High Commissioner for Human Rights, Situation of human rights of Rohingya Muslims and other minorities in Myanmar, para. 6. Rohingya Muslims, a minority ethnic group that is not recognized by the State, make up the largest percentage of Muslims in Myanmar, and live predominantly in the Rakhine State. See id. at para. 3. Human rights abuses against Rohingyas have been observed by the OHCHR since 1992. See id. at para. 25.
Other members of the population of the Rakhine state deny that the Rohingya have a distinct ethnic heritage, culture, and religion and have ties to Myanmar. See id. at para 9. The OHCHR notes that Rohingyas have been cast as "illegal immigrants," and that decades of discrimination in the form of religious intolerance and incitement to hatred has intensified since 2012. See id. Access to justice for Rohingya is limited in light of widespread corruption in Myanmar, language and geographical barriers, and the fear of reprisal. See id. at para 12. Even before October 2016, the Rohingya experienced discrimination based on ethnic and religious identity, deprivation of nationality, deprivation of liberty and life, sexual and gender-based violence, and inadequate access to healthcare. See id. at paras. 21-42.
In an earlier report, the OHCHR called on the government to address the systematic human rights violations against the Rohingya. The OHCHR recommended removing discriminatory policies, restrictions, and laws; condemning incitement to hatred; investigating alleged violations of human rights abuses impartially; facilitating a peace process; and pursuing reforms to strengthen the rule of law in the region, among others. See id. at paras. 65-81.
Rohingya have fled Myanmar to escape persecution and also are susceptible to trafficking. See id. at para. 11. With a large population of Rohingya in Bangladesh, the State recently expressed its intention to reinstate a plan that would relocate tens of thousands of Rohingya refugees to a remote island, Thengar Char, which routinely floods, and has been described as uninhabitable. [Guardian]
Human Rights Obligations of Myanmar and Bangladesh
Myanmar is a party to the Convention on the Rights of the Child and its Protocol on the sale of children, child prostitution and child pornography; the Convention on the Elimination of All Forms of Discrimination against Women (CEDAW); and the Convention on the Rights of Persons with Disabilities (CRPD). Those human rights treaties obligate Myanmar to protect the rights to non-discrimination; to be free from violence, including sexual and gender-based abuse; to be free from trafficking; and to obtain and retain nationality equally with others, among other rights. It is also a party to the Convention on the Prevention and Punishment of the Crime of Genocide (Genocide Convention) and the Geneva Conventions. See OHCHR, Ratification Status for Myanmar; ICRC, Myanmar.
Bangladesh is also a party to several international human rights treaties. It is a State party to the Convention against Torture (CAT); the International Covenant on Civil and Political Rights (ICCPR); the International Convention on the Elimination of All Forms of Racial Discrimination (ICERD); the International Convention on the Protection of All Migrant Workers (ICMW); the Convention on the Rights of the Child and its Protocols on the sale of children, child protection and child pornography, and on the involvement of children in armed conflict; CEDAW; International Covenant on Economic, Social and Cultural Rights; and CRPD. See OHCHR, Ratification Status for Bangladesh. Several of these treaties impose an obligation on Bangladesh to protect against torture and cruel, inhuman, or degrading treatment.
Additional Information
For more information on international criminal law, and rights associated with citizenship and nationality, life, and immigration, visit IJRC's Online Resource Hub.