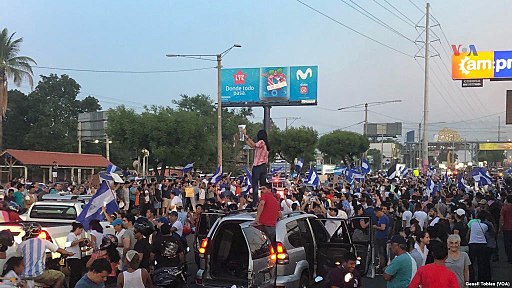 Two Central American governments ended their cooperation with the United Nations on specific human rights initiatives and sought to exclude UN representatives from their territories in late August 2018. In Guatemala, President Jimmy Morales announced on August 31 he would not renew the mandate of the International Commission against Impunity in Guatemala (CICIG) when it expires in 2019 and barred CICIG head Iván Velásquez from reentering the country, despite a Supreme Court order rejecting a previous attempt to expel him. [IACHR: Guatemala; NYT] Since 2007, CICIG has assisted national authorities in prosecuting corruption, and recently announced an investigation into President Morales for illegal campaign contributions. [NYT]
Also on August 31, Nicaraguan President Daniel Ortega rescinded an invitation to a fact-finding team from the Office of the United Nations High Commissioner for Human Rights (OHCHR), just after OHCHR published a report on authorities' human rights violations against protesters since demonstrations against the Ortega government began in April 2018. [Al Jazeera; IJRC: Nicaragua] The Inter-American Commission on Human Rights (IACHR), OHCHR, and civil society have expressed concern at these developments. [IACHR: Guatemala; IACHR: Nicaragua; OHCHR Press Release: Concern; HRW: Nicaragua; HRW: Torture] Observers fear the crises in both countries will continue to worsen. [NYT: Authoritarianism]
Guatemala's Decision Not to Renew CICIG
Guatemala decided not to renew the CICIG mandate, which had been extended on September 4, 2017 for a two-year period and is set to end on September 3, 2019. [IACHR: Guatemala] The Guatemalan government also asked the UN to begin transferring CICIG's work to domestic authorities and to replace CICIG head Iván Velásquez. [Reuters] The decision to deny Velásquez entry was immediately challenged before Guatemala's Constitutional Court. [El Diario] In 2017, President Morales declared Velásquez persona non grata, but the Constitutional Court determined that authorities had to permit him entry to the country. [IJRC: Expel; TeleSur]
A cooperation agreement between Guatemala and the United Nations established CICIG and charged it with investigating illicit security forces affecting human rights in Guatemala, assisting the State in disbanding such groups, and making public policy recommendations to prevent the groups' return. See CICIG, Mandate. Its overall goal is to strengthen Guatemala's justice system and address issues of corruption and impunity that have plagued the nation since its 36-year civil conflict ended in 1996. See CICIG, Background. CICIG counts among its successes the purging of thousands of law enforcement and judicial officials from government due to criminal activity. [IJCR: CICIG] Its work resulted in the resignations and pending trials of former President Pérez Molina and Vice President Roxana Baldetti. See, e.g., Open Society Justice Initiative, Against the Odds: CICIG in Guatemala (2016).
Various stakeholders expressed concern at Guatemala's decision to stop CICIG's work and to expel Velásquez. [IACHR: Guatemala; OHCHR Press Release: Concern] The OHCHR is concerned about the transfer of the investigation to national bodies, noting that human rights defenders have recently been questioned by the police. [OHCHR Press Release: Concern] The IACHR highlighted the importance of the fight against impunity as well as the importance of protecting judicial officers and investigators who are carrying out work to that end. [IACHR: Guatemala] Guatemalans have been demonstrating in opposition to President Morales' decision. [El Diario; Al Jazeera: Protests] When the government rolled out military vehicles in the capital, the country's human rights ombudsman sought and won a preliminary court order to protect the protesters' right to demonstrate. [El Diario; Al Jazeera: Protests] Observers fear that these developments could provoke a constitutional crisis, particularly if President Morales refuses to comply with the Constitutional Court's orders. [Guardian]
Nicaragua's Decision to Expel UN Human Rights Group
Nicaragua withdrew its invitation to the OHCHR to conduct a fact-finding visit to the country, and the OHCHR's four-person team left the country on September 1, 2018. [IACHR Press Release: Nicaragua; OHCHR Press Release: Concern; HRW: Council] On August 29, the OHCHR released a report on the ongoing crisis in Nicaragua, highlighting serious rights abuses against protesters and others. [OHCHR Press Release: Report]
Protests began in April 2018 after President Ortega proposed an increase in taxation and decrease in social security benefits. When authorities responded harshly, the protests grew and security forces and their supporters have reportedly killed hundreds of protesters and injured thousands since April. [IJRC: Nicaragua] Nicaraguan authorities have also attacked and demonized journalists and human rights defenders, and fired health professionals who provided medical care to injured protesters. [IACHR Press Release: Medical; IACHR Press Release: Criminalization]
The OHCHR announced that although the team left the country, the OHCHR "will continue to monitor the country's human rights situation remotely, in line with the UN Human Rights Office's global mandate to protect and promote human rights for all." [OHCHR Press Release: Concern] High Commissioner Michelle Bachelet and her predecessor have called on the Human Rights Council to directly address the situation, a call that civil society has echoed. [OHCHR Press Release: Bachelet; OHCHR Press Release: Report; HRW: Council] For its part, the UN Security Council last week debated whether the crisis amounted to a threat to international peace and security. [UN News] The IACHR has established a series of mechanisms to monitor the situation in Nicaragua, as well. See IACHR, Nicaragua.
Governments' Human Rights Obligations
Both Nicaragua and Guatemala are party to numerous regional and universal human rights treaties. See IJRC, Nicaragua Factsheet; Guatemala Factsheet. These treaties require the States to protect, respect, and fulfil the human rights of all those within their territory, and also subject them to the oversight of the Inter-American Commission on Human Rights, Inter-American Court of Human Rights, and some of the UN human rights treaty bodies.
Additional Information
For more information on the Inter-American human rights system and UN human rights mechanisms, visit IJRC's Online Resource Hub. To stay up-to-date on international human rights news, visit IJRC's News Room or subscribe to the IJRC Daily.