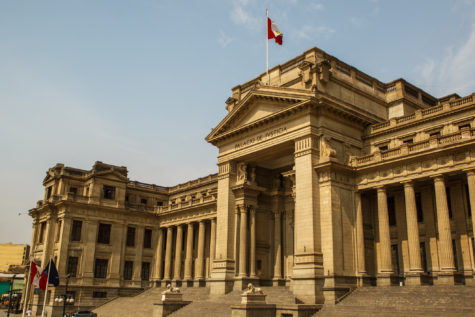 On October 3, 2018, the Supreme Court of Peru overturned the pardon granted to former President Alberto Fujimori and ordered him to complete his sentence for crimes against humanity committed by his administration in the 1990s. [Reuters] Pursuant to a request submitted by massacre victims' family members, the Supreme Court found that the humanitarian pardon lacked a legal basis and contravened Peru's human rights obligations. [Guardian; IACHR Press Release; Bloomberg: Arrest; teleSUR] Advocates and human rights experts hailed the decision as a positive step in the fight against impunity. [NYTimes] Fujimori has 14 years left to serve on his sentence, and has appealed the ruling. [NPR; Reuters] In the days following the decision, Fujimori was hospitalized; the Peruvian Congress introduced legislation to grant him house arrest; his daughter Keiko, a prominent politician, was arrested on corruption charges; and the Fujimori-era sterilization of Indigenous women was again under scrutiny. [Reuters; BBC; Bloomberg; IACHR Video] Former President Pedro Pablo Kuczynski, who pardoned Fujimori in late 2017, resigned earlier this year and is under investigation for corruption, including in connection with the pardon. [HispanTV]
Peruvian Supreme Court Judgement
The Supreme Tribunal of Pretrial Investigation of the Supreme Court held that the pardon was incompatible with the American Convention on Human Rights (American Convention), that the pardon was not legally binding, and that it was a violation of Peru's domestic law prohibiting pardons to individuals convicted of kidnapping. [IACHR Press Release; OHCHR Press Release: Annulment] With respect to the American Convention, Supreme Court Judge Hugo Nuñes Julca stated that "Peru should comply with the Inter-American Court of Human Rights' decisions [with respect to its] obligation to investigate, prosecute, and, where necessary, sanction those responsible for grave human rights violations." [IACHR Press Release]
Judge Nuñes Julca referenced two rulings from the Inter-American Court of Human Rights (IACtHR), Barrios Altos v. Peru and La Cantuta v. Peru, in which the Inter-American Court considered killings and kidnappings conducted by the Peruvian military under Fujimori and held that the victims of these crimes have a right to judicial recourse, including prosecution and punishment of perpetrators. See I/A Court H.R., Case of Barrios Altos v. Peru. Merits. Judgment of 14 March 2001. Series C No. 75, paras. 47-49; I/A Court H.R., Case of La Cantuta v. Perú. Merits, Reparations and Costs. Judgment of 29 November 2006. Series C No 162, paras. 116, 129, 157, 161. As such, Peru's Supreme Court recognized that pardons exempting individuals that have been found guilty of crimes against humanity are prohibited under international human rights law. [IACHR Press Release]
Statements from Human Rights Bodies
The Inter-American Commission on Human Rights (IACHR) and several UN human rights experts indicated their approval of the Supreme Court's decision to overturn the pardon. [IACHR Press Release; OHCHR Press Release: Annulment] In a statement, the IACHR called the decision "a major step forward for the victims of grave human rights violations." [IACHR Press Release] Additionally, the IACHR emphasized that any presidential pardon should be proportionate to the rights of victims and that States cannot pardon those convicted of crimes against humanity. [IACHR Press Release]
A group of UN special procedures mandate holders, including those focused on truth, enforced disappearances, extrajudicial executions, and judicial independence, applauded the decision to annul the pardon and stated that it meets international human rights standards, which limit the use of pardons for individuals convicted of crimes against humanity and require that humanitarian pardons meet specific requirements to avoid arbitrariness. [OHCHR Press Release: Annulment]
Fujimori's Conviction
In 2009, Fujimori was convicted and sentenced in Peru to 25 years in prison for murder, kidnapping, and crimes against humanity committed during his presidency. [NY Times] Fujimori's conviction marked the first time that a democratically elected Latin American leader was tried and convicted in his own country for human rights abuses. [BBC] On December 24, 2017, then-President, Pedro Pablo Kuczynski, issued a humanitarian pardon to Fujimori, purportedly due to Fujimori's poor health. [IJRC] At the time, the pardon received strong criticism from human rights experts, with some calling it "a slap in the face" to the victims who fought for justice. [OHCHR Press Release: Pardon] Following the pardon, Kuczynski resigned in March of 2018 after facing allegations related to his connection with a corruption scandal. [Bloomberg: Kuczynski]
Peru's Obligations Under International Human Rights Law
Peru is party to several human rights treaties, including the Convention against Torture and Other Cruel, Inhuman or Degrading Treatment or Punishment, the International Covenant on Civil and Political Rights, the Convention for the Protection of All Persons from Enforced Disappearance, and the American Convention on Human Rights. See IJRC, Peru Factsheet. Under these treaties, Peru is responsible for extrajudicial killings, acts of torture, and other human rights abuses committed by its agents or left uninvestigated by its legal system. See, e.g., Convention against Torture and Other Cruel, Inhuman or Degrading Treatment or Punishment (adopted 10 December 1984, entered into force 26 June 1987), 1465 UNTS 85 (Convention against Torture), arts. 2, 7, 13, 16. Furthermore, Peru must ensure victims' rights to judicial protection and to a remedy, which are violated by amnesty laws that protect perpetrators from criminal prosecution. See Case of Barrios Altos. Judgment of 14 March 2001. at para. 43.
The Inter-American Court's judgments concerning Fujimori-era massacres, kidnappings, and summary executions paved the way for Fujimori's historic conviction. [IJRC] In numerous resolutions monitoring Peru's compliance with the La Cantuta and Barrios Altos judgments, as well as other Fujimori-era cases, the IACtHR has called on Peru to ensure justice and accountability for the widespread abuses committed in Fujimori's ruthless crackdown on insurgent groups and political opponents. Most recently, in May 2018, the IACtHR again determined that Peru had not complied with the ordered reparations and specifically requested information from Peru on its review of Fujimori's pardon. See I/A Court H.R., Case of Barrios Altos and Case of La Cantuta v. Peru. Supervision of Compliance. Resolution of 30 May 2018, para. 71 (Spanish only).
Additional Information
For more information on Peru, liability of individuals and States related to human rights abuses, the Inter-American Commission on Human Rights, the Inter-American Court on Human Rights, and groups in vulnerable situations, visit IJRC's Online Resource Hub. To stay up-to-date on international human rights law news, visit IJRC's News Room or subscribe to the IJRC Daily.