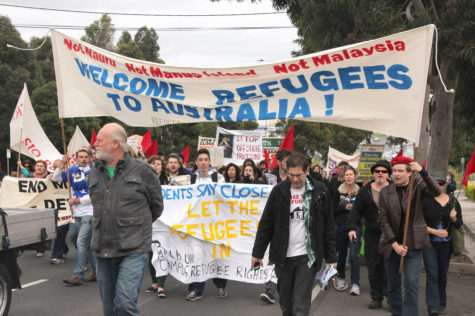 International pressure on Australia is mounting as concerns grow regarding the conditions in its offshore facilities in Papua New Guinea and Nauru, where thousands of asylum seekers and refugees have been detained since 2012. Those monitoring the situation at the facilities warn of a dire health emergency as people, many of them children, remain without access to the critical physical and mental healthcare. [UN News] In recent weeks, more individuals have been medically evacuated to Australia from Nauru than in the previous two years combined as a result of worsening conditions at the Nauru detention center. [UNHCR Press Release; The Conversation] While no one has been medically evacuated out of Papua New Guinea this year, the United Nations Refugee Agency (UNHCR) has reported several cases of self-harm and attempted suicide in the past month alone. [UNHCR Press Release] This situation has developed as a result of Australia's current "offshore-processing" policy requiring that all refugees and asylum seekers attempting to enter the country by boat be detained at these offshore detention centers for processing, which can go on indefinitely. [NY Times; Guardian: UN Body] In addition to international concern and pressure, the detained asylum seekers and refugees and hundreds of people in Australia have protested this policy. [Al Jazeera; Quartz] The majority of detainees are from Iran or are stateless. See Refugee Council of Australia, Operation Sovereign Borders and Offshore Processing Statistics.
Recent Developments in Detention Facilities
Experts are urging Australia to address the deteriorating health situation of refugees and asylum seekers at its offshore detention centers. The mental health crisis at the facilities is especially urgent, with Doctors Without Borders (MSF), reporting that in the past 11 months on Nauru, at least 78 cases have been documented of people who had attempted suicide, had suicidal thoughts, or had engaged in acts of self-harm. [UN News] UNHCR experts revealed that rates of depression, anxiety, and post-traumatic stress disorder are above 80% among those forcibly transferred to Papua New Guinea and Nauru, making it the highest rate recorded in medical literature to date. [UNHCR Press Release] A doctor with MSF, the international humanitarian medical organization, characterized the situation on the island as "beyond desperate," noting that among the hundreds of people languishing are many children who are "suffering from traumatic withdrawal syndrome and [are] unable to eat, drink or even walk to the toilet." [Al Jazeera]
One of the critical issues highlighted has been the lack of basic healthcare and emotional support services for migrants and asylum seekers, many already victims of torture and survivors of trauma. [UN News] This month, Nauru authorities expelled MSF, accusing the organization of conspiring against the country and forcing it to end its operations and services after MSF publicly denounced conditions on the island. [UN News; Guardian: Nauru] Although MSF operates in Papua New Guinea, it has not been granted access to the Manus detention center despite its requests. See Doctors Without Borders, Papua New Guinea. What care does exist at the detention centers is primarily provided by sub-contractors hired by the Australian government and reportedly operating without adequate resources. [UN News]
International & Domestic Response
Australia's offshore detention policy has prompted various UN bodies to raise concerns about the current situation. Most recently, the UNHCR reiterated its call for the Australian government to take "immediate action" in moving refugees and asylum seekers to Australia where they can receive the needed medical attention. [UNHCR Press Release] While Australia has claimed that these issues are exclusively "matters for Papua New Guinea and Nauru," the UNHCR has flatly rejected the government's response. [UNHCR Press Release] UNHCR has noted that the detention system was "designed, financed, and managed by Australia" and has insisted upon Australia's ultimate responsibility for the wellbeing of all people held in its offshore detention centers. [UN News]
The UN Working Group on Arbitrary Detention has called on Australia to review its immigration laws, which it has determined constitute a violation of international human rights law. [The Guardian: UN Body] Most recently, in a case concerning an Iranian man seeking asylum in Australia, the Working Group held that Australia violated multiple articles of the Universal Declaration of Human Rights and the International Covenant on Civil and Political Rights (ICCPR). [Guardian: UN Body] It is reported that this was the seventh Working Group opinion in two years calling for the release of individual asylum seekers from detention centers. [Guardian: UN Body]
In Australia, the public has responded with protests challenging the government's immigration policy. In the latest of these demonstrations, around 500 protesters from 30 different groups around rural Australia, including high school students, marched to Parliament expressing their discontent with the growing humanitarian crisis and demanding the suspension of their government's policy. [Al Jazeera] The day before, a group of almost 6,000 Australian doctors delivered a letter calling on Prime Minister Scott Morrison to remove children from detention in light of the urgent physical and mental health risks they face. [Al Jazeera] Doctors warn that if action is not taken quickly, the damage done to these children could become "permanent." [Guardian: Doctors]
Background on Australia's Offshore Detention Policy
Australia's Migration Act strictly forbids the entry of those who attempt to arrive by boat, as a method of deterring refugees and asylum seekers from attempting to enter Australia. [UNHCR Press Release; NY Times] Under this policy, which has been in effect since 2013, those detained are sent for processing in Nauru and Papua New Guinea, and are subsequently held indefinitely in detention. [NY Times] In the past five years, around 3,000 refugees and asylum seekers have been transferred to the offshore processing facilities. [UNHCR Press Release] To date, there have been 12 deaths at the facilities, half of which have been either confirmed or suspected suicides. [UNHCR Press Release] UNHCR reports that more than 1,400 people are currently being held in the facilities. [UN News] Despite the critical lack of healthcare on the Islands, Australia has cut the budget for the care of these refugees and asylum seekers nearly in half since 2013 and yet is reported to have spent approximately $320,000 in 2017 alone challenging applications for medical transfers from the islands. [UNHCR Press Release; The Guardian: Health Crisis]
States' Human Rights Obligations
Australia, Papua New Guinea, and Nauru are all party to various universal human rights treaties. See IJRC, factsheets on Australia, Papua New Guinea, and Nauru. These treaties require States parties to protect, respect, and fulfill the human rights of all those within their territories or subject to their effective control. These States' human rights conditions may be monitored by the UN Human Rights Council and its Universal Periodic Review and independent experts ("special procedures") and by the UN Committee on the Rights of the Child; Australia and Papua New Guinea are also subject to the oversight of the UN Human Rights Committee, which oversees implementation of the ICCPR.
Additional Information
For more information on UN human rights mechanisms and the Working Group on Arbitrary Detention, visit IJRC's Online Resource Hub, which also features guides on asylum and the rights of refugees and children's rights. To stay up-to-date on international human rights news, visit IJRC's News Room or subscribe to the IJRC Daily.