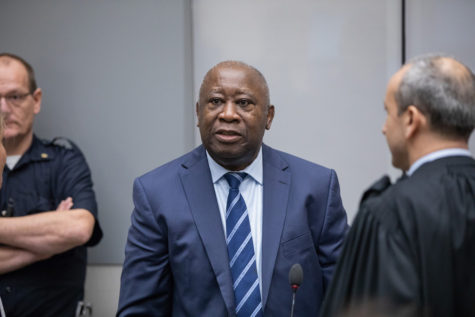 Former Ivory Coast President Laurent Gbagbo was acquitted of crimes against humanity earlier this month when the International Criminal Court (ICC) found insufficient evidence of a common plan or policy to attack civilians during the 2010-2011 post-election violence in the Ivory Coast. See ICC, Prosecutor v. Laurent Gbagbo and Charles Blé Goudé, ICC-02/11-01/15, Oral Decision of Trial Chamber I on the Prosecutor's Request under Article 81(3)(c)(i) of the Rome Statute, 16 January 2019. The ICC Appeals Chamber has decided Gbagbo and his co-defendant Charles Blé Goudé must remain in custody at least until it reviews the Trial Chamber I's order to release them, at a hearing scheduled for February 1. [ICC Press Release: Delay] Once the Trial Chamber's written judgment is filed, the Office of the Prosecutor may appeal the acquittals. [ICC Press Release: Acquittal] ICC Prosecutor Fatou Bensouda has confirmed her office will continue its investigations into the Ivory Coast situation, which currently includes pre-trial proceedings against Simone Gbagbo, wife of Laurent Gbagbo, who was granted amnesty for her role in the conflict by current Ivorian President Alassane Ouattara last year. [ICC: Bensouda; Guardian: Simone Gbagbo; BBC]
The Gbagbo judgment is the most recent in a line of prominent losses by the ICC Prosecutor, including the acquittal, on appeal, of former Congolese Vice-President Jean-Pierre Bemba in 2018 and the Court's dismissal of charges of crimes against humanity against Kenya's President Uhuru Kenyatta and Vice-President William Ruto in 2015 and 2016, respectively. [IJRC: Kenya; IJMonitor: Gbagbo; IJMonitor: Bemba] The ICC Prosecution's recent failures have raised concerns among some about the Court's ability to hold accountable those individuals who violate international criminal law. [IJRC: Yekatom; Guardian: ICC; Guardian: Gbagbo] Gbagbo, the first former head of State to be taken into ICC custody, has the right to request compensation for the seven years that he has spent in detention. See Rome Statute, art. 85(3).
The Trial of Laurent Gbagbo
On October 3, 2011, the ICC Office of the Prosecutor began its investigation into the Ivory Coast's 2010 post-election crisis. See ICC, Gbagbo and Blé Goudé Case. Within two months, the ICC issued an arrest warrant for Gbagbo, and Ivorian and French troops quickly arrested and transferred him to The Hague in November of 2011. [IJMonitor: Gbagbo] Gbagbo remained in pre-trial detention in The Hague for over four years before the ICC trial officially began on January 28, 2016. [ICC Press Release: Opening]. The Court joined Gbagbo's case with that of another Ivorian politician involved in the conflict, Blé Goudé, and charged both defendants with four counts of crimes against humanity, for acts of murder, rape, other inhumane acts (or in the alternative attempted murder), and persecution. See ICC, Gbagbo and Blé Goudé Case.
The trial spanned approximately three years, with the Prosecutor taking 231 hearing days to present evidence and calling 82 witnesses to testify on behalf of the prosecution's case. [ICC Press Release: Acquittal] Once the Prosecutor concluded the presentation of evidence, Gbagbo's defense team filed a motion for acquittal and immediate release of the defendant without presenting any evidence, alleging that the prosecution did not meet its burden of proof. [ICC Press Release: Acquittal] Similarly, Blé Goudé's defense team presented a motion alleging that there was no case for the defense to answer to with respect to the charges against Blé Goudé and seeking that the charges be dismissed. [ICC Press Release: Acquittal]
On January 15, 2019, the judges, with one dissenting, announced their judgement finding that the Prosecutor's evidence was insufficient to sustain a conviction and that the Prosecutor failed to demonstrate several elements of the crimes as charged, "including the existence of a 'common plan' to keep Mr Gbagbo in power, which included the commission of crimes against civilians 'pursuant to or in furtherance of a State or organisational policy'; and the existence of patterns of violence from which it could be inferred that there was a 'policy to attack a civilian population'." [ICC Press Release: Acquittal] As a result, both Gbagbo and Blé Goudé were acquitted on all counts. [ICC Press Release: Acquittal]
Response to the Acquittal
Prominent human rights organizations have called the acquittal "disastrous" and a "crushing disappointment" for the victims, and some are worried that the acquittal could lead to further violence. [Guardian: Gbagbo; Amnesty] The news of Gbagbo's acquittal has already sparked scattered protests in the Ivory Coast's capital, Abidjan. [Al Jazeera] While supporters celebrate the Court's announcement, victims express frustration and disappointment with what rights groups perceive to be a denial of justice. [Reuters: Politics] The Ivorian government has stated that they will allow Gbagbo's return, and have "urged calm, forgiveness and reconciliation." [Al Jazeera]
Background on the 2010-11 Ivory Coast Conflict
The case against Gbagbo concerned his alleged involvement in a four-month conflict that arose Gbagbo refused to transfer power to the current Ivorian President Alassane Ouattara after losing the 2010 elections. [Guardian: Gbagbo] Approximately 3,000 people were reported to have died during the conflict, and hundreds of thousands were forced to flee. [Reuters] It was alleged that Gbagbo ordered murders and gang-rape in his bid to retain control of the country. [Guardian: Gbagbo] The conflict came to an end when French and United Nations forces intervened and apprehended Gbagbo. [Guardian: Surrender]
Gbagbo's capture marked the end of his 10-year rule of the Ivory Coast. [Guardian: Gbagbo] Now that he is free to return to the Ivory Coast, there is some indication that he intends to run in the next election in 2020. [Reuters: Politics] Despite the ICC acquittal, Gbagbo may nonetheless have to serve a 20-year sentence upon returning to the Ivory Coast due to a conviction for misappropriating funds that a domestic court entered against him in absentia while he was detained in The Hague. [Reuters]
Additional Information
The ICC was established by the Rome Statute, and officially opened in 2002. See ICC, About. The Court has the competence to hear four types of crimes, genocide, crimes against humanity, war crimes, and the crime of aggression. See Id. The ICC has had a total of 28 cases, of which the Court issued final convictions in six cases (eight trial convictions, two of which were overturned on appeal). See id. For more information on the International Criminal Court, visit IJRC's Online Resource Hub. To learn more about the Ivory Coast's human rights obligations, see IJRC's Ivory Coast Factsheet. To stay up-to-date on international human rights law news, visit IJRC's News Room and subscribe to the IJRC Daily.