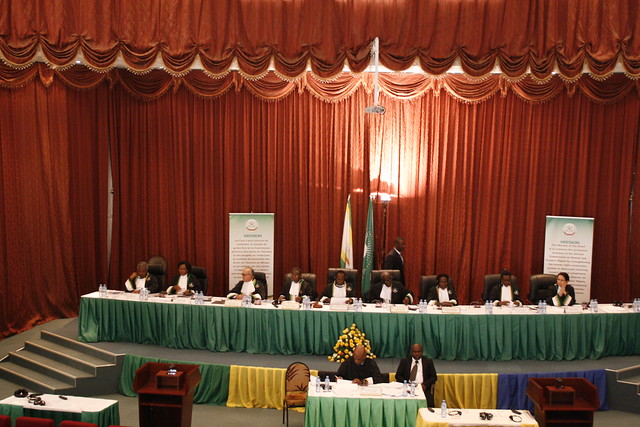 The African Court on Human and Peoples' Rights (AfCHPR) recently issued its judgment in the case of Lucien Ikili Rashidi v. Tanzania, finding the State violated a non-citizen's rights when its agents detained him, subjected him to an anal search, and did not resolve his legal claims for seven years after he was arrested for not having his passport and visa in his possession. See AfCHPR, Lucien Ikili Rashidi v. United Republic of Tanzania, App. No. 009/2015, Judgment of 28 March 2019. The AfCHPR found violations of Ikili Rashidi's rights to residence, freedom of movement, integrity of person, dignity, and to be tried within a reasonable time. Ultimately, the Court awarded Ikili Rashidi and his family modest financial compensation and ordered Tanzania to take measures to ensure that all future cavity searches would be in compliance with international standards, as clarified by the European and Inter-American human rights bodies. See id. The judgment is one of six the AfCHPR released in late March, three of which concern Tanzania. [AfCHPR Press Release]
Facts of the Case
Lucien Ikili Rashidi is a citizen of the Democratic Republic of the Congo, who had been residing in Tanzania since 1993. See AfCHPR, Lucien Ikili Rashidi v. Tanzania, paras. 1, 4. Ikili Rashidi entered Tanzania on a temporary visa, while his wife and children entered as refugees and joined him in 1999. See id. at para. 4. In June 2006, after he lost his passport, the Tanzanian police issued him a certificate of loss of his passport, which indicated he was authorized to stay in the country through September 2006. See id. at para. 6. In 2005, Ikili Rashidi had filed a civil lawsuit over a monetary dispute with a local retailer; Tanzanian immigration authorities arrested him for unlawful presence in June 2006 when he appeared in court for that proceeding. See id. at para. 5.
His wife and children were arrested shortly thereafter and the entire family was detained for five days prior to being charged with illegal stay. See id. at para. 8. The DRC Embassy intervened on the family's behalf and secured Ikili Rashidi's release and an agreement that he could remain in Tanzania to pursue his civil lawsuit. See id. His family was given seven days to leave Tanzania, but were not prosecuted for illegal stay. See id. Tanzania extended Ikili Rashidi's visa through March 2007. See id.
Later in 2007, Ikili Rashidi filed a civil lawsuit against two immigration officers, and the relevant national authorities, for his arrest and treatment in detention. See id. at para. 9. More than six years later, in January 2014, the High Court of Tanzania held that his arrest had been lawful because he had not had a valid passport and visa, and it ordered him to leave Tanzania within seven days, which he did. See id. at para. 10. After leaving Tanzania, Ikili Rashidi filed requests with the High Court and the Minister of Home Affairs to receive a copy of the judgment so that he could appeal it and seeking permission to return to Tanzania for that purpose. See id. at para. 11. He did not receive any correspondence from the Tanzanian authorities until after he filed an application with the AfCHPR in February 2015. See id.
Admissibility Arguments
Tanzania made two objections to the admissibility of the complaint, arguing that Ikili Rashidi had not properly exhausted domestic remedies and that he had not filed his application to the Court within a reasonable time. See id. at para. 38. Tanzania claimed that although Ikili Rashidi could not re-enter the country to appeal his deportation, he could submit an application with the Minister of Home Affairs requesting permission to return. See id. para. at 40. The AfCHPR found the State had prevented Ikili Rashidi from pursuing an appeal by not responding to his requests. See id. at para. 45. Additionally, the Court reiterated that an "applicant is only required to exhaust ordinary and judicial remedies," and therefore Ikili Rashidi was never obligated to apply with the Minister of Home Affairs. See id. at para. 44.
The State also claimed Ikili Rashidi failed to file his application within a reasonable amount of time, as required by Article 56(6) of the African Charter. See id. at para. 47. Notably, Tanzania argued that a six-month time limit should apply; in contrast to the African Charter, other regional human rights bodies have clearly defined six-month timeliness rules. See id. at paras. 51-54. See also, e.g., IJRC, Exhaustion of Domestic Remedies in the Inter-American Human Rights System, p. 10 (2018). The Court reiterated that it would determine timeliness on a case-by-case basis in light of the specific circumstances, and determined that the time period of one year and 26 days between the deportation order and when Ikili Rashidi filed his application with the AfCHPR was reasonable. See id. at paras. 55-56. The Court noted that because Ikili Rashidi was deported so quickly and prevented from returning, "he lacked proximity that was necessary to follow up on his requests to domestic authorities." See id. at paras. 55-56.
The Court's Holding
The Court found violations of all three rights Ikili Rashidi alleged were violated. See id. at para. 60. With respect to the alleged violation of freedom of movement under Article 12(1) of the African Charter, the Court noted that it had to first determine whether he had a right to residence in Tanzania. See id. at para. 71. In view of that fact that he had both a certificate of loss of his passport and an official letter from the DRC Embassy stating that he was in the process of obtaining a new passport, the AfCHPR found that Ikili Rashidi he could not be considered an unauthorized migrant just because he did not have the legally required documents physically in his possession. See id. at para. 77. Rather, it found Ikili Rashidi had a "reasonable expectation" that he would not be subject to deportation while awaiting receipt of a new passport, because of the certificate and letter. See id. at para. 77. Therefore, his arrest and deportation constituted both a violation of his right to residence and of his right to freedom of movement. See id. at para. 81.
Ikili Rashidi also alleged that he had been subjected to cruel, inhuman and degrading treatment by Tanzanian prison officers, in violation of his right to dignity. See id. at para. 83. The Tanzanian authorities ordered him to undress and performed an anal search on him, in front of his young children. See id. The AfCHPR noted that the European Court of Human Rights (EtCHR) has held that forcing a person to bend over for a visual inspection constitutes an affront to the dignity of the person and degrading treatment. See id. at para. 89.
Drawing on precedent set by the Inter-American Commission on Human Rights (IACHR), the AfCHPR determined that two of the criteria set out by the IACHR regarding the appropriateness of a cavity search – absolute necessity and no available alternative – were relevant in this case. See id. at paras. 90-91. With regard to the necessity requirement, the Court found that the search of Ikili Rashidi was not absolutely necessary to achieve the security objective at stake in his detention, as the only crime he was accused of was lacking proper documents. See id. at paras. 92-93. The Court also concluded that the prison guards could have employed alternative methods such as purging or scanning. See id. at para. 94.
The Court stated explicitly that even if the cavity search is standard practice in Tanzanian prisons, that does not justify its indiscriminate use. See id. at para. 93. It also noted that in this case the humiliation was exacerbated by the presence of Ikili Rashidi's children. See id. at para. 95. The Court found Tanzania had violated Ikili Rashidi's rights to integrity of person and to dignity under articles four and five of the African Charter. See id. at paras. 96, 99.
Finally, Ikili Rashidi alleged that his right to be tried within a reasonable time had been violated because he waited nearly seven years for a judgment regarding the legality of his stay in Tanzania. See id. at para. 100. The Court determined that he had waited six years and four months in total which, under the circumstances, it found to be an "inordinately long" time. See id. at paras. 104, 108. The AfCHPR noted that the State had been able to initially determine the legal status of Ikili Rashidi and of his family within a few days of their arrest, and that, therefore, a delay of more than six years in resolving Ikili Rashidi's status was excessive. See id. at para. 108. Accordingly, the AfCHPR found a violation of Article 7(1)(d) of the Charter. See id. at paras. 109-110.
Reparations
With respect to the reparations awarded, the Court granted Ikili Rashidi both pecuniary and non-pecuniary damages. The Court granted 10,000,000 Tanzania Shillings (approximately 4,300 USD) to Ikili Rashidi himself for non-material losses and 1,000,000 Tanzania Shillings to each of his family members who the Court considered to be "indirect victims." See id. at paras. 131, 138. It dismissed his requests for material compensation because he failed to prove the actual lost revenue or costs he alleged resulted from his treatment. See id. at paras. 124-29.
In response to Ikili Rashidi's request for guarantees of non-repetition, the Court noted that these are generally used to address "systemic and structural violations rather than individual harm." See id. at paras.145-46. Because Ikili Rashidi no longer resides in Tanzania, the Court declined to order guarantees of non-repetition with respect to him. See id. at para. 147. However, the AfCHPR noted Tanzania's submission that "cavity searches are security measures performed upon entry and exit of most prisons" in the country, and found that "wider or structural violations" were possible. See id. at para. 148. Therefore, the AfCHPR ordered guarantees of non-repetition in the form of directing Tanzanian "to take all necessary measures to ensure that anal search as in the instant case and its kind, are conducted in strict compliance with its international obligations and principles earlier set out in" the judgment. See id. at para. 149. Finally, in order to increase public awareness, the Court ordered that its judgment in this case be published and accessible on the websites of the Tanzanian Judiciary and the Ministry for Constitutional and Legal Affairs for at least one year. See id. at para. 153.
Additional Information
For more information on the African human rights system and the African Court of Human and Peoples' Rights, visit IJRC's Online Resource Hub. For an overview of the Tanzania's human rights obligations, see our two-page country factsheet. To stay up-to-date on international human rights news, visit IJRC's News Room or subscribe to the IJRC Daily.