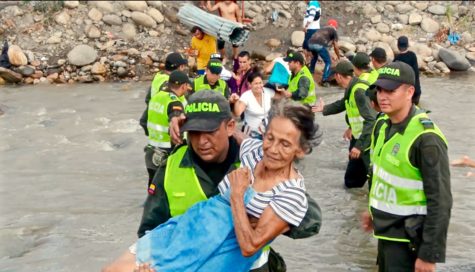 On May 7, 2019, the International Labour Organization (ILO) announced the launch of a new plan including a series of urgent interventions aimed at addressing the security, economic, and social integration needs of Venezuelan refugees and migrants in Argentina, Brazil, Chile, Colombia, Ecuador, and Peru. See ILO, Appeal: Venezuelan refugees and migrants in Latin America and the Caribbean. Under this proposed plan – developed together with the International Organization for Migration (IOM), Food and Agriculture Organization of the United Nations (FAO), and the Organization of American States (OAS) – the ILO has committed $2 million USD of its voluntary funds to support projects in the three countries that have received the majority of displaced people from Venezuela: Ecuador, Colombia, and Peru. [ILO Press Release] The ILO intervention is part of a broader appeal within the framework of the Regional Refugee and Migrant Response Plan (RMRP), a multilateral plan to coordinate a regional response to the unprecedented and growing "largest displacement of population in the modern history of Latin America and the Caribbean." [ILO Press Release] Venezuela's years-long economic and political crisis, which worsened in recent months following reactions by national and foreign authorities to Juan Guaidó's attempt to claim the presidency from Nicolás Maduro, has resulted in an estimated 3.7 million people leaving the country and about seven million people in Venezuela in need humanitarian assistance. [UN News: Humanitarian Crisis]
The ILO's Response & RMRP
The ILO initiative operates as part of the pre-existing RMRP, which is supported by 95 partners and outlines a general plan for addressing the Venezuelan migrant crisis for the 2019 calendar year. See Response for Venezuelans, Regional Refugee and Migrant Response Plan or Refugees and Migrants from Venezuela (2019), 12. While the report acknowledges the largely cooperative response from surrounding countries, most of which have maintained an open-border policy, the continuing influx of people is straining national institutions and communities. See id. at 11. In order to ensure migrants' needs are met and that this burden does not foment greater xenophobia and anti-migrant attitudes in the host communities, the plan proposes a holistic approach that ensures resources are used to benefit four categories of affected people: "1) Venezuelan refugees and migrants; 2) Refugees and migrants who were living in Venezuela and who are now returning to their countries of origin or moving to a third country; 3) Stateless persons, in particular children born in a host country and who cannot access citizenship of that country; 4) Host communities." See id. at 14.
The response envisioned in the plan is categorized into four areas of intervention. See id. at 19. One of these is "direct emergency assistance," which includes all efforts to supply life-saving resources, including both food and non-food items as well as services such as shelter, health and nutrition, education, and legal assistance. See id. at 19-20. Another area is "protection," which covers both physical protection and the enjoyment of rights and benefits. See id. at 19. "Socio-economic and cultural integration," the third area of intervention, aims to ensure that migrants become self-sufficient and well-integrated, and that host communities are tolerant and accepting towards them. See id. The final area is "strengthening the capacity of host governments," which focuses on efforts to build the capacities of the institutions tasked with managing the influx and settlement of refugees and migrants from Venezuela. See id. The importance placed on the oversight of the plan is underscored by the creation of "accountability framework[s]" that rely on obtaining regular feedback and complaints from the refugees, migrants, and host communities themselves, and emphasize participation schemes that take into account an age, gender, and diversity perspective. See id. at 20.
Within this framework, the ILO has taken a leadership role in coordinating the response to the "socio-economic and cultural integration" area of intervention. See ILO, Appeal: Venezuelan refugees and migrants in Latin America and the Caribbean. Together with IOM, FAO, and the OAS, the ILO has developed a coordinated response strategy that includes short-term and long-term solutions to "ensure sustainable and rights-based public policies." See Response for Venezuelans, Venezuelan refugees and migrants in Latin America and the Caribbean, ILO Response (2019), 4. Consistent with the ILO's mandate, its efforts will primarily focus on collecting data to create work profiles and facilitate the integration of Venezuelan refugees in the host country's labor market (short-term), providing technical assistance to public and private market actors and strengthening national mechanisms to provide more inclusive services to migrants and refugees without displacing local employees (medium-term), and providing assistance to governments to improve the "national and regional normative frameworks and governance mechanisms on labour migration and forced displacement" (long-term). See id. Specifically, the ILO has allocated $2 million USD to be spent on initiatives to launch these efforts in Colombia, Ecuador, and Peru, and has appealed to other institutions to supply another $8.7 million USD in voluntary funds in order to cover the full implementation of the socio-economic and cultural integration component. [ILO Press Release]
International Response to Venezuelan Migrants & Refugees
The severity of the Venezuelan crisis has mobilized a variety of inter-governmental and civil society actors. In response to calls from the United Nations Secretary General, the UN High Commissioner for Refugees (UNHCR) and IOM established the Regional Inter-Agency Coordination Platform in September 2018, which includes 17 UN agencies, 14 non-governmental organizations, five donors, and two international financial institutions. See Regional Refugee and Migrant Response Plan, at 12. Additionally, UNHCR and IOM appointed a Special Representative for Venezuelan refugees and migrants who was responsible for developing the RMRP. See id. International financial institutions, including the World Bank, the Inter-American Development Bank, and the Development Bank of Latin America are also involved in supporting the assessment of fiscal impacts and the creation of national response plans. See id. at 14. Governments in the region have collectively undertaken efforts as well, formally signified through the 2018 Quito Declaration on Human Mobility of Venezuelan Citizens in the Region. See id. at 13.
Moreover, the UN Children's Fund (UNICEF) is also working with organizations and the Colombian government to provide humanitarian assistance to Venezuelan children in Colombia. [UN News: UNICEF] The UNICEF Communication Director visited Colombia last month, noting Colombia's efforts to support Venezuelan children while also highlighting the resource constraints that Colombia currently faces. [UN News: UNICEF] UNICEF is seeking to increase its current budget to $29 million in the next year to contribute to response efforts. [UN News: UNICEF]
Non-governmental organizations have also organized to take action on behalf of refugees and migrants from Venezuela. Amnesty International, for example, launched its "Welcome Venezuela" campaign this month in order to recognize both the serious human rights abuses from which they are fleeing and also to ensure States understand the obligations they have to protect and respect the rights of those entering and residing in their countries. [Amnesty Press Release] In 2018, the Center for Justice and International Law (CEJIL) and other members of the Venezuelan Human Mobility Group launched a Civil Society Action Plan for People from Venezuela that Require National and International Protection, with extensive recommendations for States, civil society, and intergovernmental organizations.
Situation in Venezuela
Venezuela is currently in a state of political instability, with ongoing popular protests demanding political rights and expressing frustration over the lack of basic necessities in the country. See UNHCR, Venezuela Situation. This instability is underscored by the tense political relationship between Venezuelan President Nicolas Maduro and opposition leader Juan Guaidó, who recently declared himself the leader of the country and has been working to shore up domestic and international support for his position. [UN News: Venezuela] The Office of the High Commissioner for Human Rights (OHCHR) has been monitoring the situation – including the mass protests taking place in the country, most of which have been met with violence by pro-government forces – and has urged the leaders "to engage in meaningful discussions to work towards resolving the current crisis." [UN News: Venezuela]
While OHCHR does not have a presence in Venezuela, a team was able to visit the country in March 2019 to conduct a "preliminary technical mission," with the hope of having the UN High Commissioner for Human Rights Michelle Bachelet conduct a visit at a later date. [UN News: Venezuela]
Additional Information
The International Labour Organization is a UN specialized agency with 187 Member States that drafts and oversees compliance with international labor standards, as set down in the various conventions adopted under its auspices. See IJRC, International Labour Organization. ILO Member States submit periodic reports on their compliance and the ILO also engages in extensive research, reporting, and campaigning around labor rights. See id.
For more information on the International Labour Organization, and immigration and migrants' rights, asylum and the rights of refugees, visit IJRC's Online Resource Hub. To learn more about individual countries' human rights obligations, see IJRC's country factsheets, including on Venezuela. To stay up-to-date on international human rights law news, visit IJRC's News Room and subscribe to the IJRC Daily.