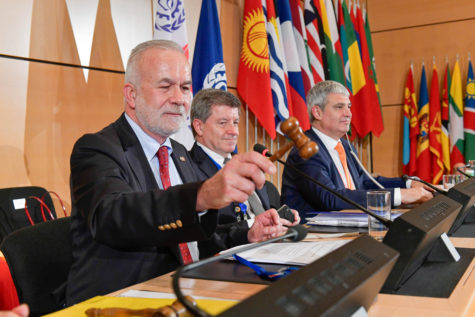 The International Labour Conference of the International Labour Organization (ILO) adopted an "unprecedented Convention and accompanying Recommendation" during its June 2019 meeting, setting new global obligations and outlining measures for ILO Member States to take in addressing violence and harassment in the context of work. [ILO Press Release: Conference] The Violence and Harassment Convention, 2019, a legally binding instrument, covers violence and harassment, including on the basis of gender, in all sectors of the economy and all work-related activities, and expressly indicates that such violence or harassment may amount to human rights violations. [ILO Press Release: Conference] It requires States to implement legislation, training, monitoring, and avenues of redress and support in order to prevent and remedy these practices; it also calls on States to address the particular needs of vulnerable groups and those impacted by domestic violence. See Violence and Harassment Convention, 2019, arts. 6-11. The Convention represents the first new legally binding instrument adopted by the Labour Conference since 2011, when it adopted the Domestic Workers Convention, 2011 (No. 189). [ILO Press Release: Convention] The Convention will enter into force one year after two ILO Member States ratify it, and will come into force for States parties one year after their ratification. See Violence and Harassment Convention, 2019, art. 14.
Convention on Violence & Harassment
The Convention's preamble acknowledges that issues related to violence and harassment at work disproportionately impact women and girls, and places a responsibility on States parties to the Convention to pursue a policy of "zero tolerance to violence and harassment." See Violence and Harassment Convention, 2019. Importantly, the text leads with the establishment of its definition of "violence and harassment," which is described as "a range of unacceptable behaviours and practices, or threats thereof, whether a single occurrence or repeated, that aim at, result in, or are likely to result in physical, psychological, sexual or economic harm." See id., art. 1(a). Additionally, the definition of "gender-based violence and harassment" includes all acts previously defined that are "directed at persons because of their sex or gender, or affecting persons of a particular sex or gender disproportionately, and includes sexual harassment." See id., art. 1(b).
The Convention also establishes that its provisions apply to a wide range of employment arrangements, regardless of a worker's status or relationship with an employer, includes jobseekers and applicants, and that its provisions also apply in all sectors of the economy, including in rural areas. See id., arts. 2-3. With respect to what the "world of work" entails, the Convention states that it encompasses a variety of work-related settings that "occur[] in the course of, link[] with or aris[e] out of work," such as travel, rest periods, and communications related to work. See id., art. 3.
The text outlines a set of core principles to be pursued by States parties in keeping with a general guarantee to "respect, promote and realize the right of everyone to a world of work free from violence and harassment." See id., art. 4(1). These include measures such as:
(a) prohibiting in law violence and harassment;

(b) ensuring that relevant policies address violence and harassment;

(c) adopting a comprehensive strategy in order to implement measures to prevent and combat violence and harassment;

(d) establishing or strengthening enforcement and monitoring mechanisms;

(e) ensuring access to remedies and support for victims;

(f) providing for sanctions;

(g) developing tools, guidance, education and training, and raising awareness, in accessible formats as appropriate; and

(h) ensuring effective means of inspection and investigation of cases of violence and harassment, including through labour inspectorates or other competent bodies.
See id., art. 4(2).
In addition to elaborating on each of these measures, the Convention also reaffirms the importance of other labor-related rights that States must be committed to upholding, which include the rights to equality and non-discrimination, freedom of association, collective bargaining, and freedom from compulsory labor. See id., arts. 5-6. Finally, the Convention calls on States to "ensure easy access to appropriate and effective remedies" and to provide "guidance, resources, training or other tools, in accessible formats" on violence and harassment, including gender-based violence and harassment, to workers and employers in their jurisdiction. See id., arts. 10-11.
Delegates to the ILO Labour Conference adopted the Convention by a vote of 438 in favor, seven votes against, and 30 abstentions. ILO Member States may send delegations to the Labour Conference that include two government representatives, a worker delegate, and an employer delegate, all with equal voting rights. See ILO, About the ILC.
Recommendation on Violence & Harassment
To supplement the provisions outlined in the Convention, the Labour Conference also adopted an accompanying Recommendation, which is intended to provide non-binding guidelines to Member States on how to implement the Convention. See ILO, Violence and Harassment Recommendation, 2019, 20 June 2019. The Recommendation elaborates on the Convention's core principles, includes specific examples of what protection and prevention policies should cover, examples of appropriate remedies and support services for victims, as well as examples of training and awareness-raising materials. See id.
Additionally, the Recommendation emphasizes the need to protect employees who make complaints, places additional focus on those particularly vulnerable to abuse, highlights victims' rights to compensation and rehabilitation, and notes specific means by which States can educate and empower people on these issues. See id., paras. 7(f)-7(g), 8-17, 23. The Recommendation also mentions other core and priority ILO Conventions (for example, the Right to Organise and Collective Bargaining Convention (No. 98), Equal Remuneration Convention (No. 100), Discrimination (Employment and Occupation) Convention (No. 111)) that members should look to for guidance in their implementation of the Convention. See id., paras. 3, 5.
ILO Labour Conference delegates adopted the Recommendation by a vote of 397 in favor, 12 against, and 44 abstentions. [ILO Press Release: Convention]
Additional Information
The International Labour Organization is a United Nations specialized agency with 187 Member States that drafts and oversees compliance with international labor standards, as set down in the various conventions adopted under its auspices. See IJRC, International Labour Organization. ILO Member States submit periodic reports on their compliance and the ILO also engages in extensive research, reporting, and campaigning around labor rights. See id. All three main bodies of the ILO—the International Labour Conference, the Governing Body, and the International Labour Office—are formally comprised of government, employer, and employee representatives. See ILO, How the ILO Works.
For more information on the International Labour Organization, and economic, social, and cultural rights, visit IJRC's Online Resource Hub. To stay up-to-date on international human rights law news, visit IJRC's News Room and subscribe to the IJRC Daily.