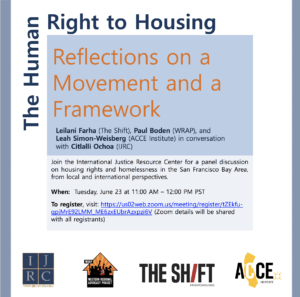 The International Justice Resource Center is pleased to announce an upcoming webinar on efforts to advance the right to housing in California, including through engagement with international human rights oversight bodies. The webinar will take place on Tuesday, June 23rd at 11:00 a.m. Pacific time (GMT -7 hours). We welcome you to register via Zoom and to share the flyer.
The San Francisco Bay Area's housing and homelessness crises are well-documented, but creative and multi-pronged advocacy efforts have moved the conversation toward rights-based solutions. Now, for example, the California legislature is now considering Assembly Bill 2405, which would make a right to housing state policy. The panel discussion will address the evolution of the human right to housing in California, as well as the impact of policing, racial discrimination, and COVID-19 on people experiencing homelessness.
The webinar will feature expert advocates who have made significant contributions to local, state, and international developments. Leilani Farha is the former UN Special Rapporteur on the Right to Housing and Global Director of The Shift. Her work is animated by the principle that housing is a social good, not a commodity. Leilani has helped develop global human rights standards on the right to housing, including through her topical reports on homelessness, the financialization of housing, informal settlements, rights-based housing strategies, and the first UN Guidelines for the implementation of the right to housing. She is the central character in the documentary PUSH regarding the financialization of housing, screening around the world. She visited the Bay Area in January 2018 as then-United Nations Special Rapporteur on adequate housing and later issued a critical, comprehensive report on living conditions in informal settlements in California and around the world.
Leah Simon-Weisberg is the Legal Director for Anti-Displacement and Land Use Programs at the ACCE Institute in Oakland. The ACCE Institute works with tenants to develop meaningful housing policy solutions that protect tenants and homeowners from real estate special interest greed. Her work focuses on protecting tenants from eviction, and gained national attention most recently with Oakland's Moms 4 Housing.
Paul Boden advocates for the rights of those who are homeless, and has long appealed for an approach to housing that respects human dignity and human rights. He is the Executive Director at the Western Regional Advocacy Project (WRAP) in San Francisco. Paul served as Executive Director of San Francisco's Coalition on Homelessness for 16 years and was a founder of the Community Housing Partnership, a nationally recognized permanent housing corporation with optional supportive services. He served as president of its Board for 10 years. Paul was also a board member of the National Coalition for the Homeless and co-chair of its civil rights and grassroots organizing workgroup.
Citlalli Ochoa of the International Justice Resource Center will moderate.
The webinar is part of IJRC's "Human Rights Happy Hour" discussion series intended to bring advocates together to hear updates, and build connections, on timely human rights issues. These events are typically held in person, but will be online in 2020 due to the pandemic.