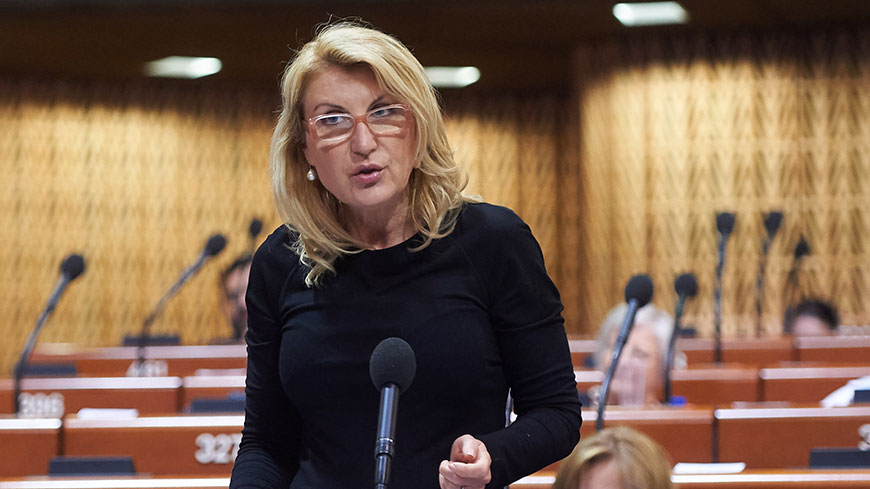 As violence against women spikes around the world, at least two States are considering limiting their international human rights commitments to prevent and protect against gender-based violence. Poland and Turkey are both reportedly studying the possibility of withdrawing from the Council of Europe Convention on Preventing and Combating Violence Against Women and Domestic Violence, commonly known as the Istanbul Convention. [NYT: Poland; Reuters] The news has prompted protests in both countries, and follows efforts to promote broader ratification and implementation of the landmark treaty across Europe. [DW; Amnesty] In Europe and elsewhere, governments and advocates have documented significant increases in domestic violence since the beginning of the COVID-19 pandemic, which has impacted individuals' economic, physical, and psychological wellbeing in many ways, including by compelling women to quarantine with abusive partners. [CFR]
Istanbul Convention & Its Ratification
The Istanbul Convention, which entered into force in 2014, is a Council of Europe treaty that requires States parties to refrain from engaging in violence against women and to "take the necessary legislative and other measures to exercise due diligence to prevent, investigate, punish and provide reparation for" violence against women. See Istanbul Convention, art. 5. It defines "violence against women" to include "all acts of gender-based violence that result in, or are likely to result in, physical, sexual, psychological or economic harm or suffering to women…whether occurring in public or in private life." See id., art. 3(a). It refers to other international instruments that protect the rights of women, including the Convention on the Elimination of All Forms of Discrimination against Women (CEDAW), and follows other regional treaties including the Protocol to the African Charter on Human and Peoples' Rights on the Rights of Women in Africa (Maputo Protocol) and the Inter-American Convention on the Prevention, Punishment, and Eradication of Violence against Women (Convention of Belém do Pará).
The Group of Experts on Action against Violence against Women and Domestic Violence (GREVIO) oversees the Convention's implementation. GREVIO is an independent body that publishes reports on whether States parties' laws and practices meet the Convention's requirements, and may issue general recommendations. See COE, GREVIO.
Thirteen of the Council of Europe's 47 Member States have not yet ratified the Istanbul Convention. Countries that have not joined include the United Kingdom, Russia, and Hungary. The COE has organized various efforts to encourage broader ratification of the Convention, such as through a series of roundtables with Ukraine. Despite these and other efforts, Ukraine's President has not moved to ratify the Convention. [HRW]
Other COE Member States have also stalled or rejected ratification of the treaty. In May 2020, the Hungarian legislature refused to ratify the Istanbul Convention, objecting to its definition of gender as "socially constructed." [Guardian] Latvia's Constitutional Court is examining the Istanbul Convention's compatibility with the country's constitution, following delays in its ratification. [Baltic News Network] Bulgaria's Constitutional Court held, in 2018, that the Convention was not compatible with its domestic legislation with regard to the definition of gender, and Bulgaria has not ratified the treaty. [NYT: Poland] The United Nations Special Rapporteur on violence against women described Bulgaria's interpretation of the Convention's definition of gender as a "misinterpretation" and urged it to reconsider. [OHCHR Press Release] Slovakia's legislature, in November 2019, also rejected ratification of the Convention. [COE Newsroom: Slovak Republic] The COE Commissioner for Human Rights has recently urged Moldova to proceed with its stalled ratification process. [COE Press Release]
Some COE and European Union (EU) Member States have also opposed the EU's accession to the Istanbul Convention, although the EU itself has urged its members to ratify the treaty. See European Parliament, EU Accession to the Istanbul Convention; European Women's Lobby, EU Accession to the Istanbul Convention.
Possible Withdrawals from the Istanbul Convention
In Poland, tens of thousands of protesters have taken to the streets following a government minister's announcement that the State was planning to withdraw from the Istanbul Convention. [DW; NYT: Poland] In Poland and elsewhere, conservative politicians have described the Convention as endangering the traditional family. [DW] COE Secretary General Marija Pejčinović Burić has said that these characterizations are erroneous and that the government's withdrawal "would be highly regrettable and a major step backwards in the protection of women against violence in Europe." [COE Newsroom] Amnesty International has reported that the push to withdraw from the Istanbul Convention is part of a "profound contempt for the rights of women, girls and LGBTI people" on the part of the ruling party and its supporters. [Amnesty: Poland] The COE Congress Spokesperson on Gender Equality referred to "retrogressive tendencies" in several COE countries and described efforts to withdraw or resist ratification as "worrying" and "a serious setback for women's rights." [COE Newsroom: Drenjanin]
In Turkey, the Justice and Development Party (AKP) is pushing for the country's withdrawal from the Istanbul Convention, following protests against domestic violence in the wake of the killing of Pinar Gultekin in July and a significant increase in femicides in recent years. [CNN; Al Jazeera] Civil society groups have organized protests against the possible withdrawal from the Istanbul Convention, pointing to the high level of gender-based violence in the country. [Amnesty: Turkey; BalkanInsight] Advocates' efforts garnered international attention, although some have argued their message has been co-opted or diluted. [KQED]
The Istanbul Convention was opened for signatures in 2011 in Turkey, which was among its first signatories, in part due to scrutiny related to a 2009 European Court of Human Rights judgment against the country for its inadequate response to domestic violence (under the separate European Convention on Human Rights, in the case of Opuz v. Turkey). [CNN] Some authorities and conservative groups have argued, without evidence, that the Istanbul Convention harms men and families. [BalkanInsight] Amnesty International has stated that withdrawal would have "disastrous consequences for millions of women and girls." [Amnesty: Turkey] The Turkish government is expected to decide this month whether to withdraw.
Reports also indicate that both Croatia and Serbia may be considering withdrawing from the Istanbul Convention. [CNN] 
COVID-19 and Violence against Women
Around the world, shelter-in-place orders and other efforts to stop the spread of COVID-19 have resulted in an increase in domestic violence. [NYT: Domestic Violence; Devex] For example, in the Central African Republic, recent weeks have seen a 69 percent increase in reported injuries to children and women. [UNDP] In El Salvador, there was a 70 percent increase in requests for gender-based violence support services. [International Rescue Committee Press Release] In the United Kingdom, calls to a national domestic violence organization increased 97 percent during the pandemic. [UN]
As Caroline Bettinger-Lopez and Alexandra Bro have written, marginalized populations seem to be the most impacted, and the pandemic brings both urgency and visibility to the crisis of domestic violence. [Council on Foreign Relations]
Since the beginning of the pandemic, human rights bodies and intergovernmental organizations have recognized the risks to women posed by lockdowns and have urged States to act proactively. See UN Women, COVID-19 and Ending Violence Against Women and Girls. These responses and guidance are listed in the Gender-based violence and women's rights section of IJRC's webpage on COVID-19 Guidance from Supranational Human Rights Bodies.
Additional Information
See the IJRC Online Resource Hub for country factsheets on European States' human rights obligations, and an overview of the human rights of women. To stay up-to-date on international human rights news, visit IJRC's News Room or subscribe to the IJRC Daily.