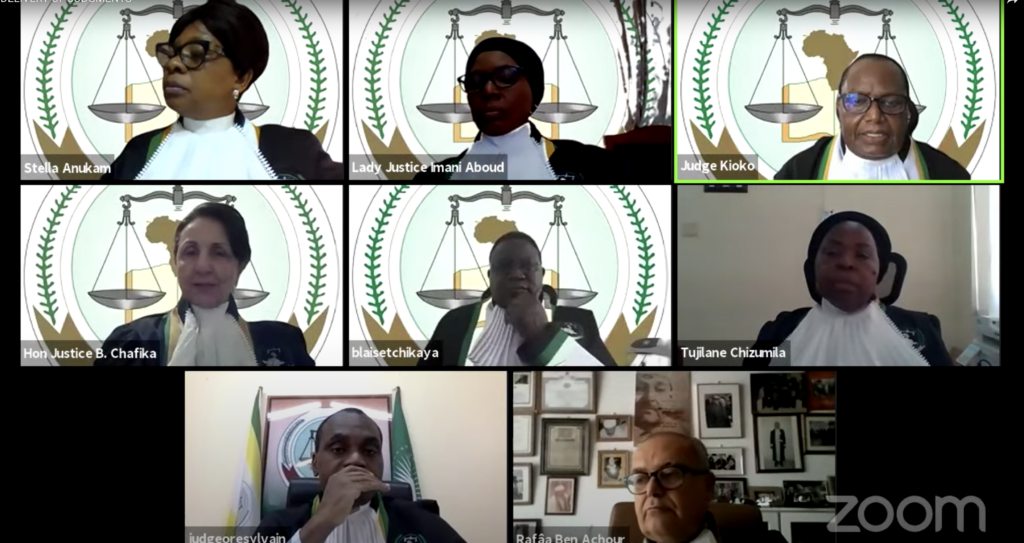 On December 4, 2020, the African Court on Human and Peoples' Rights (AfCHPR) published and delivered an advisory opinion declaring national laws that criminalize vagrancy to be incompatible with human rights standards. [AfCHPR Press Release] The opinion concludes that laws that essentially criminalize homelessness, poverty, or unemployment are overly broad and allow for abuse. The Court held that such laws punish individuals for their status rather than their actions, are a discriminatory and disproportionate State response, and violate numerous human rights – including specific rights of children and women. See AfCHPR, Request for Advisory Opinion by the Pan African Lawyers Union (PALU) on the Compatibility of Vagrancy Laws with the African Charter on Human and Peoples' Rights and Other Human Rights Instruments Applicable in Africa, No. 001/2018, Advisory Opinion of 4 Dec. 2020.
At least 18 African States criminalize "vagrancy," while another eight or more penalize the state of being a "rogue" or "vagabond," and it is a criminal offense in three States to be idle and disorderly. See id. at para. 60. The Court declared that these States have an obligation to repeal or modify their laws in line with its opinion. The Pan African Lawyers Union (PALU), which submitted its request for the advisory opinion in 2018, welcomed the Court's ruling. 
Compatibility of Vagrancy Laws with African Human Rights Standards
The Court began its analysis by noting that "vagrancy" is a generic term referring to "the state or condition of wandering from place to place without a home, job or means of support." See AfCHPR, Advisory Opinion of 4 Dec. 2020, para. 57. The Court observed that at least eight African countries have repealed or nullified their vagrancy laws, and the ECOWAS Court of Justice held that the arrest of several women for being on the street at night was a violation of their human rights. See id. at paras. 61, 62.
The Court clearly and directly criticized vagrancy laws, describing them as "punish[ing] the poor and underprivileged, including but not limited to the homeless, the disabled, the gender-nonconforming, sex workers, hawkers, street vendors, and individuals who otherwise use public spaces to earn a living" despite the fact that such individuals "are already challenged in enjoying their other rights including…their socio-economic rights." See id. at para. 70. The Court further criticized these laws as using "vague, unclear and imprecise language" that does not allow individuals to understand what activity is prohibited and gives wide discretion to law enforcement, creating a situation ripe for abuse. See id. at para. 71. Moreover, because vagrancy does not, necessarily, involve any other criminal offense, arrests under vagrancy laws are "largely unnecessary" to prevent crime. See id. at para. 72.
The Court went on to conclude that vagrancy laws violate multiple provisions of the African Charter on Human and Peoples' Rights. First, with regard to discrimination and equal protection, the Court held that vagrancy laws allow different treatment of individuals based on their status, in violation of articles 2 and 3 of the Charter. See id. at paras. 64-75.
Noting that terms like "rogue" or "idle" are outdated, colonial, and dehumanizing, the Court concluded that "the application of vagrancy laws often deprives the underprivileged and marginalized of their dignity by unlawfully interfering with their efforts to maintain or build a decent life or to enjoy the lifestyle they pursue," which is incompatible with Article 5 (dignity) of the Charter. Further, it held that forcibly relocating individuals to other areas on the basis of vagrancy also violates their right to dignity, as do arrests without a warrant for vagrancy. See id. at paras. 76-82.
With regard to Article 6 (liberty and security) of the Charter, the Court held that the vagueness of vagrancy laws results in arbitrary arrests and detentions, in violation of the rights to liberty and security. See id. at paras. 83-87.
When authorities arrest individuals for vagrancy and require them to explain their situation and possible criminal activity, this violates the presumption of innocence and is incompatible with Article 7 (fair trial) of the Charter. See id. at paras. 88-94.
Drawing on the International Covenant on Civil and Political Rights, the Court affirmed that restrictions on freedom of movement must be provided by law and necessary to protect national security, public order, public health, or the rights of others. Because the Court found vagrancy laws not to be necessary for any of their purported purposes, particularly where other policy alternatives exist, it held that they violate Article 12 (freedom of movement) of the Charter, including when applied to force individuals to relocate. See id. at paras. 95-102
The Court held that Article 18 (protection of the family) is violated when authorities arrest, detain, or forcibly relocate individuals pursuant to vagrancy laws. This is because such laws violate the Charter (and, therefore, cannot be the basis of a legitimate law enforcement action) and may separate families or deprive family members of financial or emotional support. See id. at paras. 103-07.
Turning to the African Charter on the Rights and Welfare of the Child, the Court held that enforcement of vagrancy laws violates children's rights to non-discrimination and a fair trial, and is incompatible with the best interests of the child. See id. at paras. 112-28.
With regard to the Protocol to the African Charter on Human and Peoples' Rights (Maputo Protocol), the Court held that vagrancy laws violate Article 24, to the extent that they allow the arrest without a warrant of women considered to have "'no means of subsistence'" or who "'cannot give a satisfactory account'" of themselves. Article 24 requires States parties to "to ensure the protection of poor women and women heads of families, including women from marginalised groups, and provide an environment suitable to their condition and their special physical, economic and social needs." See id. at paras. 135-40.
State Obligations to Repeal or Amend Vagrancy Laws
The Court noted that States have obligations to to take measures to give full effect to the rights protected by African human rights instruments. See id. At paras. 149-51. Given its above conclusions, the AfCHPR held that States parties must "either amend or repeal their vagrancy-laws and by-laws to bring them into conformity with these instruments." See id. at paras 153-54.
AfCHPR's Advisory Jurisdiction
The Court has issued few advisory opinions. In many instances, it has rejected requests for advisory opinions because the requesting entity lacked the necessary status or because the request related to a matter pending before the African Commission on Human and Peoples' Rights. See, e.g., AfCHPR, Request for Advisory Opinion by the Centre for Human Rights of the University of Pretoria and the Coalition of African Lesbians, No. 002/2015, Advisory Opinion of 28 Sept. 2017; Request for Advisory Opinion by Pan African Lawyers' Union and Southern African Litigation Center, No. 002/2012, Order of 15 Mar. 2013. The AfCHPR has jurisdiction to deliver advisory opinions at the request of African Union (AU) Member States, the AU itself or any of its organs, or "any African organisation recognised by the AU." See AfCHPR Rules of Court (2020), art. 82(1).
In this instance, the Court held it could deliver the opinion requested by PALU because PALU is registered in Tanzania, carries out activities at the regional level, and has a memorandum of understanding with the AU – which "is an accepted way by which the AU recognises non-governmental organisations." See AfCHPR, Advisory Opinion of 4 Dec. 2020, paras. 23-25.
Additional Information
For more information on the African human rights system, visit IJRC's Online Resource Hub. See our thematic research guides for explanations of economic, social, and cultural rights; women's rights; and, children's rights under international human rights law. For an overview of African countries' human rights obligations, use IJRC's country factsheets. To stay up-to-date on international human rights news, visit IJRC's News Room or subscribe to the IJRC Daily.