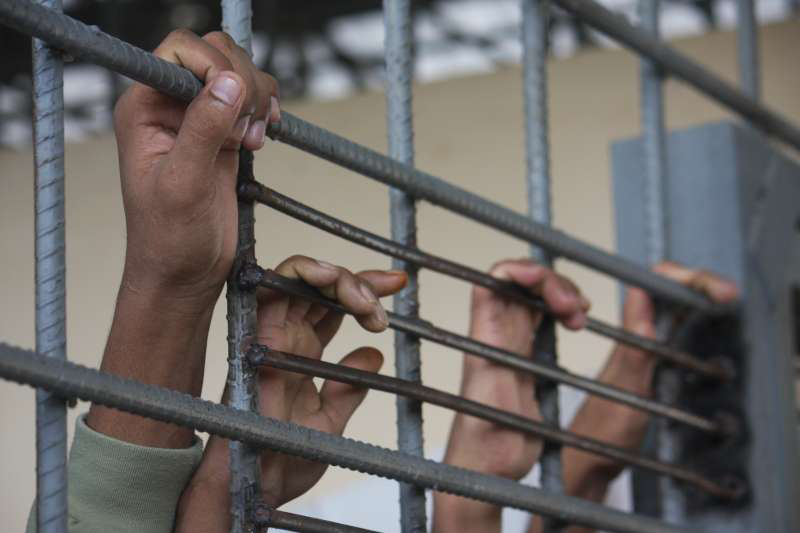 A recent report from the Independent International Commission of Inquiry on the Syrian Arab Republic (COI) has revealed that all sides to the conflict in Syria have subjected those captured, kidnapped, or arrested to violence and rights abuses that amount to war crimes and crimes against humanity. See UN Human Rights Council, Out of Sight, Out of Mind: Deaths in Detention in the Syrian Arab Republic, UN Doc. A/HRC/31/CRP.1, 3 February 2016 [hereinafter Deaths in Detention]. The report details the killings, arbitrary detentions, and torture committed within both State detention centers and anti-government groups' detention centers between March 2011 and November 2015. Id. at para. 2.
According to the COI Chair, Paulo Sérgio Pinheiro:
Nearly every surviving detainee has emerged from custody having suffered unimaginable abuses. For ordinary Syrians, the spectre of arrest or abduction, and the near-inevitable horrors that follow, have paralysed communities across the country.
The COI relied on hundreds of interviews with former detainees and with family members of detainees who were killed while in detention. Deaths in Detention, para. 2. The experts estimate that tens of thousands of people are detained in government detention centers. See id. at para. 4. While the State is responsible for the bulk of detainee abuses, anti-government groups including the Islamic State of Iraq and Al-Sham (ISIS) and Jabhat Al-Nusra have also held civilians and soldiers for prolonged periods of time in makeshift detention centers, where they have tortured and executed detainees. Id. at para. 5.
The COI determined that both the State and anti-government groups have violated international human rights law and international humanitarian law by intentionally housing detainees in life-threatening conditions, engaging in torture, and committing extrajudicial killings. See id. at paras. 98, 103. By identifying the government agencies and individuals responsible for detainees, and by pointing to evidence of their knowledge of these abuses, the COI clearly signals where it believes accountability lies. See id. at paras. 40-64. The report recommends that all groups cease these practices, and calls on the UN Security Council to impose sanctions against both State and anti-government groups and representatives and to refer the situation to the International Criminal Court or other tribunal. See id. at paras. 106-07, 109.
Documented Abuses
State-controlled detention centers
According to the report, the Syrian government has engaged in mass, arbitrary arrests and detention of civilians since March 2011. Id. at para. 17. The State often arrests civilians who allegedly support the opposition or who failed to demonstrate a sufficient level of loyalty to the government. Id. at para. 18. The government has also arbitrarily arrested and detained civilians who are suspected of having taken an active part in armed hostilities, activists, defectors, and relatives of persons suspected of activity in armed groups. Id.
Former detainees interviewed for the report revealed that many detainees were beaten to death during interrogations or died due to injuries sustained through torture. Id. at para. 21. The report also notes that a large number of deaths are due to the inhuman conditions in which detainees are forced to live, including unhygienic conditions that result in the spread of diseases and infections. See id. at para. 26. Severe crowding, lack of food, unclean water, and inadequate medical care have also resulted in deaths. Id. at para 21. Further, detainees are regularly denied adequate medical treatment for treatable conditions that become fatal. Id. at para. 29.
While the majority of those detained are men, there are documented cases of women and children who have perished in the detention centers while in the custody of the State. Id.at para. 22. There are also reports of rape and other sexual violence against detainees in government controlled detention centers. Id. at para. 32.
The report found that a majority of the deaths recorded in the report occurred in detention centers controlled by Syrian intelligence services and that the centers under the control of Military Security had the highest number of documented deaths. See id. at paras. 36-37. Although the army units and security agencies are responsible for the detentions, torture, and deaths, military hospitals and judiciary institutions also play a role by failing to investigate, prevent, or provide information on deaths. See id. at para. 40. The COI concluded that the State violates the right to life by failing to investigate the deaths of individuals in its custody. Id. at para. 46.
Anti-government detention centers
The report also addressed the killings, torture, and other human rights violations in detention centers controlled by anti-government groups. However, due to the constant reorganization and merging of various rebel groups throughout the State, tracking make-shift detention centers and documenting offenses proved difficult. Id. at para.66. The COI did not record evidence of anti-government groups engaging in a consistent practice of mass arrests or arbitrary detentions. See id. at para.65. The COI did find that government soldiers and fighters of rival rebel groups appear to make up the majority of those killed or tortured in detention centers run by anti-government forces. See id. at para. 65.
The COI documented the Jabhat Al-Nusra's use of detention centers to detain men, women, and captured soldiers. Id. at para. 71. In concert with other anti-government forces, Jabhat Al-Nusra has engaged in mass executions of captured government soldiers. Id. at para. 73. Further, the group has established makeshift Sharia courts where fair trial standards are not utilized, resulting in numerous cases of summary executions. Id. at para. 72.
ISIS has also established several detention centers within the territory under its control. Id. at para. 75. Journalists, activists, government soldiers, and civilians who oppose ISIS have died in the detention centers run by ISIS. See id. at paras. 75-79. ISIS has established unauthorized courts and engaged in the execution of individuals who received death sentences from the unauthorized courts. See id. at para. 79.
The report also details ISIS responsibility for massacres of government soldiers and public executions. See id. at para. 80.
Violations of International Law
The report concludes that the State and the anti-government groups have violated international human rights and humanitarian law standards. According to the COI, all sides' treatment of detainees has violated the human rights to life, due process, freedom from torture, and liberty. See id. at paras. 84-86, 101, 103.
Using the definitions found in the Rome Statute of the International Criminal Court, the COI concluded that the State and anti-government groups both committed crimes against humanity and war crimes including murder, cruel treatment, and torture. Id. at paras. 12, 98, 103. The report also finds the State responsible for the crimes against humanity of rape or other forms of sexual violence. Id. at para. 98. Because it intentionally kept detainees in conditions likely to lead to mass deaths, the Syrian government may be responsible for the crime against humanity of extermination. Id. at para. 97.
The COI also found that the State had violated Article 3 of the Geneva Conventions by committing murder, summary executions, torture, and rape of detainees in a non-international armed conflict. See id. at para. 87.
Syria's Legal Obligations
Syria is a State party to several international conventions that prohibit killings, enforced disappearance, and torture of detainees. See id. at para 14. A few of these conventions include the International Covenant on Civil and Political Rights, the Convention against Torture and Other Cruel, Inhuman or Degrading Treatment, and the Arab Charter on Human Rights. See id.
Further, Syria is a State party to the 1949 Geneva Conventions, which apply in times of armed conflict and, under common Article 3, outlaw the passing of judgment, murder, torture, and execution without due process. See Geneva Convention (IV) Relative to the Protection of Civilian Persons in Time of War (adopted 12 August 1949, entered into force 21 October 1950), 75 UNTS 287. The obligations found under Article 3 of the Geneva Conventions "are binding on all non-State armed groups and State agents taking part in hostilities." Deaths in Detention, at para. 11.
The Syrian Constitution and criminal code prohibit torture and arbitrary detention, respectively. Id. at paras. 15-16. However, the COI is concerned that the criminal code fails both to provide an adequate definition of ill treatment and to provide appropriate penalties for violations of the code. See id.
While due process guarantees and the prohibition of arbitrary detention are provided for in the Syrian Constitution, the Syrian criminal system fails to uphold international human rights standards. See id. at para. 16. In particular, the right to habeas corpus is consistently denied to detainees and unjust trials take place in secret, upholding death sentences. Id.
The COI's Recommendations
In concluding its report, the COI made several recommendations on specific actions the Syrian government, the anti-government groups, the international community, and the UN Security Council should take. See id. at paras. 106-111. The COI called on the Syrian government to release individuals who were arbitrarily detained and to cease executions. Id. at para 106. The COI called on the UN Security Council to adopt sanctions against groups and individuals suspected of involvement in the killings, torture, and forced disappearance of Syrian detainees. Id. at para 109. The COI also recommended that the Security Council refer the case to the International Criminal Court or another judicial mechanism. Id.
United Nations Focus on the Conflict
In 2011, the United Nations Human Rights Council established the Commission of Inquiry on Syria, a four-person panel of independent experts, to "investigate all alleged violations of international human rights law since March 2011" in Syria, including by identifying the facts and individuals responsible "with a view to ensuring that perpetrators of violations, including those that may constitute crimes against humanity" are held accountable." UN Human Rights Council, Resolution S-17/1, Situation of human rights in the Syrian Arab Republic, Un Doc. A/HRC/RES/S-17/1, 22-23 August 2011.
The UN Security Council has previously addressed the human rights violations linked to the Syrian armed conflict in Resolution 2191 issued in 2014. The resolution demanded that the State and anti-government groups cease the practice of torture, extrajudicial executions, and forced disappearances. See Deaths in Detention, para. 13. However, the parties involved have neither met these demands nor amended their policies to avoid violations of international law. See id.
Additional Information
For more information about the UN human rights mechanisms, International criminal law, or International humanitarian law, visit IJRC's Online Resource Hub.