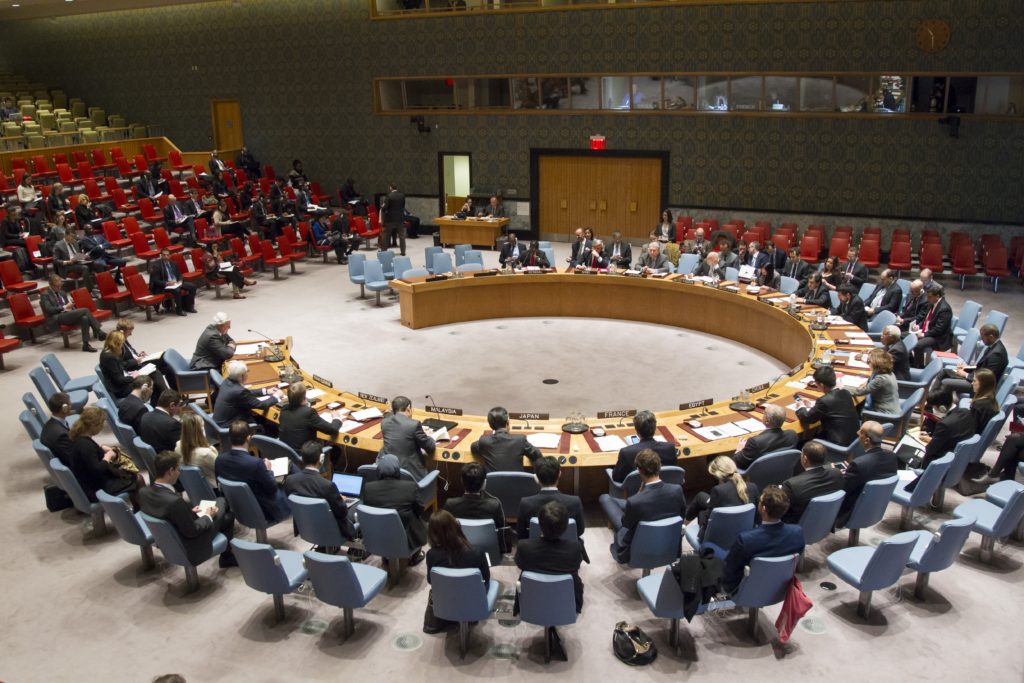 Germany recently began its first prosecution for alleged war crimes in Syria, joining the several States and private actors seeking accountability for atrocities committed in the ongoing conflict in Syria. [The New Arab] Despite the lack of a final peace agreement, human rights experts are encouraging State governments to take steps to bring to justice those responsible for war crimes and crimes against humanity through domestic trials, such as the one that just commenced in Germany, or before an international court, such as the International Criminal Court or a special tribunal. [BBC; Reuters] Additionally, other entities have been actively collecting evidence of international crimes for any future trials that may take place, which may prove helpful to local prosecutors taking on cases such as the one in Germany. [New Yorker; Fox News] While political and practical challenges could continue to impede a referral to the ICC or creation of a special tribunal, these trials and documentation efforts demonstrate progress towards accountability.
National Courts Investigating and Prosecuting War Crimes
German prosecutors have initiated their first trial related to alleged war crimes committed in Syria. [Telegraph] The accused, Aria Ladjedvardi, is a 21-year-old German national charged with inflicting degrading and humiliating treatment, in violation of international humanitarian law, based on a photograph of him and other jihadist fighters with the severed heads of victims. [Deutsche Welle] Although Ladjedvardi concedes that he was in the picture and that he received weapons training while in Syria in 2014, he alleges that he did not have contact with jihadists and was forced to be in the photograph. [Telegraph]
Germany has nine other ongoing investigations linked to Syria and Iraq currently being examined by a federal prosecutor. [The New Arab] Two other war crimes suspects, Ibrahim al-F. and Suliman A.S., are under investigation in Germany. [The New Arab] Ibrahim al-F. is accused of being a leader of an Islamist rebel group that kidnapped and tortured Aleppo civilians, and Suliman A.S. is accused of kidnapping a United Nations soldier. [Telegraph] In addition, the federal prosecutor is pursuing 30 cases against former jihadists regarding their membership in terrorist groups. [The New Arab] The influx of refugees in the country has brought with it victims, witnesses, and, in some cases, suspects of war crimes. [Telegraph] Last year over 1.1 million asylum seekers entered the country, 40% of whom were fleeing Syria and Iraq. [Telegraph] The applications, which include a form asking whether the applicant has witnessed war crimes, contribute evidentiary leads for prosecution. [The New Arab]
France has also initiated investigations into individuals suspected of atrocities in Syria. [Lawfare] On September 30, 2015, the Paris prosecutor's office announced that it would investigate allegations of torture by Assad's regime. [Lawfare]
This is not the first time that European countries have exercised universal jurisdiction in the wake of international crimes, particularly where refugees brought the issues home. [The New Arab] Several European nations developed police forces to investigate the situation in the Balkans during the early 1990s war in Yugoslavia. [The New Arab] German prosecutors also pursued justice for massacres in the Great Lakes Region of Africa. [The New Arab] These efforts were met with mixed success and jurisdiction remains a challenge in pursuing accountability through foreign national courts. [The New Arab]
Call for International Justice
The Commission of Inquiry on Syria, an independent body established by the Human Rights Council to investigate all alleged violations of international human rights law in Syria since March 2011, has stated that it would like the Security Council to refer the situation in Syria to the ICC. [The Guardian: Special Tribunal] Because Syria is not a party to the Rome Statute, the ICC can only gain jurisdiction through a Security Council referral or if Syria accepts its jurisdiction. See International Criminal Court, Jurisdiction and Admissibility. However, the Commission of Inquiry has recognized the barriers to initiating prosecutions at this time. [The Guardian: Special Tribunal] The French-proposed referral has not been approved by the Security Council due to the objections of Russia and China. [UN Press Release; Opinio Juris: ICC] While the Security Council has expressed the need for investigation, particularly regarding the use of chemical weapons, it has not been able to refer the situation to the ICC. See, e.g., UN Security Council, Resolution 2235, UN Doc. S/RES/2235, 7 August 2015.
Others have recommended the situation be addressed through an ad hoc tribunal, like the International Criminal Tribunal for Yugoslavia, or a hybrid international criminal court similar to the Special Court for Sierra Leone. [The Guardian: Special Tribunal; Opinio Juris: Tribunal] Proponents suggest that a tribunal would be faster and more efficient and have the capacity to try larger numbers of perpetrators. [The Guardian: Special Tribunal; Opinio Juris: Tribunal] In March 2016, the United States House of Representatives overwhelmingly passed a resolution recommending that the U.S. representative at the UN promote the establishment of an ad hoc tribunal capable of holding accountable all parties to the Syrian conflict. [Opinio Juris: Tribunal]
Evidence Gathering
Despite the jurisdictional limitations that have stalled prosecution of war crimes and crimes against humanity committed in the Syria conflict, non-governmental actors are preparing for future litigation by collecting and preserving evidence. [New Yorker; Fox News] Organizations, such as the Commission for International Justice and Accountability (CIJA), have been able to obtain documentary evidence – particularly of crimes committed by the al-Assad regime – the midst of the conflict. [Justice in Conflict] The group has made several trips within Syria to smuggle out government records. [The Guardian: Smugglers] Private individuals have also become a key source of evidence. Syrian activists, many of them victims of international crimes themselves, have also been collecting data on the number of deaths and detentions, as well as video and photo evidence of violence and torture. [Fox News] A defector, code named Ceasar, has provided a significant portion of the evidence underlying French investigations. [Lawfare] He smuggled out thousands of pictures he took as a military photographer. [Lawfare]
These private actors are collecting evidence that foreign governments likely would not otherwise have access to and which may support the eventual prosecution of high-level officials, but there is some question whether tribunals will allow the documents into evidence. [Justice in Conflict] CIJA has stated that it does at times have to cooperate with perpetrators in order to gain access to crime scenes, possibly risking the impartiality of the evidence they gather. [Justice in Conflict] Given the circumstances, some jurists wonder whether the chain of custody and means of gathering evidence conform to international norms. [Justice in Conflict] However, CIJA's documentation has been praised for its scope and significance. [New Yorker]
Additional Information
For more information on the International Criminal Court, international or hybrid tribunals, or prior news posts on the Syrian refugee crisis, visit IJRC's Online Resource Hub.