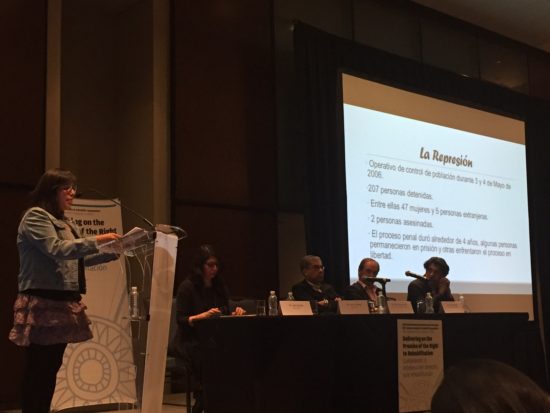 The International Rehabilitation Council for Torture Victims (IRCT) held a symposium in Mexico City last week entitled Delivering on the Promise of the Right to Rehabilitation that brought together over 300 people, including clinical professionals, lawyers, researchers, and policymakers, from around the world to discuss rehabilitation of torture survivors. [IRCT Press Release] The IRCT is a membership-based organization consisting of more than 150 organizations and is focused on ensuring rehabilitation services are available for torture victims and on defining what those services should entail. See IRCT, About the IRCT. To this end, the IRCT aims to hold symposiums every three years so that those working on rehabilitation may share their developments and together create new ideas. [IRCT Press Release] Under Article 14 of the Convention against Torture and Other Cruel, Inhuman or Degrading Treatment or Punishment, victims of torture have a right to "as full rehabilitation as possible."
The symposium lasted three days in Mexico City with plenary sessions each day, as well as concurrent breakout sessions on particular topics in the morning and afternoon. The subjects addressed ranged from dance and movement therapy to the use of evidence and support to victims in trials. This post will discuss select conversations in both the plenary and breakout sessions. Throughout the symposium, speakers and attendees focused on the need for agreed-upon global standards on rehabilitation and the need to put the survivors at the center of any approach. At the General Assembly following the symposium, IRCT members adopted the "Mexico Consensus," a set of standards intended to guide States in providing rehabilitation services.
The agenda can be viewed on the symposium's webpage, and the recordings of each session should be posted on IRCT's YouTube channel.
Plenary Sessions: Barriers to Rehabilitation and Survivor Participation in Research and Planning
The plenary sessions heard from speakers such as Professor Derrick Silove from the University of New South Wales; Italia Mendez and Norma Jimenez, both survivors of sexual torture and women of Atenco; and Professor Carlos Beristain of Universitat Autònoma de Barcelona.
Starting off the symposium on December 5, 2016, Derrick Silove spoke about the barriers to support for rehabilitation services, the effects of trauma, and the need for an agreed-upon model of rehabilitation. Rehabilitation for torture, which is normalized through television and other media, Silove said, is low priority in terms of funding in the health sector, due in part to prejudices against mental healthcare. Accordingly, not all counselors trained in trauma therapy use it as a core intervention, and in some instances, such as brief trauma focused therapy, the services provided are not personalized and do not address human rights issues and community cohesion.
Adequate trauma counseling is important, Silove noted, because mass conflict and human rights abuses undermine an individual's "pillars of stability," safety, attachment, justice, identity, and coherence. Injustice may result in chronic anger. Therefore, Silove ended his remarks calling on the community before him to collaborate and settle on a model for rehabilitation that speaks to donors and policymakers.
Norma Jimenez and Italia Mendez, both survivors of sexual torture, discussed the importance of giving the tools for rehabilitation to survivors, families, and communities. In their own experience working with fellow survivors, they were able to create a space for solidarity and for individuals to talk about things that are otherwise stigmatized, such as fear. Individuals, they said, know when a method of rehabilitation is not effective for them, and organizations should be careful of pushing their own agenda without feedback from survivors.
Carlos Beristain discussed his twelve lessons learned from his work, focusing on the need for victims to be at the center of rehabilitation approaches. Beristain emphasized that victims need to be active in the process of rehabilitation, leaving room for them to dictate the boundaries and methods of services. Additionally, he said that understanding the larger context both in terms of the incident and the cultural background are needed to understand a survivor's experience and coping methods.
Service providers, Beristain said, need to be aware of the implications for a victim when sharing their experiences. For instance, he gave the example of a woman who testified before the Inter-American Commission on Human Rights and later decided she did not want her case to move forward within the Inter-American system of human rights. After she provided her testimony, no one accompanied her home or asked how she was, and she said she lost hope after that experience.
Obstacles to Providing Services to Survivors of Guantanamo Bay
In an afternoon breakout session, Mitch Robinson and Alka Pradhan both from the United States Department of Defense's Military Commissions Defense Organization, Jess Ghannam from University of California San Francisco, and Katie Taylor from Reprieve discussed the ongoing torture for current and former detainees of Guantanamo Bay.
Jess Ghannam and Katie Taylor both discussed the ways that Guantanamo detainees continue to face obstacles to rehabilitation either within Guantanamo or after release. Ghannam started out the discussion focusing on the need to provide detainees with appropriate medical care and provided examples of the failure to diagnose, treat, and rehabilitate detainees. In one instance, a detainee has waited ten years for treatment for rectal bleeding, and the same detainee despite being recommended for an MRI has yet to receive it. Taylor described how torture in Guantanamo affects former detainees' ability to engage with the outside world, including mistrust of medical personnel and others.
Mitch Robinson, after a brief description of international law, posed four concluding asks of civil society and the international community. He asked that the international community make pronouncements that denial of rehabilitation is torture under international law, that the international community develop a guide on how to rehabilitate a survivor of torture as tailored to the individual, that other States or the European Union intervene or hold debates within their own political structures on the use of torture in Guantanamo Bay, and that the international community discuss these issues in terms of personal responsibility and accountability.
Alka Pradhan talked about what she believes to be the two main obstacles to rehabilitation at Guantanamo Bay – viewing detainees' statements as propaganda and the propagandized use of torture. The United States, Pradhan said, has argued that declassified statements made by detainees are propaganda; with this argument, the United States attorneys are attempting to prevent the statements from becoming public. At the same time, Pradhan commented, within the United States the use of torture has been normalized through propaganda in books and fake news.
Advocacy Contexts and Approaches
A panel that included Asger Kjaerum of IRCT, Uju Agamoh of PRAWA, and Annah Moyo of the Centre for the Study of Violence and Reconciliation discussed the realities of securing the right to rehabilitation in different contexts around the world.
Notably, Uju Agamoh discussed her experience using the Universal Periodic Review (UPR) process, a United Nations peer review mechanism on human rights, in securing the right to rehabilitation. Agamoh noted that the UPR process encouraged coalition building, presented new opportunities for funding, increased awareness of particular issues, and pushed Nigeria to follow through on reforms according to the recommendations made in the UPR process. With regards to funding opportunities, Agamoh said, if another UN Member State made a recommendation to Nigeria during the UPR process, that State was more likely to fund the civil society movement pushing for implementation of their recommendation.
Gender-based Violence and Torture
The symposium hosted several sessions on gender-based violence and torture with panels that included speakers such as Yvette Aiello from STARTTS, Kitwe Mulunda Guy from Save Congo, Nora Sveaass from the University of Oslo, Dieynaba Ndoye from CAPREC, and Sahika Yuksel from the Turkish Human Rights Foundation, among others. Notably, Yvette Aiello discussed the benefits of group therapy with male survivors of sexual torture, which included fostering increased confidence in the men, and Kitwe Mulunda Guy discussed working with the families of perpetrators in the Congo to change their beliefs that raping women would protect them.
Nora Sveaass described the development and use of a training manual for working with survivors of sexual violence and torture. The manual, she said, is based on a human rights perspective and includes information for the trainer and what to say to trainees. Sveaass directed attendees to the Health and Human Rights Info website to find the manual.
Use of Evidence and Support to Victims in Trials
A panel on the use of evidence and support to victims during trials included speakers such as Ruth Vargas-Forman from Centro de Investigacion y Defensa SUR and Nushin Sarkarati from the Center for Justice and Accountability. Ruth Vargas-Forman described to attendees the Mapuche leader case before the Inter-American Court of Human Rights, which required evaluations of victims to establish psycho-social effects that the convictions under the anti-terrorism laws had on the leaders, their families, and the community. The judgment verified those effects and established that all States must apply international standards in litigation involving anti-terrorism charges.
Nushin Sarkarati discussed the use of victim impact hearings in international criminal trials. The hearings help establish reparations and show the gravity of the crimes. However, Sarkarati pointed out that there is an emphasis on the victim to identify their own mental harm, confusion on the science of trauma, no effort to close proceedings when a victim is testifying, and limited understanding of the foundation behind expert conclusions. Sarkarati proposed that clinical experts should appear in court, expert reports should be introduced in advance, and attorneys should always request victim impact hearings.
Challenges in Prisons and Migration Settings
Valeria Moscoso from Comisión Mexicana de Defensa y Promoción de los Derechos Humanos, Vera Vital-Brasil from Clinicas do Testemunho da Comissao de Anistia, and Camelia Doru of ICAR Foundation discussed challenges to rehabilitation in prisons and migration settings. Valeria Moscoso commented on the impact a negative court ruling can have on a survivor, finding it worsens the impact of the torture, and the impact of torture on family members, which is similar to the impact on the survivors. She emphasized that we need to understand the impact legal proceedings can have on survivors and that it can lead to additional human rights violations. Similarly, Vera Vital-Brasil emphasized the role impunity has in affecting health.
In the context of Romania, Camelia Doru discussed her findings after interviewing several survivors. She pointed out that they all saw survival in different contexts. Some viewed survival as isolation or ongoing persecution, and others viewed it as an opportunity to speak freely and be heard.
Additional Information
For additional information on the Inter-American human rights system, international criminal law, torture under international human rights law, or other developments on the right to rehabilitation, visit IJRC's Online Resource Hub.