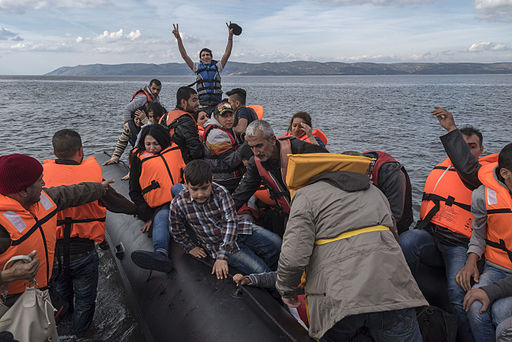 In 2016, more than 65 million people were estimated to be refugees or internally displaced persons  – the highest number in history. [World Economic Forum] Many of the migrants who are fleeing their countries are unable to permanently resettle for a number of reasons, including the global underfunding of refugee support programs and national policies motivated by Islamophobia or isolationism. See Amnesty International, Refugees & Asylum. [Slate] Migrants face dangerous conditions and human rights abuses both during travel and once they reach host countries. Thousands of migrants have drowned while attempting to reach Europe by sea and the conditions of detention in more common refugee destinations may include overcrowding and a failure to provide basic necessities. [Independent; Human Rights Watch; Amnesty International]
Moreover, recent measures enacted by some governments are perpetuating Islamophobia and complicating travel or resettlement for those from Muslim-majority countries. [New York Times: Muslim; IJRC: Protests] An executive order recently implemented in the United States specifically targets migrants and refugees from certain Muslim-majority countries, temporarily prohibiting their entry into the United States. [IJRC: Protests]  The International Justice Resource Center, together with the American Civil Liberties Union (ACLU) and with the support of dozens of other organizations, yesterday submitted a letter to the Inter-American Commission on Human Rights asking it to review this order in a public hearing. Migrants and refugees are protected against discrimination, among other human rights violations, under international law.
Overview of the Refugee Crisis
The conflict in Syria has been the largest contributor to the refugee crisis, as an estimated 11 million people have left their homes since the start of the nation's civil war in 2011. See EU, Syrian Refugees. However, Syrians account for only a third of the world's current refugees – defined as someone outside their country of origin who is unable to return due to a well-founded fear of persecution based on race, religion, nationality, political opinion, or membership in a particular social group. See UNHCR, Syrian Refugees; IJRC, Asylum & the Rights of Refugees. Many of the remaining refugees are escaping conflict in other parts of the Middle East and Africa, including Afghanistan, Somalia, and South Sudan. See UNHCR, Global Trends: Forced Displacement in 2015 (2016). While many migrants are traveling from the Middle East to Europe and North America, others are traveling entirely within the African continent to escape domestic circumstances wholly independent from the conflict in the Middle East. See UNHCR, Situations; UNHCR, Africa.
This surge of migrants has pushed neighboring countries to their limits. As people flee violence and unrest, they often turn to the nearest stable country for relief. [24/7 Wall St.] The countries producing and receiving refugees are geographically concentrated, such that in 2016, 10 of the world's poorest nations hosted more than half of the global refugee population. [Al Jazeera: Hosts] Because these countries can accept only a certain number of newcomers due to their limited resources, wealthier nations have been urged to accept more refugees. [Al Jazeera: Hosts]
Current Trends in Refugee Migration
Europe
Many people fleeing their homes attempt to reach certain European countries by crossing the Mediterranean Sea. This has become a dangerous route, with at least 5,000 migrants dying on the Mediterranean in 2016 and at least 254 dead or missing so far in 2017. [Al Jazeera: Mediterranean] See UNHCR, Mediterranean. Moreover, Europe is unable to grant a significant portion of its asylum applications due in part to a backlog of applications and to bad policy. [Eurostat; Amnesty International; Guardian: Eritrea] As a result, those seeking asylum in Europe are living in refugee camps as they await the processing of their applications, often in crowded and unclean conditions. [Amnesty International] With increased pressure within the European Union to reduce African migration, States such as the United Kingdom have downplayed the dire human rights situations in Africa in order to reduce the number of asylum seekers, and the EU has also worked to block channels of travel into Europe by sea. [The Guardian: Crackdown]
Africa
Africa has been labeled the region "most affected" by the refugee crisis, and regional conflicts and political instability have exacerbated the situation. [Africa Renewal] For example, government officials have been perpetrating crimes against humanity in Eritrea for decades, leading many to flee or attempt to flee the country. [IJRC: Eritrea]
However, while some African States are generating refugees, others are accepting them in large numbers. In 2016, five of the top 10 major refugee-hosting countries were in Africa – Ethiopia, Kenya, Uganda, Democratic Republic of Congo, and Chad. [Mail & Guardian Africa] Ethiopia in particular has been praised for its open-door policy. [Africa Renewal]
Americas
In the fiscal year 2016, approximately 85,000 refugees entered the United States, with 38,901 of them being Muslim – the largest number in U.S. history. [Pew Research Center] In response to the United States' suspension of refugee resettlement earlier this year, Canadian Prime Minister Justin Trudeau pledged to accept refugees that are rejected by the United States. [PBS] However, Canadian Immigration Minister Ahmed Hussen has announced that Canada's immigration quotas will not be increased. [CBC News] Between November 2015 and early 2017, Canada resettled 39,671 refugees. See Government of Canada, #WelcomeRefugees: Key Figures.
Violence due to organized crime and armed conflict in the Americas has led to the displacement of millions of people, particularly in Central America. See UNHCR, Americas. The United States' recent suspension on refugee resettlement has, therefore, also affected children in the Americas who are fleeing gang violence and death threats in countries like El Salvador, Honduras, and Guatemala. [Guardian: Central America]
Asia
In the Asian and Pacific regions, there are roughly over three million refugees. Most of those refugees fled Myanmar or Afghanistan. See UNHCR, Asia and the Pacific. Rohingya Muslim refugees have largely fled to Bangladesh, where authorities are proposing to relocate them to an island that frequently floods. [Guardian: Rohingya] While many Rohingya Muslims have lived in Bangladesh for several years, in the last few months over 60,000 Rohingya refugees fled Myanmar – where the Rohingya face mass rape, violence, and death – and relocated to Bangladesh. [OHCHR Press Release; Guardian: Rohingya]
Recent Islamophobic Measures
Austria's Ban on Full-Face Veils in Public
Austria recently decided to ban the wearing of full-face veils in schools and courts, with the possibility of extending the ban to prohibit headscarves for those in public service positions. [The Guardian: Ban] These types of veils, such as the burqa and the niqab, are often worn by Muslim women for religious reasons. [IJRC: France; IJRC: S.A.S.] Austria's ban is expected to affect between 100 and 150 women. [The Guardian: Ban]
The new rule has been criticized as a "symbolic act" to appease the anti-Muslim right in Austria, rather than a well-intentioned method of addressing security concerns. [The Guardian: Reaction] Moreover, the ban has been called "ineffective" and "counter-productive," as it "conflat[es] religious conservatism and religious extremism," giving it the potential to confuse Austrians regarding the country's risk of terrorism. [The Guardian: Reaction] Austria joins a host of other European nations – including France, Belgium, and the Netherlands – that have implemented similar bans. [The Guardian: Ban]
The United States' Executive Order Suspending All Refugee Resettlement
On January 27, U.S. President Donald Trump signed an executive order suspending all refugee resettlement for 120 days, indefinitely suspending refugee resettlement of people from Syria, and banning entry into the United States of persons from seven targeted Muslim-majority countries for a period of 90 days. See IJRC, Letter Requesting an Emergency Hearing on U.S. Executive Order (Feb. 6, 2017).
Although the executive order does not explicitly target Muslims and ostensibly affects all types of individuals (including non-Muslims), President Trump has announced that exceptions to the refugee resettlement suspension may be made for individuals of a minority religion in their respective countries of origin. See id. Moreover, President Trump has stated that the order will "help Christians to enter the United States," raising concerns that Muslims will be effectively barred from the United States in favor of Christians.  See id.
This executive order and the subsequent actions that have accompanied its implementation and enforcement (including the detention of affected persons at U.S. airports without legal recourse and the removal of people from U.S.-bound flights overseas) exemplify the anti-Muslim rhetoric espoused during Trump's campaign. [New York Times: Disorder; The Guardian: Airports; ACLU]
This order is likely to have profound impacts on the current refugee crisis. The United States, which has been called the "world's leader" in refugee resettlement due to its historic acceptance of large numbers of (thoroughly vetted) refugees, is now turning away those in need of aid. While the order was enacted under the guise of national security and the prevention of radical Islamic terrorism in the United States, experts say it could actually worsen the situation. [CNN]
States' Rights and Obligations
Requirements pertaining to refugees are contained in various international and regional human rights instruments, including the 1951 Refugee Convention and its 1967 Optional Protocol, the Cartagena Declaration (addressing the protection of refugees in Central America, Mexico, and Panama), and the OAU Convention Governing the Specific Aspects of Refugee Problems in Africa.
Although States are allowed to implement measures to secure their borders, they must do so in accordance with certain human rights standards. Importantly, States must respect the principle of non-refoulement – that is, not return individuals to countries where their lives or freedom would be in jeopardy on account of race, religion, nationality, political opinion, or membership in a particular social group. States must also offer refugees access to impartial and efficient asylum procedures and ensure the protection of their basic human rights. See IJRC, Immigration & Migrants' Rights.
Of particular relevance is the requirement that States refrain from discriminating against certain groups of refugees. [Al Jazeera: International] Individuals, on a case-by-case basis, can be denied refugee status for a variety of valid reasons, but so-called "blanket bans" against groups of people based on characteristics such as nationality violate the Refugee Convention. [Al Jazeera: International] Other international instruments that do not specifically govern refugees but nonetheless apply to refugees call for non-discrimination in all contexts. For instance, the International Convention on the Elimination of All Forms of Racial Discrimination and the International Covenant on Civil and Political Rights, to which the U.S. is a party to, prohibit States from discriminating against individuals on the basis of race, color, ethnicity, or national origin. [Al Jazeera: International]
United Nations and IACHR Reactions to Islamophobia and the Refugee Crisis
United Nations experts have expressed worry at growing islamophobia and reminded the world not to discriminate against refugees based on nationality or religion. The United Nations High Commissioner on Refugees, Filippo Grandi, recently underscored his agency's position that "refugees should receive equal treatment for protection and assistance, and opportunities for resettlement, regardless of their religion, nationality or race." [UN News Centre: Grandi] The Inter-American Commission on Human Rights also recently reminded the United States of its obligation not to discriminate on the basis of nationality or religion in the context of migration. [IACHR Press Release] In the last year, the UN High Commissioner for Human Rights, Zeid Ra'ad Al Hussein, has called the trend towards islamophobia a threat to human rights. [UN News Centre: Zeid]
Additional Information
For more information about asylum and the rights of refugees or immigration and migrants' rights, visit IJRC's Online Resource Hub. Read the coalition letter submitted to the IACHR by IJRC and the ACLU for a review of the human rights standards and human consequences implicated by the U.S. "travel ban."
To stay up-to-date on international human rights law news, visit IJRC's News Room or subscribe to the IJRC Daily.